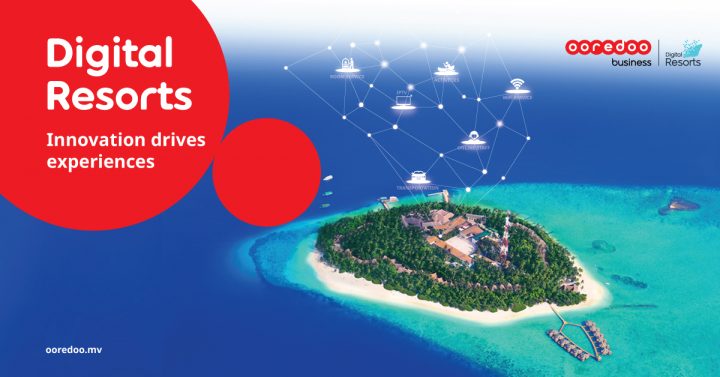 Ooredoo Business unveils Digital Resorts portfolio
Ooredoo Business has unveiled its Digital Resorts portfolio, personalised for the Maldivian tourism sector. It aims to connect local resorts to the next wave of smart hospitality services including customised mobile apps, next-generation in-room services, world-class entertainment and more.
"New-age travellers are actively prioritising hotels and resorts that utilise digital tools to enable a differentiated experience. To deliver on this, hoteliers across the world are adopting innovative technologies that offer greater efficiency, agility and deeper engagement," said Najib Khan, CEO of Ooredoo Maldives.
"Our new generation of 'Digital Resort' solutions connect resorts to just that. As a trusted partner of businesses worldwide, we support you to create new guest experiences, simplify your network infrastructure, lower IT costs on the property, centralise business data for better analytics and drive global growth."
Digital Resorts by Ooredoo Business is a suite of innovative, cloud-based, digital solutions that help you transform into a digital resort. This solution integrates seamlessly with your existing IT environment and optimizes cost. The portfolio includes:
Digital Resort App: a single window for travellers to engage with resorts effortlessly, be it prior to, during or after their stay.
Digital HR: a cloud-based tool to help employers to simplify the employee experience.
Digital Entertainment: a fully managed, state-of-the-art IPTV platform which offers the widest choice of HD entertainment, video-on-demand content and in-room services.
Digital Hub: Bringing all these solutions together on a single platform, the Digital Hub is a fully integrated Quad-Play solution built on a single Gigabit Fiber Network which delivers superior Voice, Video, Internet and TV services.
Over the past years, Ooredoo has made significant investments to power their nationwide 4G+ network in the Maldives which, as per the company, will enable the digital lifestyle of their customers and accommodate the increasing communication needs from across the communities. To learn more, visit www.ooredoo.mv/digitalresorts.