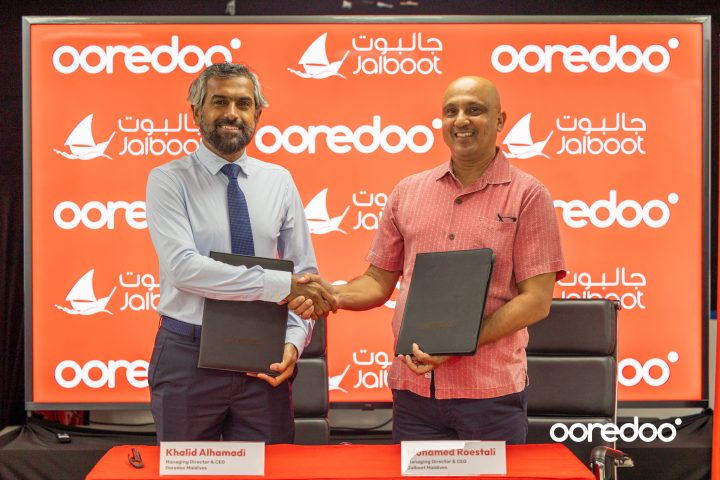 Ooredoo Maldives Partners with Jalboot to Enable Connectivity
 Ooredoo Maldives has announced a partnership with Jalboot Maldives – a provider of marine services to resorts  in the Maldives. The partnership will enable connectivity to Jalboot customers while aboard their vessels and during their stay in the Maldives. The purpose of the partnership agreement is to enhance visitor experience while tourists are traveling within the Maldives.
The partnership was announced during a signing ceremony held at Ooredoo Maldives Head Office in the presence of Managing Director of Jalboot Maldives Mr. Mohamed Roestali, Managing Director & CEO of Ooredoo Maldives, Mr. Khalid Al-Hamadi and the management of both companies.
"Access to reliable connectivity is crucial in this digital era. And with this strategic partnership with Jalboot Maldives, our aim is to ease access to connectivity where tourists can acquire SIM cards directly from the vessels." MD & CEO, Khalid Al-Hamadi
"Communications & technology are vital for the growth of Jalboot Maldives and Ooredoo is known for its evolutionary digital services. With a common mission to enrich the lives of our community, together we will enhance customer experience." MD, Jalboot Maldives, Mohamed Roestali.
Under this strategic partnership as part of Ooredoo's efforts to support the Maldives tourism industry, customers of Jalboot Maldives will be able to acquire connectivity solutions directly from the vessels without any hassle of going to any counter or shop.