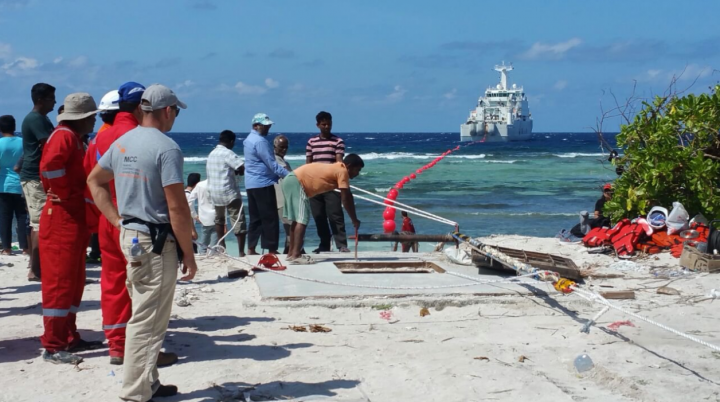 Ooredoo successfully completes nationwide 4G+ coverage
Ooredoo has announced the successful expansion of its 4G+ Network across the nation, bringing to life their vision of connecting all local communities to the socioeconomic opportunities opened up by high speed internet connectivity.
The company initiated this important network upgrade in December 2016 to accommodate for increasing communication needs from local communities and businesses across Maldives, enabled by the additional capacity from its nationwide submarine cable.
CEO of Ooredoo Maldives, Vikram Sinha said: "Today marks an important milestone in our journey, as we launch the country's first nation-wide 4G+ network. Since day one, Ooredoo has remained steadfast in its commitment to enrich lives of local communities through the latest innovations and services available in the global market. The nationwide 4G+ expansion was successfully completed in record time, driven by the diligent hard work of our team here in the Maldives, and their enthusiasm to connect all local communities to the latest wireless mobile telecommunications technology. Guided by the government's priority towards digital Maldives, the continuous support of Ooredoo group, and a team who is passionate about enriching lives through the power of technology, we are already looking forward to our next challenge of bringing high speed broadband to the entire nation."
With the successful expansion of its 4G+ network, all Ooredoo customers will be able to use 4G+ network without any additional charges, provided that they have a 4G+ compatible phone and a 4G SIM card. To check whether a customer's existing SIM card is 4G compatible, simply SMS "4G" to 5353. 4G SIM cards are easily available at Ooredoo Experience Centres and Business Partner Shops.
Head of Sales, Hussain Niyaz said "We will continue to do all we can to ensure inclusive access to mobile connectivity, and unlock the potential of digital for all. This includes providing subsidized smartphones to the people who might not be able to afford them otherwise, and have not had the opportunity to experience the benefits of high speed internet. The enhanced connectivity across the nation will allow uninterrupted use of smart services such as distance education, e-health services, etc. which hold great promise within a geographically dispersed nation such as the Maldives."
With internet being the most important enabler of social and economic progress in the world, the company has made some important investments to ensure high speed connectivity to all local islands and resorts. It has brought significant capacity and service quality upgrades through the multimillion dollar nationwide submarine cable project, followed by the nationwide 4G+ expansion. Ooredoo has also announced plans to broadband services to all local islands and resorts in 2017.
Ooredoo's nationwide 4G+ network and broadband services also holds great promise for businesses which are spread across the Maldivian archipelago. Companies and resorts will also get connected to Ooredoo's globally renowned corporate services and end-to-end resort solutions.