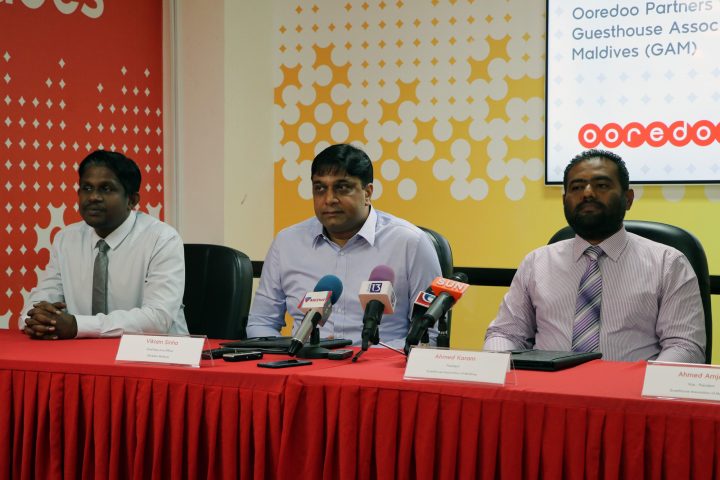 Ooredoo to tackle telecommunication and connectivity challenges faced by guesthouses.
Ooredoo Maldives has partnered with Guesthouse Association of Maldives (GAM) to better understand the telecommunication and connectivity challenges faced by local guesthouses. Paired with the company's global expertise in business communication solutions, this understanding will enable Ooredoo to provide guesthouse operators with smart services that can add value to businesses and provide guests with the connectivity they desire. As part of today's agreement, Ooredoo will also offer special discounts on guesthouse specific products and services to guesthouses which are registered under GAM.
Ooredoo Maldives CEO, Vikram Sinha said: "Guesthouse businesses are a significant part of new age tourism in the Maldives, and thus an important part of the economy. With smart hospitality solutions gaining popularity across the globe, Ooredoo will work closely with GAM to identify and develop affordable communication based guesthouse solutions for existing and new businesses."
Ooredoo's nationwide 4G+ network and broadband services holds great promise for businesses spread across the Maldivian archipelago, as well as their globally renowned corporate services and end-to-end resort solutions. Ooredoo Business provides 360 degree solutions encompassing the implementation and management of latest ICT technologies, based on the customised requirements of each of its customer. With the aim to support customer to lead, Ooredoo helps them improve their productivity and efficiency in a cost-effective manner by providing top-notch, reliable products and services.
To accommodate their growing clientele, the company recently launched an Enterprise Support Center, which provides first level assurance to Ooredoo Business customers by connecting them directly to technical engineers. The new support center proactively monitors all enterprise services and acts as a 24-hour support hotline, providing the instant support needed by businesses that greatly rely on digital technologies.
Ooredoo will continue to invest in the latest technologies and innovations which will support local businesses in participating in the digital economy.