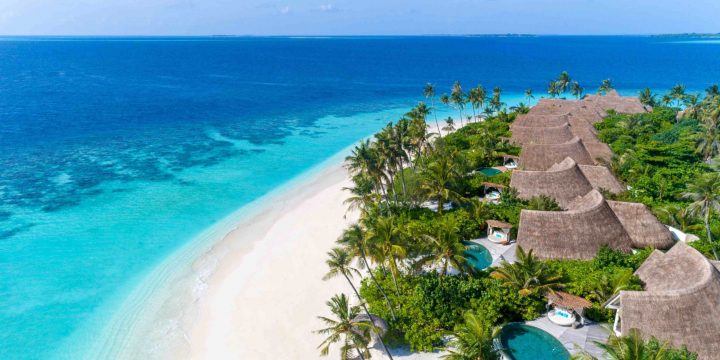 Milaidhoo Maldives Launches Megamoon for Valentine's Day
More than just a holiday of blissful romance, the Milaidhoo megamoon includes a variety of unique experiences that are full of memorable moments that are private and intimate, individually created for each couple. The megamoon package can be available starting from February 2022 until the end of December 2022.
On the morning of arrival, the megamooners can start their holiday with a Romantic Spa Retreat for two to relax and ease all tensions. In the afternoon the couple can hop aboard the island's dhoni for a private cruise, exploring different reefs in Baa Atoll snorkeling.
The next morning is followed by the private yacht of Miladhoo exclusive to the couple to voyage around the atoll chasing dolphins, snorkeling, and fishing with lunch on board.
During their holiday megamooners can choose the ultimate romantic experience, spending a night under the stars on a remote, deserted sandbank with nothing but the ocean that surrounds them. The sandbank will be transformed with the comfortable facilities of a Milaidhoo guest villa, to create this once in a lifetime experience.
With a choice of the best resort villas the couple can enjoy nights in one of the exclusive Beach Residencies. Embracing informal outdoor island living, the residences are located on the beach, each with an outside deck and pool, with interiors that are designed for luxurious comfort with island-inspired touches.
Megamooners staying in Milaidhoo within six months after their wedding are also entitled for the honeymoon benefits which include naming a star, a complimentary 60-minute spa treatment, a romantic honeymoon dinner on the villa deck and romantic bed and bath decoration.
The megamoon package could also be customized to match each couples' personal wishes. Couples who stay between June and November can add-on a snorkeling excursion to Hanifaru Bay to take a look at the spectacular gathering of Manta Rays.