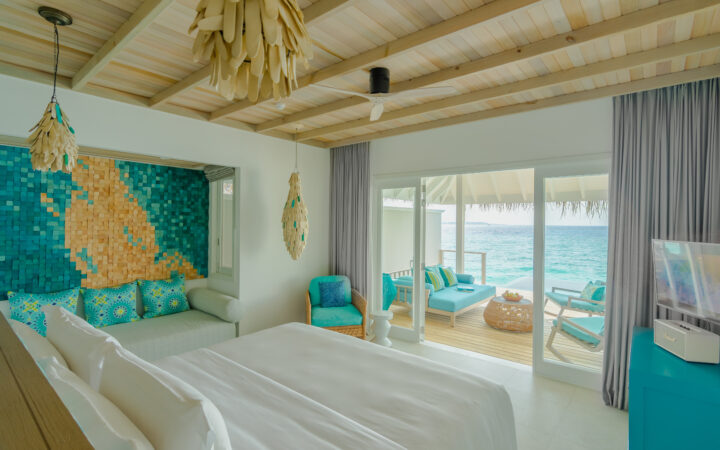 Park Hyatt Maldives Hadahaa celebrates trio of eco awards
Park Hyatt Maldives Hadahaa has been awarded Gold Certification 2016 by EarthCheck. Some nine Maldivian resorts have been EarthCheck certified, with Hadahaa and one other resort earning gold certification.
The resort also recently received its third consecutive prize from the World Travel Awards as Maldives' Leading Green Resort 2016 while its Dive and Activity Center was recognised with a PADI Green Star™ Award in February 2016 for its outstanding performance in initiating green business practices and supporting responsible conservation.
"Receiving such meaningful accolades has made for a really exciting start to the year. Learning that our team's dedication to protecting the natural surroundings of our resort has been acknowledged is definitely a proud moment for all of us at Park Hyatt Maldives Hadahaa. We will continue our green efforts as we strive to ensure our house reef remains one of the healthiest in the region and also to create an environment that is as sustainable as possible," said Mariano Silvestri, General Manager.
Since 1987, EarthCheck has been helping companies, communities and governments to make green destinations available to travelers. EarthCheck is now the world's leading scientific benchmarking certification and advisory group for the travel and tourism sector.
World Travel Awards was established in 1993 to acknowledge, reward and celebrate excellence across all sectors of the tourism business. The awards are voted on by travel and tourism professionals worldwide and, today, the World Travel Awards brand is recognised globally as the ultimate hallmark of quality, with winners setting the benchmark to which all others aspire.
The PADI Green Star™ award recognises dive centres and resorts that are dedicated to ensuring the sustainability and conservation of the diving industry. It identifies businesses that actively protect and care for the environment via initiatives such as energy-friendly transportation practices, use of sustainable materials, conservation leadership, water conservation and responsible energy use.
Park Hyatt Maldives Hadahaa is an exclusive, luxury hideaway set on a tropical island at the heart of one of the largest and deepest natural atolls in the world. Hadahaa is untouched, unspoiled and authentic with its pristine 360 degree healthiest house reef in the Maldives just steps from each villa. The resort blends architecturally innovative design with genuine natural ambiance offering a seamless integration of modern accommodation and untouched nature.