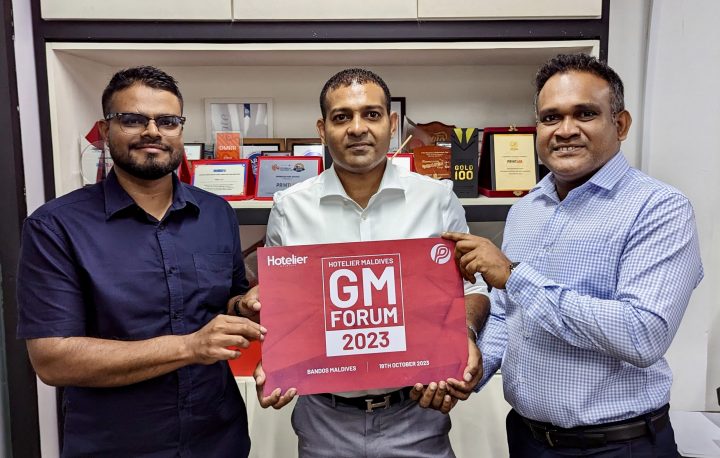 Print Lab Creative joins as Printing Partner for Hotelier Maldives GM Forum 2023
Hotelier Maldives, the leading tourism and hospitality publication in Maldives, today announced the signing of Print Lab Creative, the leading large format digital printing company in the Maldives, as the Printing Partner for the highly anticipated General Managers (GM) Forum 2023. The event is scheduled to take place on October 19, 2023, at Bandos Maldives, bringing together industry leaders, innovators, and experts from the global hospitality sector.
As the Printing Partner, Print Lab Creative will play a pivotal role in ensuring the seamless execution of the 2023 GM Forum. With their state-of-the-art printing capabilities and expertise, they will provide high-quality event materials and signage, adding an extra layer of professionalism and visual appeal to the proceedings.
"It is an honour for Print Lab Creative to be chosen as the Printing Partner for the prestigious 2023 GM Forum. Our team is committed to delivering top-notch printing solutions that will enhance the overall experience for all attendees. We look forward to contributing to the success of this remarkable event," Madheeh Jamal, Managing Director of Print Lab Creative, said.
The GM Forum, since its inauguration in 2016, has been a dedicated platform for over 100 general managers and hoteliers to gather, discuss industry-related problems, exchange ideas, and propose solutions. Now in its seventh edition, the theme for this year's forum is 'Innovation and Technology for Sustainability'. This theme reflects the rise in new technologies, the fast-paced changes in the world, and the increasing number of eco-conscious travellers. It also aligns with the 'Tourism for Good' concept, emphasising the role of the hospitality industry in promoting sustainable practices.
"Print Lab Creative's role as the Printing Partner for the 2023 GM Forum is crucial in ensuring the event runs smoothly and looks fantastic. Their expertise in large format digital printing will undoubtedly elevate the overall experience for all attendees," added Ali Naafiz, Editor of Hotelier Maldives.
The Hotelier Maldives GM Forum 2023 is expected to attract over 100 hoteliers from various resorts and hotels in the Maldives. This year's forum is sponsored by several leading companies in the hospitality sector, such as Ooredoo Maldives, Fuel Supplies Maldives, Far Horizon, Bestbuy Maldives, Manta Air, Coca-Cola Maldives, Swimsol, Souvenir Marine, and more.
For more information, please visit www.hoteliermaldives.com/gmforum. For sponsorship opportunities, please contact sales@hoteliermaldives.com.