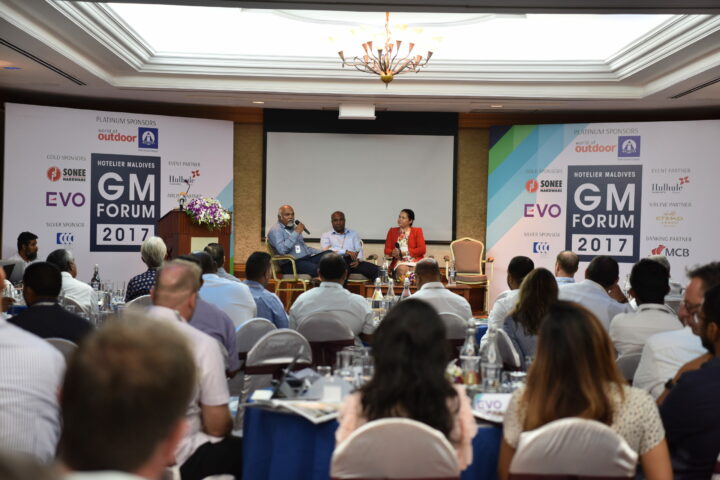 Prominent hotel industry professionals meet at the Hotelier Maldives GM Forum 2017
Leading hotel industry professionals have come together to discuss various issues pertinent to hotel operations in the Maldives at the Hotelier Maldives GM Forum 2017. The second edition of the annual gathering, organized by Hotelier Maldives, was held at Hulhulé Island Hotel (HIH) on April 19.
The forum, with its focus on knowledge sharing and adopting the best practices prevalent in the industry thus raising the levels of hospitality even further, will see key speeches delivered by industry pioneers and experts, including Hussain Afeef (Champa) – a tourism industry pioneer and Chairman of Crown and Champa Resorts, and Jesper Palmqvist – Area Director for the Asia Pacific Region at STR, as keynote speakers.
The summit also features special presentations by Mohamed Solah – Manager, Infrastructure Development at Maldives Airports Company Limited (MACL), and Mohamed Shahdy Anwar – Senior Counsel at Suood Anwar and Co. LLP. Other key speakers include Thoriq Ibrahim – Minister of Environment and Energy, Thomas Stoeckle – Head of Strategic Business Development at LexiNexis Business Insight Solution, Chris Ely – Senior Vice President at Asset Management Asia, and David Feinberg – CEO of Crown & Champa Resorts.
This year's forum also includes panel discussions facilitated by general managers focusing on employment law, sustainability in resort management, the importance of reinvesting in properties, new openings, and destination marketing. The panels are also themed around transportation, statistics and forecasting, environment and sustainability.
Over 40 general managers are attending the summit, which also brings together a total of over 100 industry leaders, policymakers, resort operators and owners, and other hospitality industry stakeholders including suppliers.
World of Outdoor – a Sri Lanka-based provider of outdoor and indoor furniture products and solutions, and Allied Insurance – the leading insurer of the Maldives are Platinum Sponsors of the event this year, while Evo Home and Sonee Hardware are Gold Sponsors. Cyprea Card Centre is the Silver Sponsor of the annual gathering, while Mauritius Commercial Bank (MCB) is the Banking Partner, Etihad Airways is the Airline Partner and Hulhulé Island Hotel is the Event Partner.
GM Forum 2016 was held May 25, 2016, and saw the attendance of over 100 delegates including over 20 general managers.