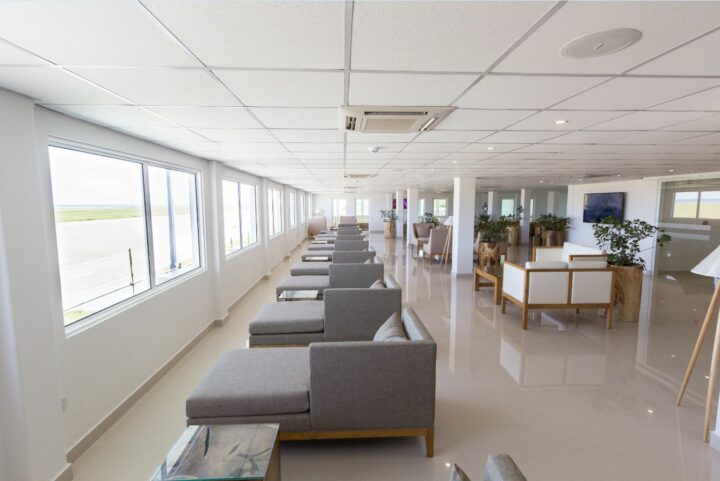 Q Lounge at Villa Airport Maamigili: A step above in pure ambience
The luxurious Q lounge at Villa Airport Maamigili (VAM) in Alif Dhaal Atoll, was opened with the sole aim of providing travellers with a warm and pleasant airport experience. Alongside amenities such as Wi-Fi, refreshments and light snacks served throughout the day, the lounge is also equipped with a smoking room, mother's room as well as a playroom for kids.
VAM is also actively exploring the ways in which it can make the already outstanding service of the lounge even better, by collecting information from the guests through feedback. This is one of the many ways that VAM ensures the lounge, its services and standards keep on rising and improving.
Since it is a domestic airport, the number of visitors to this luxury lounge compared to other international airport lounges remains low. However, the lounge can easily boast that it is a step above the rest of the lounge facilities found in domestic airports throughout the country in terms of food varieties, quality of service and pure ambience. VAM and the Q lounge are led by a team of well-organised professionals in the hospitality industry who realise the importance of a warm farewell to their guests."The most unique feature of the lounge is the breath-taking view, especially in the evening. The stunning sunset views of the airport from the lounge are a sight for sore eyes, as passengers await their final journey from the Maldives," said Ahmed Nafiz, Assistant Manager of the Q Lounge.
Currently catering to more than 10 resorts and a multitude of guesthouses in the region, the average usage for the lounge stands as of now at 1100 passengers per month. However, VAM is targeting to increase that number up to 1800 passengers. Planned future developments such as a spa facility at the lounge are expected to help in achieving this endeavour. VAM sees the lounge as the final cherry on top for guests returning from their exquisite holidays from the countless award-winning resorts and guesthouses in the atoll.
The strategically important Villa Airport Maamigili which started operating nearly six years ago came with ample parking space for private jets, high-class safety and security facilities, a modern ATC tower and advanced equipment among other high standard services. However, it was devoid of a high-class luxury lounge until the premiere of the Q lounge. Since its debut in April of 2018, the Q Lounge has been one of the most attractive and eye-catching features of VAM and it has never looked back since. For more information, visit www.flyme.mv.