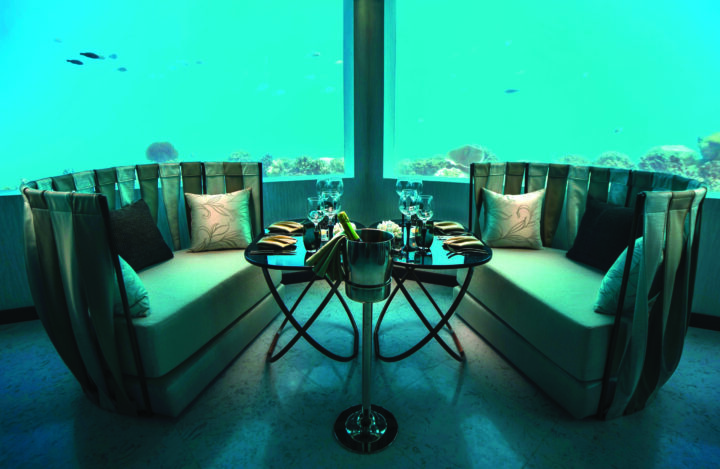 Exotic underwater dining experience launched at OZEN by Atmosphere at Maadhoo
OZEN by Atmosphere at Maadhoo has launched its Underwater Dining Experience at the resort's underwater restaurant M6m.
The M6m (Minus 6 meters), specialises in gourmet seafood dishes.
Led by the resort's creative Executive Chef Arun Katoch and M6m's own master chef Chaitanya Sharma, the restaurant serves some of the finest modern seafood cuisine in a mesmerizing underwater setting.
The dishes are created using quality ingredients and fine-dining cooking techniques. Star dishes include Seafood Ceviche, Baked Langoustine and Lobster Thermidor. The cuisine blurs the line between gastronomy and art, the resort promises.
The restaurant is open for lunch and dinner.
As well as the underwater restaurant the resort offers 3 dining options: THE PALMS, THE TRADITIONS – IndoCeylon, THE TRADITIONS – Peking, and Joie de VIVRE.
OZEN also introduced an exclusive All-inclusive luxury holiday plan, the Atmosphere INDULGENCE™ that offers a blissful hassle-free holiday experience.
OZEN by Atmosphere at Maadhoo welcomed their first guests on 15 July.
Located in Kaafu atoll, the luxury resort is 35 minutes away by speedboat from the Ibrahim Nasir International Airport.
OZEN by Atmosphere at Maadhoo is the third property added to Atmosphere Hotels & Resorts' portfolio. Following the successful launch of Atmosphere kanifushi Maldives in December 2013, the brand opened a four-star superior resort, OBLU by Atmosphere at Helengeli in November 2015
For more information, visit ozen-maadhoo.com