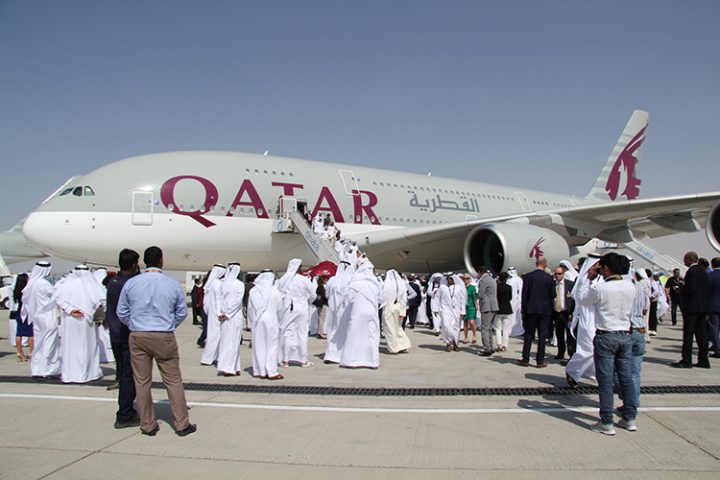 Qatar Airways displays its finest fleet at the opening of the Dubai Airshow 2015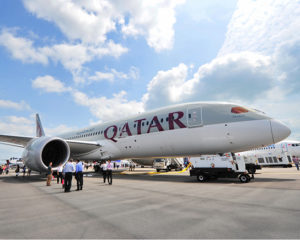 Qatar Airways has showcased  three of the airline's latest generation aircrafts on display on the opening day of the Dubai Airshow 2015.
The Dubai Airshow, first held in 1986, has evolved to become one of the largest aerospace events in the world, and takes place this week at Dubai World Central (DWC), on a venue specifically designed for the event, providing the opportunity to demonstrate to visiting trade, media and aviation enthusiasts the latest advancements in the industry.
Qatar Airways displayed  three of its aircrafts – the A380, A350, for which it was the global launch customer, and a Boeing 787 Dreamliner – its 25th of this aircraft type, which was delivered directly from Boeing to the show.
Mr. Jassim Seif Ahmed Al Sulaiti, Minister of Transport for the State of Qatar, said: "The State of Qatar is proud to be home to one of the world's fastest growing airlines, Qatar Airways, and to be here at one of the world's premier airshows displaying the very latest aircraft in the sky."
Qatar Airways Group Chief Executive, His Excellency Mr. Akbar Al Baker, said: "The Dubai Airshow enables Qatar Airways to showcase the very latest advancements, product design and technology available across our modern fleet. It is a proud moment to see the Qatar Airways livery on display this week on the world's very latest generation aircraft and to showcase our award-winning products and hospitality on board to our visiting guests."