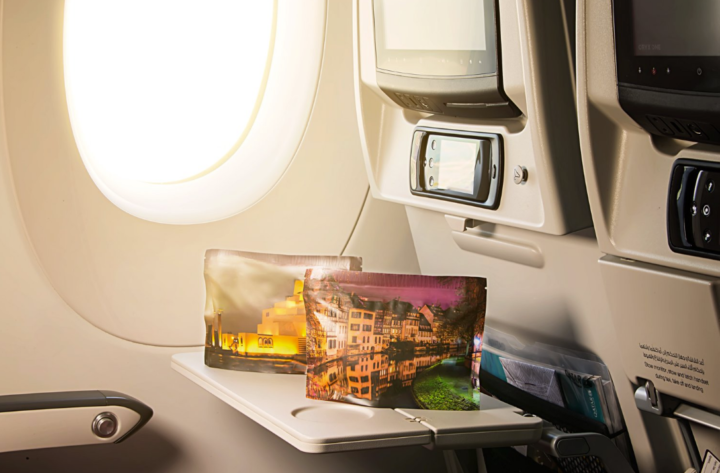 Qatar Airways to introduce new amenity kits for Economy Class passengers
Qatar Airways will be introducing new amenity kits for Economy Class passengers this month. The kits are part of the airline's ongoing upgrade of on-board products.
With a focus on simplicity and functionality, the kits are designed to include products that will make the passengers' trips more comfortable and relaxing while adding value to their overall travel experience.
Following the airline's tagline 'Going Places Together,' the kits will feature images of destinations on the Qatar Airways route network. Qatar Airways currently flies to more than 150 destinations and the airline has plans to refresh the exterior designs of the kits every four months with images from these destinations.
Inside the amenity kits, passengers will find comfort products such as an Institut Karité Paris lip balm, a Miradent dental kit, eye mask, socks and ear plugs.
Qatar Airways Senior Vice President of Customer Experience, Rossen Dimitrov, said: "This will be a year of change for Qatar Airways travellers, with numerous upgrades to our on-board products and services, including our new Economy Class amenity kits. The refreshed kits have been designed to deliver an elevated customer experience by providing our passengers with products from world-class brands such as Institut Karité Paris and Miradent. We like to continually surprise and delight our passengers in every class of cabin, and we believe that anyone travelling in Economy Class will be truly delighted when they discover these new amenity kits on board."
Qatar Airways has also recently launched new amenity kits for its Business Class and First Class passengers. The kits were designed by BRIC'S and Nappa Dori, with content provided by Castello Monte Vibiano Vecchio. The new premium amenity kits are complemented by a new sleeper suit design from the luxury brand The White Company.
Other initiatives recently launched by the airline also include an updated range of plush toys, children's activity kits and in-flight lunch boxes in partnership with Hasbro Inc. Qatar Airways has also refreshed and refined premium in-flight dining service for First Class passengers on the airline's intra-Gulf services.
Qatar Airways has plans to launch a new Business Class seat this year. According to the airline, the seat is designed to revolutionise the premium cabin experience and the design will be patented to prevent any other airline from replicating the state-of-the-art seat concept.