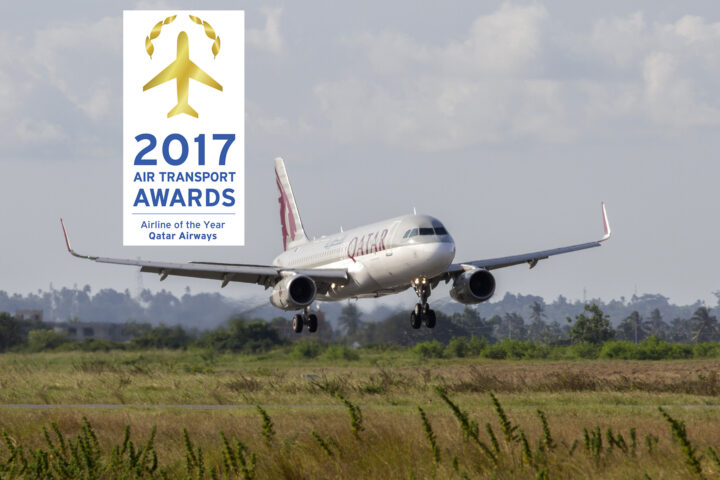 Qatar Airways named 'Airline of the Year' at 2017 Air Transport Awards
Qatar Airways has been named 'Airline of the Year' at the 2017 Air Transport Awards; recognised for its innovation, service, hospitality and leading product design. The 43rd Annual Airline Industry Achievement Awards ceremony was held at the Latrou Residence in Ekali, Greece.
"We are deeply honoured to have been recognised by the readers of Air Transport News as the 2017 Airline of the Year. We take immense pride in driving our airline to be the best in the industry and to deliver our passengers an unprecedented on-board experience," said Akbar Al Baker – Chief Executive of the Qatar Airways Group.
"To receive acknowledgement from the loyal passengers who choose to fly with Qatar Airways is the highest honour for us to achieve and pushes us to work even harder to provide them with the level of commitment, service and attention to detail that they deserve every time they travel."
The Airline of the Year award was conferred to Qatar Airways for its continued ambition to ensure the airline's passenger experience is the absolute best in the industry with regards both product and service. This ambition was displayed earlier this month at the exclusive reveal ceremony of the new Qsuite for Business Class, at the ITB Berlin, Germany, the airline said in a statement.
Qatar Airways, the national carrier of the State of Qatar, is celebrating 20 years of Going Places Together with travellers across its more than 150 business and leisure destinations. The airline is set to add a number of new destinations to its growing network in 2017, including Chiang Mai, Dublin, Nice, Skopje and many more, flying passengers on board its modern fleet of 195 aircraft.
The ATW Airline Industry Achievement Awards, established in 1974 to recognize excellence in the air transport industry, are the most coveted honour in the airline industry. The awards are bestowed upon individuals and organizations that have distinguished themselves through outstanding performance, innovation, and superior service.