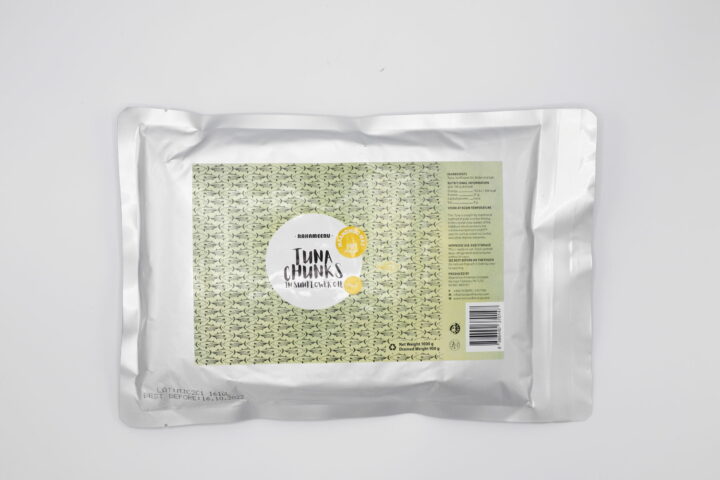 Rahameeru Tuna Pouch; A bigger quantity, a better value
Horizon Fisheries Pvt Ltd was launched on 30th April 2003 to operate a fisheries-related business within and outside the Maldives. After succeeding Maandhoo Fisheries Complex situated in Laamu Atoll, the company commenced its operations on the 16th September 2003. The complex is the biggest of its kind in the country with a state of the art canned tuna processing factory competent in processing 80 MT daily, of raw materials for canning, poaching and cooked loins.
The company additionally owns a 1000 MT capacity floating cold storage, a deep water berth for shipping and a fisherman's harbour to facilitate easier processing. Currently, Horizon Fisheries is accomplished in exporting to well-known brands around the world in Europe such as Marks & Spencer, Sainburys, Migros etc and their Rahameeru label is exported to Asian countries such as China, Srilanka and more. Within the Maldives, the company is established in supplying to local resorts, hotels, restaurants, supermarkets and local vendors.
The tuna pouch, now gaining popularity, is the same product as canned tuna but with an alternative packaging. This packaging is easier to handle, takes up less space and is easy to open with a prenotched pack. Tuna pouches are especially useful for parties, caterers, restaurants, hotels and resorts as with its considerable flat packaging also comes better value for money and the ability to transport greater volumes. The pieces of tuna inside the pouch are smaller and mushier than in canned tuna as the pouch is soft-sided, providing no support. These vacuum- sealed soft pouches give off a fresher flavour and texture to the tuna with production done in brine, spring water or any selected oil. The tuna can be added on its own to any dish of your choice as tuna complements most savoury dishes. This Rahameeru tuna is rich in nutrients; a genuine Maldivian product.
Committed to producing premium products with safety and hygiene being the most important aspects, Horizon Fisheries is reputed in the standards they maintain throughout their business. All of the tuna based products are sealed with food hygiene quality standards of ISO 9001, 14001, 22000, BRC (A Grade), Halal, and Organic Certification. Additionally, the company is the proud holder of the Fair Trade Certified™ label. The tuna is caught by the traditional method of Pole and Line, which ensures the safety of other marine life as well as not getting any bycatch on the line.