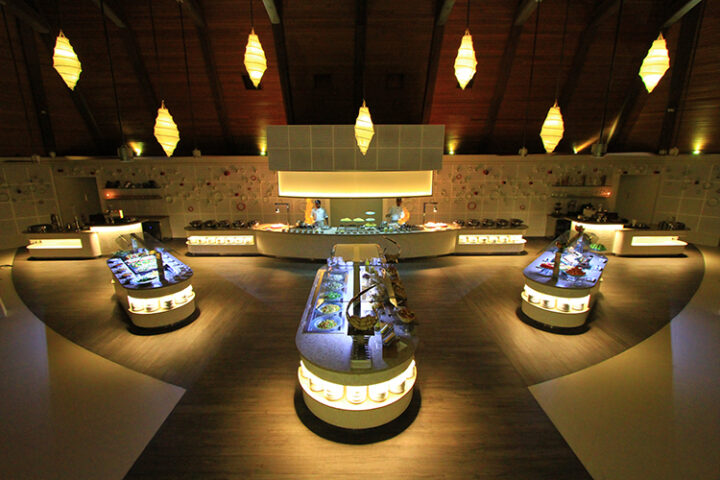 Redesigned Vihamanaa restaurant opens at Kurumba Maldives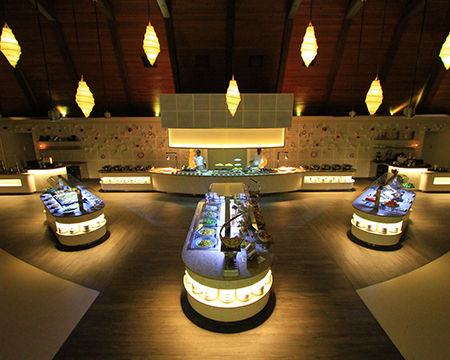 After extensive renovation, Kurumba Maldives reopened their Vihamanaa Restaurant on the 24th September. The main restaurant on the island, Vihamanaa opened their doors to guests with a new  stylish décor, complete with intimate dinner settings.
Maintaining their original high ceilings made of natural wood, the interior of the restaurant is designed using sandstone, shell mosaics, light marble top buffets with lava stone features, giving the entire restaurant a more luxurious vibe. To add a pop of color to the whites and to give the restaurant a touch of modern, spacious ambiance, the designers have used lime greens, and cherry reds in different accents.
In addition to two first-class barista bars, the buffet tables finished with marble top will include live cooking stations to give guests a wider range of food options and much faster service. The new and improved walk-in wine cellar will be made available for wine tastings and private dinner functions for diners at the Vihamanaa restaurant and the fine-dining Italian restaurant, DUO.
The resort will also be bringing back themed culinary evenings and presenting guests with a new and improved menu with a wider range of dishes available. In addition to the interior of the dining area, bathrooms of the restaurant have been redecorated as well by adding extra space and more importantly, making the area wheelchair accessible.
Jason Kruse, General Manager of Kurumba Maldives said: "Kurumba is always striving to improve guest experience and the remodel of Vihamanaa will allow for new and exciting gastronomic experiences for all our guests."
Vihamanaa Restaurant will be open 7 days a week, for breakfast, lunch and dinner.
For more information, visit: www.kurumba.com/maldives-island-restaurants