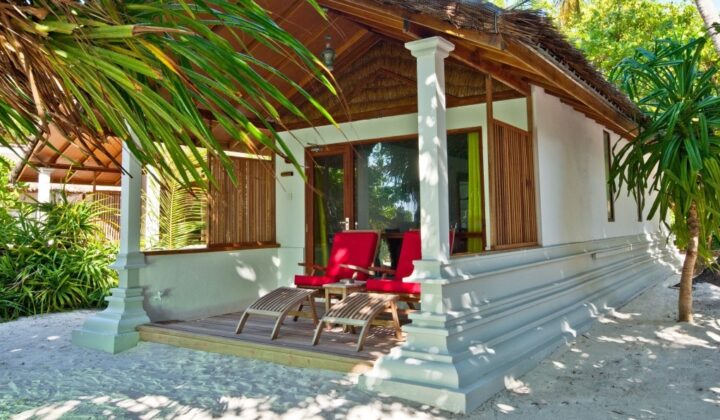 Reethi Beach Resort
I was recently invited to Reethi Beach Resort in Baa Atoll. When I mentioned my upcoming trip to a friend working in the tourism sector, she immediately guessed it would be for a conservation article … such is their recognition in this field. A quick internet search revealed the resort has achieved Travelife's gold sustainable tourism accreditation (for the last four years) as well as being granted the 'Green Planet' award by Kuoni Switzerland for six consecutive years.
Reethi Beach is quite small even by Maldivian standards, at 600m in length, but you immediately notice the large and lush areas of natural jungle vegetation. In fact, only 17% of the island has been built on, a fact that General Manager Peter Gremes is rightly very proud of as he showed me around.Peter explained that guests have become increasingly knowledgeable about environmental issues in recent years, so the famous 'back of house' guided tour was launched to answer their questions head on. Once people learn how things work behind the scenes, and have seen the efforts being made towards sustainability, the guests are very happy to play their part. The tour is open to all guests and runs twice per week in both English and German.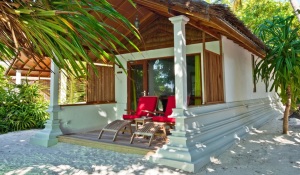 I was first shown the kitchens and water bottling plant, where glass bottles are refilled with double-filtered mineralised water ('Reethi Fen'), saving literally hundreds of disposable plastic bottles every day. Like so many eco-friendly ideas, it sounds like a simple enough project; however, successful implementation requires dedication and upfront investment of resources. But you can't help wondering why water bottling plants have not already been adopted throughout the country.
Next stop on the tour was the Power House, with its three large noisy generators. It's a jarring experience after the tranquillity of the island, but that's the whole point – if increased awareness can make you pause for a second before turning on the air conditioning, then the tour has been worthwhile. In fact, this type of first-hand education gives you a better appreciation of the resort's decision to introduce 'power keys', (designed to cut electricity to the guest room when you leave,) more usually found in city hotels than luxury resorts.
Peter explained that Reethi Beach could already boast one of the lowest carbon footprints out of similar resorts in its class, and fuel consumption was being kept low by introducing energy-saving LED lighting and inverter air conditioners.
The 'Energy Recovery System' at the desalination plant was a considerable outlay in hi-tech engineering, but one which quickly proved its worth by doubling the water output for only a small amount of extra electricity.There is also an integrated 'heat exchange' system that draws the heat energy from the power generators to provide warm water throughout the whole resort. Sufficient residual heat is produced to create a special 'Dry Room' in the laundry, perfect for drying towels, significantly reducing the need to run the expensive industrial dryers.
As the tour came to a close, I learned how Reethi Beach has also invested in large underground tanks for rain water harvesting, and during the rainy season, the resort has sufficient capacity to collect the 200 tons of water that is required for each day of operations.
The final stop was, appropriately enough, at the sewage treatment plant – quite literally the bowels of the resort! Here, I saw how some of the water is treated and recycled as grey water for irrigation purposes, and learned that specialised bacteria are introduced to the sewage to help digest the 'sludge'.
Heading outside for some much needed fresh air, Peter listed the standard industry items that Reethi Beach was no longer using (plastic straws, polythene bags, paper towels, pool chemicals) and he explained the resort's commitment to using green waste for mulching and composting throughout the island.
 I had heard about the island's use of geotextile bags to help control beach erosion, but it was good to see them for myself. Certainly more attractive than a concrete breakwater or rock groyne, these special bags are simply filled with sand for minimal environmental impact, blending well into the beach landscape and allowing for easier relocation or removal after a change in the season.
To discover more about the island ecology, I arranged to meet marine biologist Barbara Gratzer. Barbara is a long way from her birthplace of Vienna, Austria and has been in the Maldives for almost two years. Initially working for Huvafen Fushi, she is now based at Reethi Beach Resort for the IUCN (International Union for the Conservation of Nature).
Barbara explained how the IUCN is promoting awareness through local research projects, and how essential it is for the natural fragility of our marine resources to be recognised, so that communities can then develop a commitment to protect them. Of particular importance here in the Maldives are the coral reefs, parts of which have already been damaged by the "mass bleaching events" seen in 1998 and again in 2010, caused by unusually warm ocean temperatures.
Certain reefs were seen to quickly recover from the bleaching, whereas other corals seemed completely unaffected and remained healthy throughout. By gathering data on the coral species that make up the reefs and understanding the factors that influence bleaching, management measures can be developed to increase this natural resilience. Reethi Beach is committed to surveying and mapping their entire island reef system to monitor coral growth and bleaching, in line with the IUCN 'Regenerate' coral reef project.
Guest education is also an important aspect of marine conservation. With Maldivian tourism now opening up to inexperienced travellers from new global markets, the impact that novice swimmers and snorkelers can exert on the reefs should not be underestimated.
Barbara described an important first stage is to simply explain to guests that the reefs are not inert rocks but fragile and complex living organisms. However, the greater challenge still remains: how to persuade the one million annual tourists to not take a handful of shells and coral fragments home with them as souvenirs.