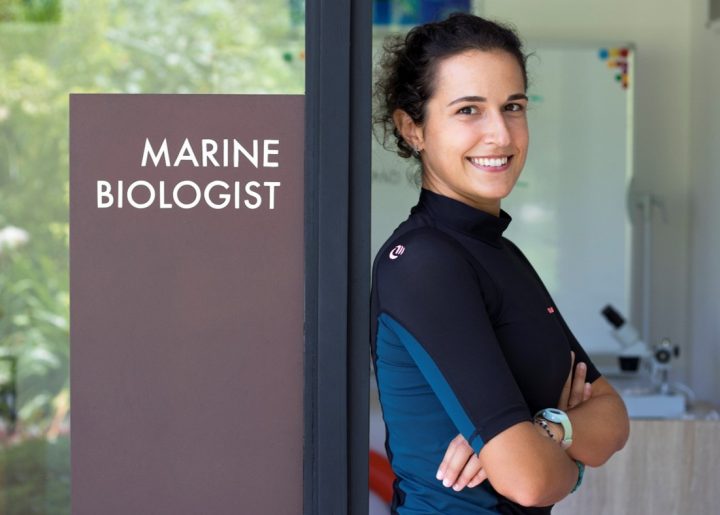 Meeting Raffles Maldives Marine Biologist on World Ocean Day
To celebrate World Ocean Day on 8 June, Hotelier Maldives spoke to Raffles Maldives Meradhoo's resident marine biologist Giulia Pellizzato, 30, originally from Italy who has been based in the Maldives since January 2019. Her favourite marine animals are sea turtles, although she dreams about humpback whales. Working as a resident marine biologist at Raffles Maldives Meradhoo she focuses on monitoring and reducing the impact of the resort on the surrounding environment and on educating guests on the local marine life and on the importance of protecting it.
She says: "My goal is to make people fall in love with the ocean, sharing with them my passion for it. "To me, I have the best job in the world, what's better than doing what you love for a living?"
After graduating from the University of Padova in Italy where she studied biology, earning a master's degree in Marine Biology and specialising in coral reef restoration, getting certified as a reef repair diver. Pellizzato tried different jobs in the field of marine biology, to discover her passions.  She worked in a research lab, took part in scientific surveys onboard fishing vessels and worked as an aquarist in a public aquarium and as a freelance blogger, writing articles about marine biology.
Beginning her Maldivian adventure in January 2019 as a resident marine biologist in a newly opened resort in Raa atoll- one year later joined Raffles Meradhoo in December 2019.
She told HM: "I think that deep inside of me, I've always been a marine biologist. Ever since I can remember, I've always felt a deep connection with the ocean and its inhabitants. The sea has always been my safe place, an escape from everyday life problems, where I could find peace, wonder and excitement all at the same time. It shouldn't be surprising then that I've chosen a career path that allows me to spend time underwater and to make a difference in protecting the marine world. Being a marine biologist is not my job, is who I am. I first visited the Maldives in 2018, when I took part in a workshop on coral reef restoration, and I immediately fell in love with the pristine beauty of this country. Soon after that, I got the chance to move here, working as a resident marine biologist. HM: What do you love most about the resort? What I love most about the resort (other than, of course, the marine life around it) is its location, remote and far from crowds and noises. This is a place where you can truly connect with nature.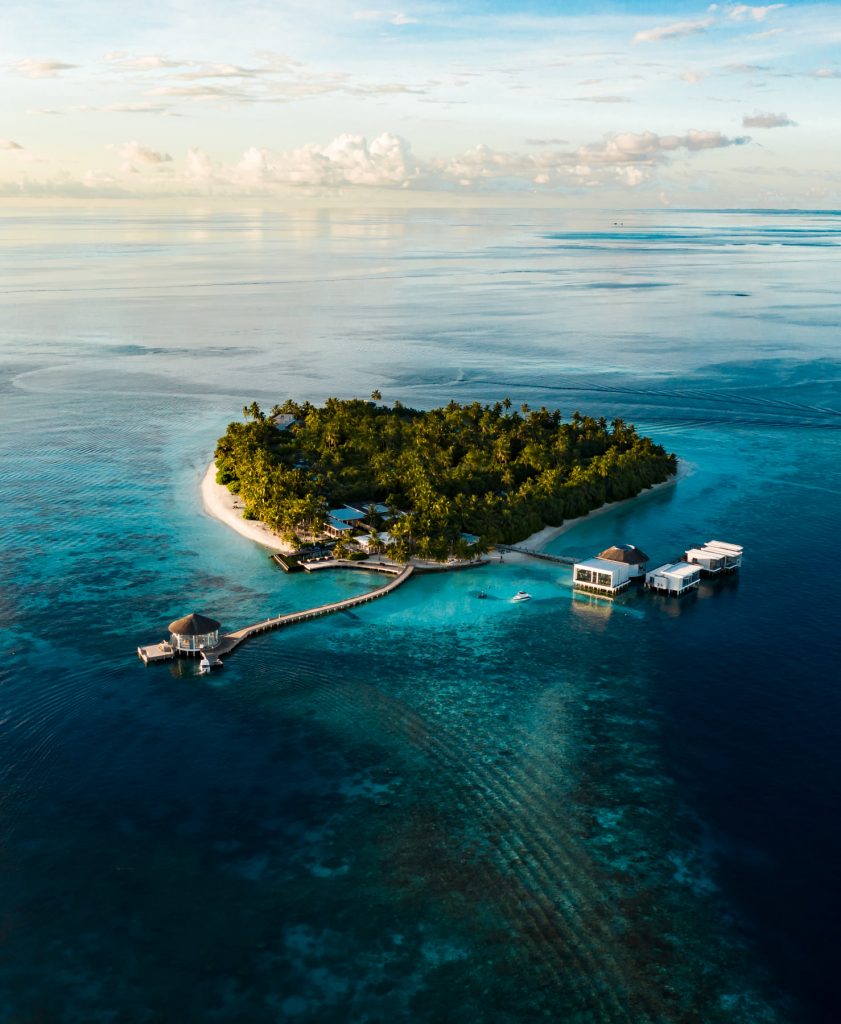 "In my life, I've been so lucky to experience many memorable underwater moments, and it's very hard to pick one. One of the most magical has been swimming with whale sharks at night."
Working at Raffles Maldives Meradhoo is like a dream come true for Pellizzato. Based all year round on the island, her job is to monitor the coral reef and the marine life associated with it.  The island has not one, but two-house reefs, that are different in terms of marine life but equally beautiful. The one around the island is protected from the currents and it's inhabited by many colourful reef fish, eagle rays, and 25 resident hawksbill turtles. The one around water villas is more exposed to the currents of the Meradhoo channel and it's, therefore, the perfect place to encounter sharks, tunas, dolphins and big jackfish.
Being in the Maldives allows for encounters with whale sharks and dolphins underwater, swimming with manta rays. Yet for Pellizzato, "witnessing the race of a sea turtle hatchling towards the ocean, holds for sure a special place in my heart.
"In my opinion, coral life around the resort is one of the best I've seen in the Maldives. You can still find big branching coral colonies and walls beautifully decorated by healthy table corals. These coral species are sensitive to increasing ocean temperature and bleaching and are therefore becoming rarer and rarer. Here, far from other stressors like pollution and mass tourism, these corals are thriving. Currently, we are not running any coral restoration project on our reef. Even though Raffles house reef was severely affected by the 2016 bleaching event, the signs of recovery are clear and there's no real need to start such a project. Coral recruitment rates are high, and many young colonies are growing back, also in the shallower part of the reef."
The pandemic has had a positive effect on the reef according to Pellizzato. "For sure, with fewer people around the anthropogenic disturbance has drastically decreased (pollution, noise, boat traffic, fishing, just to mention a few). Marine animals have benefited from better water quality and have had the chance to go back to areas that they've previously abandoned because of human disturbance."
The resort is also committed to promoting sustainable tourism through Planet 21 Programme. Marine Biologists in the Maldives are a strong community that works together towards the same goal: protecting the amazing marine life of this island nation.
"We are constantly connected to share data, advice and new ideas. We are currently working on the sea turtles photo identification project and the sea turtles monitoring project. The former, in collaboration with Marine Savers and Olive Ridley Project, aims to track the movements of the turtles between reefs and atolls. The latter, aims to collect data on sea turtles' behaviour and discover what the role of our house reef is in their life cycle (is this a breeding, feeding or nesting area?).  Plastic pollution poses a serious threat to sea turtles. It can be easily mistaken for food by the turtles and ingested. Once inside their body, plastic debris can clog their digestive system, causing the death of the animals. But this is not the only threat that sea turtles are facing. Boat strikes, loss of nesting beaches, harvesting of eggs and adult individuals for consumption and turtle shell trade, entanglements in ghost nets are equally dangerous threats, that have brought sea turtles to the brink of extinction."
Since she joined the resort Pellizzato has noticed an increased effort in reducing the footprint of the resort on the surrounding environment, from the ban of single-use plastic on the island to the education of the staff on how to live in an eco-friendly way.
"From the guests' side, I've seen an increased awareness of the problems the ocean is facing (probably because of the increased number of tv documentaries on these topics) and a real desire to make a difference.
"Guests can have a chat with me and learn about the extremely biodiverse and fragile coral reef ecosystem and how even a small action can have a devastating impact on it. It might be surprising, but helping marine life is not only about planting corals or adopting sea turtles. Not touching or stepping on the corals, not collecting sand and shells, using reef-friendly sunscreens are all things that our guests can do to help marine life. Other than that, guests can be involved in my research activity, helping me to collect important data on fish biodiversity and coral health."
Outside of work, Pellizzato loves practicing yoga and watersports. She does stand-up paddleboarding every day, at sunrise or sunset. She also enjoys crafting and drawing.
"Being a marine biologist is for sure a dream job but is not an easy career path. There is a lot of competition, very few positions available, and many people ready to take advantage of our passion for the ocean and to make us work for free. I can say that the biggest challenge has been staying motivated along the way and not losing sight of the goal. It hasn't been easy (and it still isn't today), but I've been rewarded living the life of my dreams."
To be a marine biologist Pellizzato says you need to be curious and never stop asking questions and learning new things. "Connect with nature, fall in love with it and do your best to protect it."