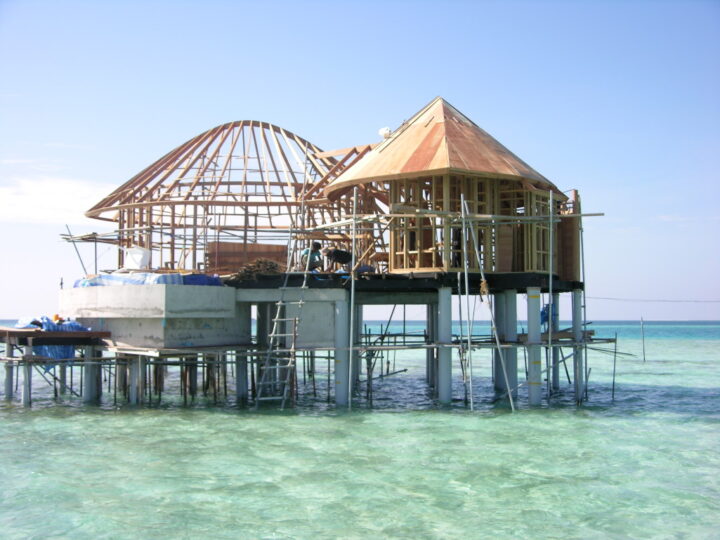 Resort Construction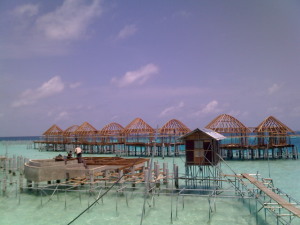 The process of resort construction has undergone great changes since the development of the first resort in 1972 on the island of Vihamanaafushi, now known as Kurumbaa. The rooms of that resort were constructed from coral fetched from the house reef. They were modest structures, populated with simple furniture, cooled by the breeze and ceiling fans.
The over water bungalows became popular in the late 1980s, and required a certain level of skill to build. However, building a structure in the lagoon, in those days was a lot of work. There was no specialized machinery or equipment. To construct a bungalow, a base was made for the column on which the bungalow stands. "The quality of the work was poor as we didn't have access to things such as waterproofing chemicals," said Abdul Majeed, Chairman of prominent local resort construction company, Bison Maldives Ltd.
Materials used to construct rooms were sand extracted from the lagoon, cement and aggregate. Moreover, in the 80s, much of the construction was labour intensive. "If for example, a generator had to be installed on an island, it had to be dragged to the designated site, using ropes and rollers. There was a dearth of technology and equipment those days," said Majeed.
In 1993, Maldives embarked on a journey to protect and preserve its environment, which resulted in, among other things, conducting mandatory Environmental Impact Assessments prior to resort construction, which is done by resort owners. Moreover, unsafe practices such as using sand from lagoons and the use of corals in construction became outlawed. This forced a number of environmentally safe practices and measures to be taken up by resort developers. "We use gaadiya (carts) to ferry products such as cement to the site during construction, so as to avoid cutting down trees to make paths, which we'd have to do if we were to use vehicles," Naayil, an executive of local construction company, Aima Construction, noted, adding that construction is, in general, carried out with due consideration of the environment, in a sustainable manner. This sentiment was echoed by Majeed, who said they used environmentally friendly building materials, such as panels, to construct walls, eschewing cement, and this has the added benefit of being fast and easy to construct.
In recent times, the construction of over water bungalows have become much more simplified. "High neck excavators that can go into the water to a depth of four or five feet are used in the construction of such accommodation," Majeed said. "We basically piece together the bungalow, prefabricate it on land and let the excavator crane pick it up and place it where it is desired. These days we usually place an order at a factory to construct a prefabricated room, a mock up based on the design. The client, depending on his wishes, will go to the factory to view the room, or we'll transport the room to the desired place on site for the client to inspect. There will be many alterations, changes, to perfect it and once perfection is achieved, that's the final version and we follow that."
Over water accommodation, and other accommodation in general, at the top resorts have also become more spacious over the years. This spaciousness reflects the desire of guests, their need for roomy, airy surroundings and privacy. Soneva Gili, whose 45 rooms and suites sit over the lagoons, are connected by a lengthy walkway and set far apart from one another, producing an effect of seclusion and utmost privacy for guests.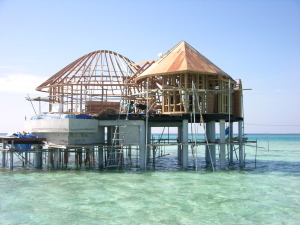 However, one aspect that has not changed much over the years is logistics; ferrying building materials to the island to be developed. There are several challenges to resort construction but transport appears to be the biggest issue. "The islands don't have ports or harbours and usually resorts will be unwilling to dredge because of the threat of beach erosion." Naayil said. "It hasn't changed and will not change because construction will only be carried out in a manner that safeguards the resort's nature." Majeed, too agreed that logistics was a niggling issue. "We have to import everything from abroad, as you know. We have to get the goods to the port in Male', and from there, take the goods to the worksite," he said. "The sea surrounds us, so you know, challenges exist; there might be rough seas for example. We'd have to make temporary 'beds' for dhonis to dock there to unload the goods. This greatly depends on the nature of the island, its environment and so on; we'd have to consider how to get it done in the best possible way."
What does the future hold for construction? Majeed envisages carbon neutrality taking off, and using green measures such as water extracted from the sea for cooling systems, and other forms of energy, including solar being used on a wide scale. "The new resorts being built are quite environmental friendly," he said. "They use state of the art technology in dealing with issues such as waste disposal for instance." He believes that we will see a lot of such innovative ideas in action over the next ten years.