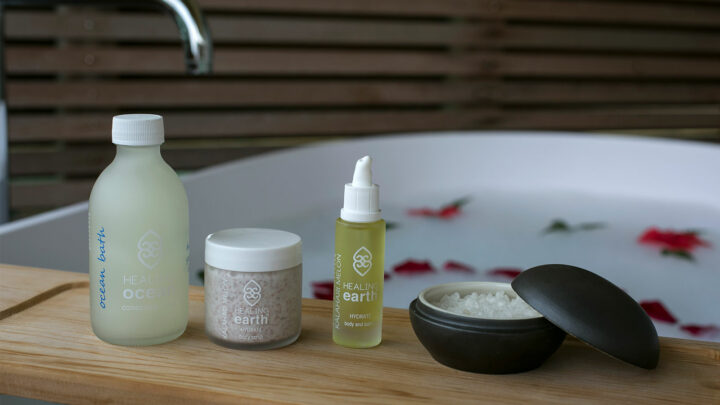 Resort News Weekly Roundup
Hurawalhi Island Resort unveils Healing Earth products
Hurawalhi Island Resort has unveiled an all-new range of Healing Earth products, exclusively designed for the resort. Healing Earth, a premium organic spa brand, created the Healing Ocean range of eco-friendly bathroom amenities for Hurawalhi.
The new range was developed with Hurawalhi's fragile environment in mind and will transform the villas into a well-being sanctuary, but guests can also bring the relaxation and indulgence home with them as all Healing Ocean products are available at the Duniye Spa boutique.
According to Hurawalhi, several of Duniye Spa's treatments, including the two popular signature rituals, Sense of Touch and Heaven on Earth, are complemented by Healing Earth products, which are free from petrochemicals, synthetics, colourants preservatives and parabens. From African Potato Body and Face balm and Pinotage Grape Toner to Jasmine & Baobab serum and signature scents, the Healing Earth luxury amenities are a perfect souvenir for guests' loved ones. For more information, visit hurawalhi.com.
Marriott unifies its loyalty programmes
Marriott International has officially unified the Marriott Rewards, Starwood Preferred Guest and The Ritz-Carlton Rewards programmes, two years after its acquisition of Starwood Hotels and Resorts. The new Marriott Rewards programme now has 110 million members. According to the Marriott International, those travellers have their choice of 29 brands and more than 6,700 hotels in 130 countries and territories.
Marriott estimates that members can earn on average 20 per cent more points per dollar spent. Those with Elite status will maintain that at all hotels, according to Marriott International. Members will no longer have to transfer points between programmes. SPG members will see their SPG points balance multiply by three. They will also receive a new account number to align with the Marriott Rewards system.
For 2018, nights earned at Marriott Rewards and SPG hotels will also combine, which could result in reaching Elite status faster, according to the brand. The Marriott Rewards, The Ritz-Carlton Rewards and Starwood Preferred Guest names will continue to be used until early 2019 when a new brand name will be adopted. For more information, visit marriott.com.
Hideaway Beach Resort & Spa unveils new dining experiences
Hideaway Beach Resort & Spa has unveiled the Chinese Hot Pot, an all-new dining experience. The resort offers a wide range of culinary experiences that satisfy all palates, ranging from a buffet at Matheefaru Restaurant to fine dining at the award-winning Samsara Asian Fusion.
Guests can now relish the Chinese Hot Pot, whether they have a special occasion to celebrate or are curious to try a new dining experience. It can be shared with up to 8 people, according to Hideaway Beach Resort.
Chinese Hot Pot is served at Meeru Bar and is available throughout the day. The menu is extensive with fish and seafood, including lobster, meat, and vegetables that you cook in a simmering pot of soup, creating your own ideal mix, according to the resort. For more information, visit hideawaybeachmaldives.com.
Waldorf Astoria Maldives Ithaafushi to host Recruitment Open Day
Waldorf Astoria Maldives Ithaafushi, the soon-to-be newest luxury all-villa resort in South Malé Atoll, has announced it will hold a Recruitment Open Day in September. The resort is just a 30-minute yacht journey from Velana International Airport and features 119 villas, 10 restaurants and a host of facilities for guests including a spa, two swimming pools, a Waldorf Kids Club and other recreational activities.
Looking ahead to its opening in the first quarter of 2019, the Recruitment Open Day will showcase the range of career opportunities available in the resort. "We are committed to growing individuals for their unique and individual personalities that will reflect in the service we aim to provide to our guests," said Deanne Garling, Director of Human Resources at Waldorf Astoria Maldives Ithaafushi, speaking to Hotelier Maldives. "As part of Hilton, we will also support their career aspirations through quality based training programs, online learning and on the job training."
The Recruitment Open Day will be held from September 5 to 6, at Maagiri Hotel from 10 a.m. until 2 p.m. "During the two days, candidates will have the opportunity to meet with the key decision makers at one go, reducing the usual delays associated with a typical recruitment process such as the back and forth in settings meeting timings with various stakeholders," Deanne added.
Waldorf Astoria Maldives Ithaafushi is looking for candidates to fill the posts in several departments; Front Office, Housekeeping & Laundry, Culinary, Food & Beverage, Team Member Restaurant & Stewarding, Finance, Purchasing and IT, Sales & Marketing & Reservations, Engineering & Landscaping, Human Resources, Spa & Recreation, Security, Transport, etc. For more information, visit waldorfastoria3.hilton.com.
Cocoon Maldives hosts Paolo Pettenuzzo as part of Gourmet Week programme
Cocoon Maldives has hosted Guest Chef Paolo Pettenuzzo as part of its year-long Gourmet Week programme. Paolo Pettenuzzo is the Executive Chef for Grand Cuisine by Electrolux Professional. He will delight guests with his tasty creations during the many cooking shows held as part of the programme, according to Cocoon Maldives.
The Cocoon Maldives Gourmet Week programme is a project run by the corporate Chef Giovanni De Ambrosis, and invites the most important culinary excellence of Italian and international cuisine and offering authentic gourmet experiences for its guests.
As part of the programme, guests will take part in various week-long exclusive cooking shows in the resort's restaurants, during which the visiting chefs will showcase their culinary art. For lovers of gourmet experiences, this will be a real show, a combination of food and design for a real a multi-sensory experience. For more information, visit cocoonmaldives.com.