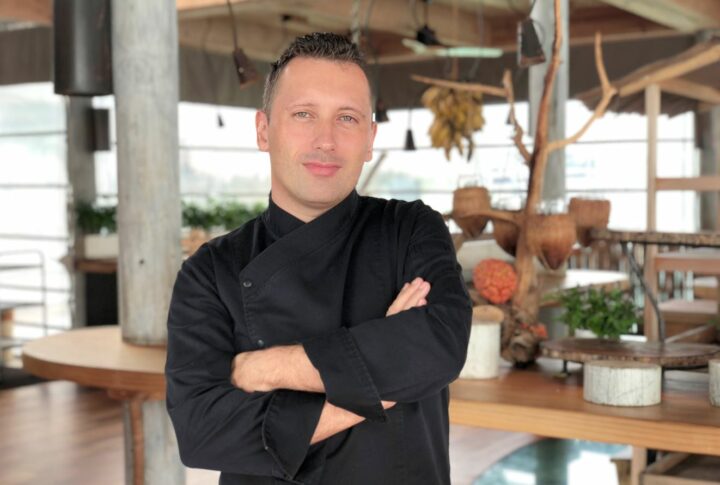 Resort News Weekly Roundup
Six Senses Laamu introduces shrimp-free menus to support sustainable seafood initiative
Six Senses Laamu has announced that it will no longer serve shrimp or prawns in either its guest restaurants or staff canteen, as of September 2018. The move follows a visit to Six Senses Laamu by Callum Roberts, professor of Marine Conservation at the University of York, where he discussed sustainable fisheries management in Laamu Atoll.
"They look innocuous and taste great, but shrimp and prawns are sadly some of the most environmentally-damaging seafood you can eat," says Professor Roberts. The introduction of shrimp-free menus at Six Senses Laamu will amount to an annual reduction of around 13,227 pounds (6,000 kilogrammes) in shrimp and prawn purchases. This represents a small dent in the global demand, but a powerful statement in sustainability.
Stefan Goechke, the executive chef, says he welcomes the challenge of adapting the resort's menus so that guests won't even notice the absence of prawns. "My team is working on some exciting new dishes to delight our guests. We also have a variety of sustainable seafood options featured on the menu, such as fish caught by local fishermen right here in Laamu Atoll, that don't carry the same environmental price tag." For more information, visit www.sixsenses.com/resorts/laamu.
Healing Vibrations at Niyama Private Islands with Muayad Najemeddin
Globe-trotting holistic therapist Muayad Najemeddin is being hosted at Niyama Private Islands this October, allowing guests to book private healing sessions of vibrational treatments like Tibetan Singing Bowl Therapy and Reiki along with Meditative Yoga enhanced with sound. The sessions are open for booking from September 29 to October 26.
Leaving behind a corporate career in Dubai, Muayad was inspired to embark on a journey of self-discovery. From Thailand to India, to Oman and Nepal, he discovered the power of healing vibrations as he trained with masters and practised his art. Amidst the pure beauty of the Maldives, he will be sharing the expertise and healing energies gained in his journeys. Muayad will be creating bespoke signature experiences for Niyama's guests based on their daily lifestyle, areas of stress within their body and energy blockage.
Guests can choose to start their morning slowly awakening in a meditative yoga class by the clear waters of the Indian Ocean. For vibration that can be felt rather than heard, Reiki treatments will also be offered. For those seeking supreme rejuvenation, The Ultimate Journey combines the healing elements of meditation, reiki, massage and singing bowls in a customised two-hour journey. For more information, visit www.niyama.com.
Mövenpick Resort & Spa Kuredhivaru unveils exclusive opening offers
Mövenpick Hotels & Resorts has unveiled exclusive opening offers for its new properties, including the soon to open Mövenpick Resort & Spa Kuredhivaru Maldives. The resort, situated on the remote Kuredhivaru Island in Noonu Atoll, is set to welcome guests starting November 2018. The resort will also showcase a series of unique architectural features and distinctive design touches that complement the soothing natural surroundings.
As part of the exclusive opening offers, Mövenpick Resort & Spa Kuredhivaru is offering guests 30 per cent off on their vacations, inclusive of breakfast, plus US$100 resort credit, US$20 restaurant voucher, 20 per cent discount on water sports activities, and room upgrades upon availability and staying period. The contemporary tropical resort features 33 Beach Villas and 72 Over Water Villas. It also offers an array of onsite recreational facilities to entertain a wide range of guests, from honeymooners to adventurous families.
Movenpick Resort Kuredhivaru Maldives will be Mövenpick Hotels & Resorts' inaugural property in the Maldives, and the first Maldivian project for MOTIV, bringing a fresh perspective to the country's hospitality scene. For more information, visit www.movenpick.com/maldives/kuredhivaru.
Maldives showcased at IFTM Top Resa
Maldives has been showcased at IFTM Top Resa, the largest trade fair held in Paris, France. Maldives Marketing & Public Relations Corporation (MMPRC), along with the industry partners, participated at the four-day trade fair from September 25 to 28. The delegation met with industry professionals during the fair to further develop and strengthen the presence of the destination within the French Market.
According to MMPRC, meetings were held with Airlines, major tour operators travel trade partners to pursue ways in which French arrivals to the Maldives could be amplified for the coming years. 2018 marks the 40th edition of IFTM Top Resa, with the show celebrating the anniversary with a new corporate identity. The show was first established in 1979 targeting the leisure industry itself. However, later in 2008, it became a multi-sector show covering all types of travel: leisure, business, MICE and groups. Now IFTM Top Resa is one of the well-known trade fairs of the industry.
The French market is among the top markets to the Maldives. In 2017, a total of 42,365 tourist arrivals were recorded from France which is an increase of 4.6 per cent compared to 2016. As of July 2018, 32,403 French tourists visited the Maldives, this is an increase of 23.9 per cent when compared to the same period in 2017.