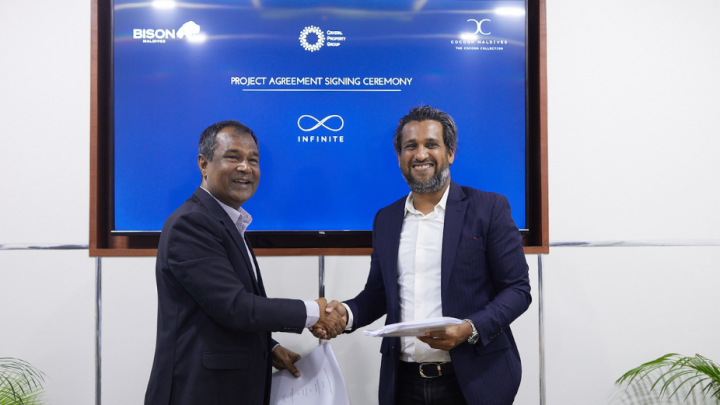 Resort-residence model Infinite Maldives by Cocoon Collection launched
Crystal Property Group (CPG), a renowned luxury leisure property developer, The Cocoon Collection (TCC), a leading hospitality and tourism brand, and Bison Group, its main construction and planning partner, have announced their collaboration in launching the first-ever dedicated Resort-Residence Model luxury development in the Maldives.
The Maldives, known for its pristine white sand beaches, crystal-clear turquoise waters, and unparalleled natural beauty, has long been recognised as a top tourist destination. With this collaboration, the trio seek to provide an extraordinary opportunity for individuals to own a slice of this tropical paradise while enjoying the luxury and amenities of a world-class resort. The project will be operated by one of the Maldives' foremost players in the tourism industry, The Cocoon Collection. With the brand averaging a conservative 75% occupancy throughout the year, investors can rest easy knowing their investment will generate the intended returns. TCC currently own and operate two hotels in the Maldives (The Cocoon Maldives, and You & Me Maldives) with two more under construction and one underway in Zanzibar.
"With our presence in the Maldives and the success achieved to date, we are looking forward to expanding on a unique leisure product and further enhancing the country's reputation as a world-beating hospitality destination and offering," said Hussain Akbarally, Director of Cocoon Resorts.
The Resort-Residence Model, a pioneering concept by CPG, combines the exclusivity of private residences with the exceptional facilities and services of a luxury resort. This unique offering allows homeowners to experience the ultimate blend of privacy, comfort, and the renowned hospitality of the Maldives.
Crystal Property Group brings its expertise in developing high-end properties to this collaboration, ensuring smooth project management, sensitive design and access to its considerable sales funnel. The company's commitment to creating extraordinary living spaces, coupled with its passion for sustainability and environmental preservation, aligns perfectly with the ethos of the Maldives.
"We are thrilled to be partnering with Cocoon Collection and Bison Group of the Maldives to launch the first-ever dedicated Resort-Residence Model luxury development in this breathtaking destination," said Reza Magdon Ismail, CEO of Crystal Property Group.
Bison Group of the Maldives, with its vast experience in planning, construction and delivery of complex builds on land and over water and is one of the pioneers in resort construction in the region. By joining forces with Crystal Property Group, Bison Group aims to extend its expertise beyond traditional resorts and create a unique living experience that exceeds expectations.
"We are excited to extend our expertise beyond traditional resorts and embark on this extraordinary venture with Crystal Property Group and Cocoon Resorts," said Abdul Majeed, Chairman of Bison Group. "By combining our strengths, we aim to create a first-of-its-kind leisure product— in the Maldives."
The project will be strategically located on a pristine island in the Maldives, on Kaafu Atoll, just 25 minutes away via speedboat from the Velana International Airport. The development will include 42 multimillion-dollar villas, a combination of water and land. Investors of the development will have exclusive access to a range of world-class amenities, including private infinity pools, a state-of-the-art fitness centre, spa and wellness facilities, gourmet dining options, and personalised concierge services. The development will also incorporate sustainable practices to minimise its environmental footprint and preserve the natural beauty of the Maldives.
Infinite by Cocoon Collection is set to launch the sales of the Resort-Residence Model luxury development in September 2023, with construction expected to commence in January 2024.