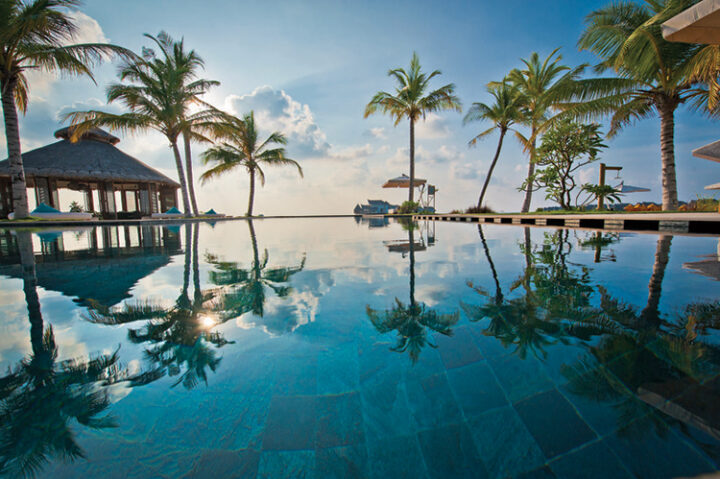 Resort Review: Jumeirah Vittaveli – a study in luxury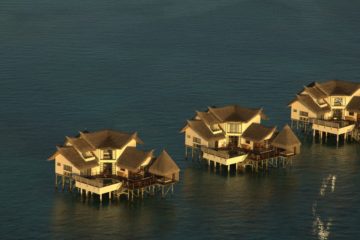 It begins at the airport, where you step into the air-conditioned lounge of Jumeirah resorts. They have two in the Maldives, one down south, and Vittaveli, closer to the capital, in South Male Atoll. You can see them on the maps they have put up. Vittaveli is the one with the curious elongated shape that's pinched in the middle, and the open necklace of water villas emerging from the top. Part of the island has been reclaimed; hence the shape. But this is a digression. The lounge, with its gracious attendants and comforts; free wifi, complimentary coffee, tea and soft drinks, is like a small oasis. One where you can recuperate for a bit after a tiring flight and get ready for the journey to your destination.
You are then taken to the jetty where you board one of the resort's newly acquired luxury catamarans. The catamarans are a treat in themselves; majestic crafts with sleek hulls, spacious air conditioned interiors and roomy decks for those who'd like to sit in the sun and take in the view. A far cry from the usual vessels that transfer guests to and fro. They are not only appealing visually but safer overall, Vittaveli's general manager Graham Kiy reveals later.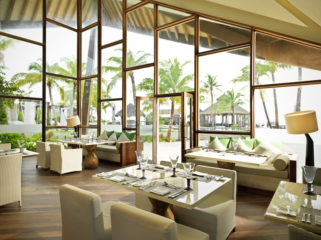 It is a pleasant 20 minute ride to Vittaveli. On the arrival jetty, you are greeted by an ensemble of staff and beats of traditional Maldivian drums. The resort not abashed at going great lengths to make you feel welcome. You are garlanded with a charming palm frond pendant, and ushered into the reception, where you meet your butler who drives you to your room. En route you catch glimpses of the island's luxuriant flora, landscaped into pockets of greenery, vibrant, gardenlike.
The rooms are opulent, whichever you choose. The exclusive Ocean Suite can only be accessed by a quick speedboat ride.  You have the usual amenities; lavish bathroom, king sized bed, comfortable seating, wide screen TV, usual that is for an upmarket hotel. What's different is that the 42" TV is connected to an Apple media center, which allows you to pick and choose your entertainment, whether from the selection of channels and films that are on offer, or from your own USB devices that you can plug in to the system.
Each room also has its own pool, a rare luxury even at upscale resorts. In the beach villas, these are L-shaped and of a considerable size. And you have complete privacy, screened off from the world by a curtain of trees, to enjoy a swim however you wish. Privacy is a key feature of the resort; going through the island you seldom encounter other guests. You only truly notice them in public areas, in restaurants.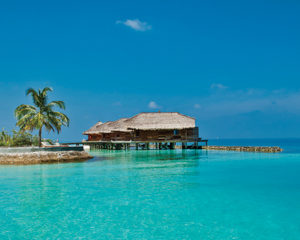 Vittaveli's restaurants, Mu Beach Bar and Grill, Samsara, Fenesse and Bar-EE, are overseen by its newly appointed executive chef Benjamin Rendell. "Cuisine definitely plays a major role in the Vittaveli experience," he says. "All guests have breakfast and dinner so they really have to be fantastic." The cosmopolitan makeup of guests at the resort creates a challenge; there are different kinds of palates, but Rendell is unfazed. He ensures that the buffets at Samsara, the main restaurant, boast an almost bewildering variety – generous helpings of fruits, an assortment of French pastries, cheeses, dim sum and noodles, rice and curry, hummus and fattoosh – there truly is something for everyone. But if you are a meat-lover, Mu is definitely the place to be. Australian meats, including choice cuts of tender beef is on the menu. After a meal, you can enjoy your favourite cocktail at the bar and be serenaded by local talent. Or if it is haute cuisine you prefer, look no further than Fenesse, where you can dine overwater, enjoying contemporary takes on the delicacies of France, Italy and Spain.
But no trip to Vittaveli is complete without a visit to the spa. The Talise Spa offers a vast array of treatments and each guest is invited to complete a questionnaire, detailing their preferences. The expert therapists then assist you in choosing a treatment that's just what you're looking for.  You can get hours of massages at one of their over water treatment rooms, where after a long treatment you can plant yourself on a sumptuous seat and immerse yourself in the tranquil surrounds. Or if you want more privacy you can choose a garden room and soak yourself in a bathtub afterwards.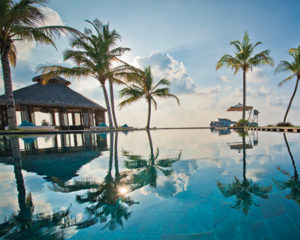 Vittaveli is a place whose accessibility does not compromise its intimacy or tranquility. The resort is exceedingly private and luxurious; the latter comes into play not only in terms of accommodation and amenities but also in how you are treated. Your children, if you do have any, are cared for (the island has one of the largest kids clubs in the country). Despite its brief history, Vittaveli has received several accolades but instead of resting on its laurels, you sense that the resort seeks to surpass itself. "We are perhaps the premier luxury resort within 20 minutes of the airport," says Kiy. "I say this not just because of our magnificent villas, but because of the Jumeirah brand and its "stay different" philosophy, which is embodied in the facilities and the high level of service we offer."