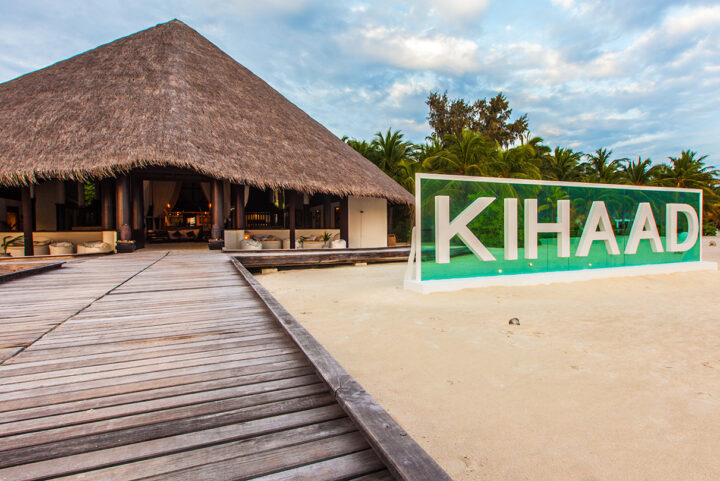 Resort Review: KIHAAD Maldives – sun, sand and sea in abundance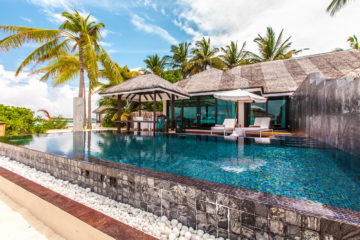 Kihaad presents an ideal setting for a particular type of traveller; one enamoured with the sun, sand and the sea. The resort is well positioned to deliver these, located in the pristine Baa Atoll, the country's first UNESCO biosphere reserve. Swathes of fine white sand encircle the island, and guests stroll barefoot around the beach or unwind underneath thatched canopies, the kind you see on postcards. Its lagoon, though not as large as those on some other islands, is still bewitching even from a distance, and up close you really feel the compulsion to dive in.
The resort is relaxed, an unassuming sort of place, it is the archetypal barefoot island. "We're not the most luxurious destination in the country," says General Manager Carlo Cravanzola. "This is a quiet sort of place, where nothing much happens." But he is proud of what Kihaad has to offer visitors. "We give our guests a value for money service. And of course this beautiful island is at their disposal."
Kihaad is indeed an island with an almost classical Maldivian beauty; there is soft white sand all around the island – unlike many islands and resorts in the atoll whose beaches are plagued by erosion, Kihaad's has managed to remain unscathed – and walking through the resort, which is slightly manicured, you will not find dead leaves on the paths or in the greenery bordering them – you will notice an abundance of local vegetation; coconut palms, screw pine trees digging into the earth with their many roots, the occasional banyan tree, always impressive not least because of its sheer size, and various small plants and shrubs. Young banana plants sit in rows in trenches off the path. Overall the interior of the resort has the feel of a large, well-kept garden, fringed by an immaculate beach.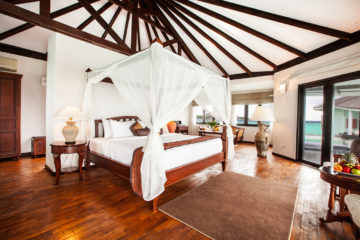 But there is more. Underwater, you will be staggered by the sheer magnificence of the submarine landscape; it is perhaps even more arresting than what appears on the surface. The house reef is packed with corals and multihued fish –parrot fish, fusiliers, banner fish – swim in numbers among the corals. Black tip reef sharks frequent the reef. Turtles are not uncommon either.  "We're very lucky because we're so close to Hanifaru Bay," says Antonio De Azvedo, base leader at the resort's dive centre. "Between June and November we have manta season, and we get huge concentrations of those awesome creatures in Hanifaru. That aside, just minutes from the resort, by a small rock, there's a high concentration of green turtles. They're quite common in this area. Baa Atoll can charm anyone, whether you're a novice or a seasoned diver. We're very lucky to be where we are."
It is not all nature however that draws guests to this small resort. Though not an up-market property, the rooms on the island are not without certain luxuries. A king-sized, four-poster bed occupies even the entry category of rooms on the beach. The rooms themselves are spacious, with polished wood flooring, comfortable sofa and chairs. The espresso machine in each is a thoughtful touch, and the all-inclusive guest gets complimentary beverages from the minibar. The bathrooms are airy, there is an outdoor shower, a staple in most resorts, and bathtubs to luxuriate in at the end of a long day.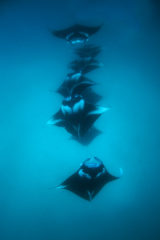 You can also indulge in a bit of pampering at the over-water K Spa whose therapy rooms overlook the spectacular lagoon. A good range of therapies are on offer including Ayurvedic, Thai, Balinese and Swedish massages, as well as facials, manicures, pedicures and foot rubs. They are all reasonably priced and the spa frequently offers special promotions. After your therapies, you can plant yourself on a comfortable seat on the roomy deck of the spa with a delicious drink; out here you have an unimpeded view of the sea, and you can feel your mind unravel, in a pleasant way, cajoled by the sound of the waves.
This charming island is an understated gem in Baa Atoll, the lustre of which is perhaps outshined by more glamorous neighbours like Dusit Thani or Soneva Fushi. But it has everything you could possibly want from a resort. And people keep coming back, according to Cravanzola, who is a bit surprised by the fact that the resort gets repeaters from Asia, especially from China and South Korea. But once you stay in Kihaad you will realise that it is hardly surprising at all.