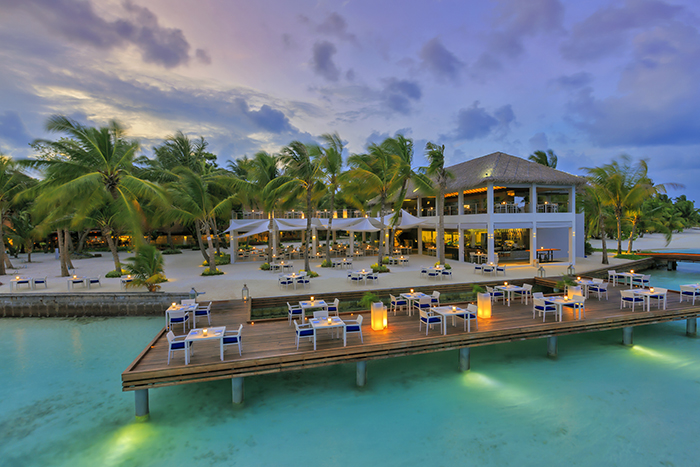 Restaurant Review: Thila at Kurumba Maldives
Noona Hussein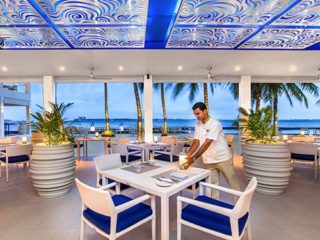 I cross a charming walkway over a small pond as the sun sends its last few rays into the evening sky. Little flickering bulbs light my path as I step into a milieu that is the epitome of glamour and sophistication.  I've arrived at Thila, the recently reopened restaurant at Kurumba Maldives and the resort's most popular outlet. The maître d' greets us at the entrance, and we are introduced to the delightful restaurant manager Ms. Dee.
Thila, which means 'shallow' in Dhivehi, sits proudly over the 'shallow lagoon' of Kurumba Maldives. A quick tour before dinner; Ms. Dee leads us up a short flight of wooden stairs to the restaurant's upper storey. It's spacious and elegantly designed. The glamour of the restaurant's entrance gives way to a cozier environment. Polished wooden floors and soft romantic lights give the space a whole new degree of warmth.
I notice a beautifully decorated table set up at a discreet distance, set apart from the rest of the dinner tables. Curious, I ask Ms. Dee about it. Smiling, she replies "We're expecting a group of VIPs for dinner tonight." It doesn't surprise me as Kurumba Maldives caters to corporate meetings; international and otherwise. As the first ever resort built in Maldives back in 1972, Kurumba Maldives has always been one step ahead of everyone else in their game.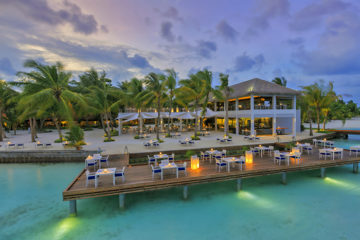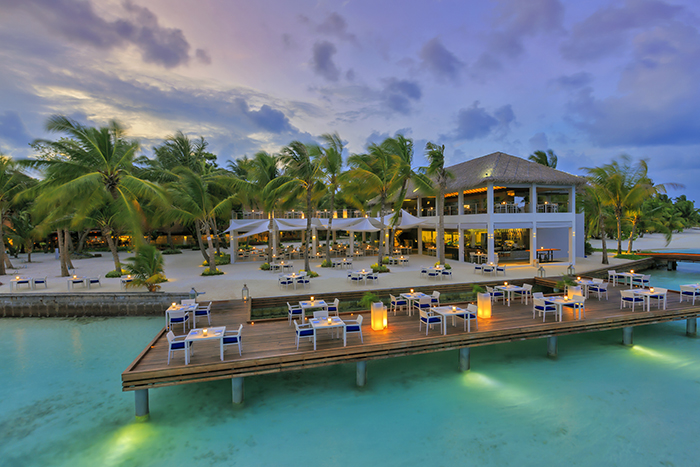 As well as their corporate clients, Thila welcomes guests from across the globe. "We've got people coming in from Saudi Arabia, Japan – all corners of the world, to be honest," Ms. Dee explains. "And we make it a point to give the best service to all guests," she went on, "which is why most of our waiters are multilingual," she says proudly.
Back on the ground floor, as I walk over to our table overlooking the lagoon, I notice the kitchen is visible behind transparent windows. I see chefs absorbed in their creations, working with gusto to serve up their delicious fare. Speaking to Ms. Dee, I learn that this culinary team is a rather exotic one. Head Chef Ross is from the UK, and the rest of the team includes chefs and waiters from Sri Lanka, India, Indonesia and the Maldives. As guests are seated, they can observe them at work and are able to witness the magic that would usually happen behind closed doors.
And speaking of magic, the menu has also changed since the reopening in September 2014. General Manager Mr. Jason Kruse says that "the menu changes depending on the seafood available and the dishes are a perfect balance of flavor, elegance, and creativity." He continued, "At first, our chefs changed two dishes every month, but now we are at a stage where we can't even change a single dish because they have all become firm favourites."
Whatever the dish, the Thila approach is to exceed expectations. According to Mr. Kruse, their philosophy is to 'under promise and over deliver.' "Our aim was to raise the standard of service whilst keeping it in line with our resort ambiance, which we like to call 'contemporary Maldives'," he explains.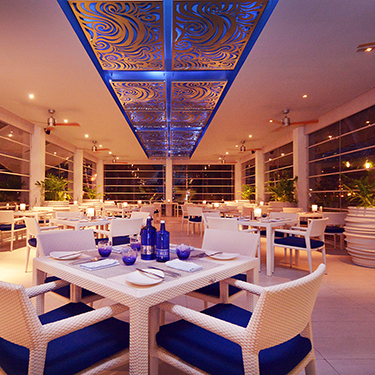 And he is right. The chicken dish I order could easily become my favourite – Cavolo nero, Girolle mushrooms, sous-vide onions, and foie gras tortellini were prepared to perfection – the gastronomic highlight of my life, I might say.
According to Mr. Kruse, the sous-vide scallops with cauliflower pure, the lobster tagliolini with bisque foam and the cod with smoked prawns brandade are the most famous dishes amongst guests.
Between the conversation flow with Ms. Dee, and each incredible course, I am blown away by the warmth and welcoming tone of the waiters. Their service is friendly, and it isn't just for us. Two Russian women on my right seem to be enjoying chatting with the waiter and digging into their seafood.
According to Ms. Dee, the restaurant tries to cater to every guest's request, and oftentimes the chef has had to prepare meals that weren't on the menu. "But you see, we don't want to let our guests down, we only provide the best and so if they ask us if we can prepare a particular dish, our chef makes it happen," she says.
The night lingers on and we chat between courses. With the soft breeze, and the gentle sound of the waves below us, the setting is absolutely perfect. With the stars firmly overhead, I feel as though it is all ending too soon. Unfortunately the chef is kept rather busy with all the guests so we can't meet him, but after that exquisite meal I count him as a friend already.
For more information, visit: www.kurumba.com/maldives-restaurant