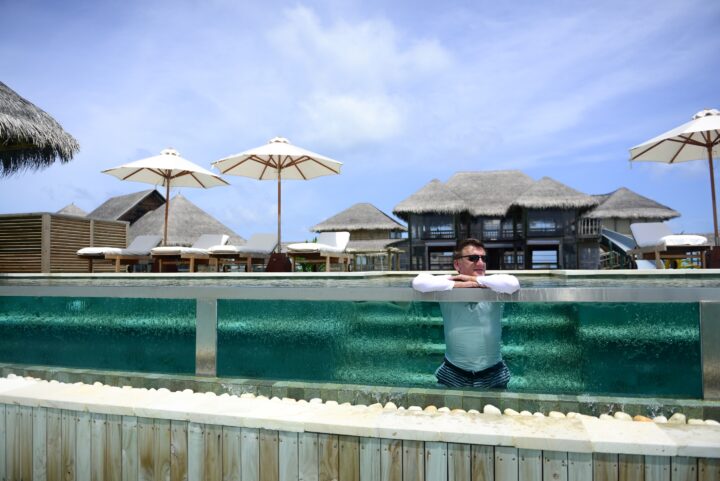 10 "Idiosyncrasies" of General Management in the Maldives
Sun-kissed beaches, turquoise oceans, swaying Palm Trees, amazing Maldivian and international teams, what more can a custodian of a luxury resort in the Maldives want? Not much I hear you say! Very true, I reply, but there are a few, should I say, quirks to consider…
Ordering produce for the Festive Season in October! Like many, I hate the Festive TV advertisements shown in October and when Chef gives me his necessary Festive order around that time, it gives me the same feeling and I worry about our cash flow! How many European White Truffles can our guests eat for goodness sake! Surely some dried button mushrooms would do!
Sommelier: "We have run out of Chateau Petrus 1997, it will take three weeks for new stock and Mr Charles would like four bottles today!" It can take some time to order products here and guests rightly should not have to care about that. Manager: "can't Mr Charles' guest have the 2005!"
Sports… seriously! Sports, especially football is taken VERY seriously here and resort competitions often end up with intense negotiations with the GM as the arbiter. I firmly believe that the English Premiership Regulations should apply as most of the staff support Manchester United! (Apologies to the few Chelsea supporters). Don't talk to me about cricket umpiring… that's more stressful than presenting the Yearly Budget!
Rain, rain go away! "The Sunny Side of Life" is often true, but with climate change, we are seeing more and more inclement weather. Looking after guests who have paid for Sun and Sea on an island of 600m x 200m can at times have you pulling your hair out. A great and imaginative team will always save the guests vacation.
The daily commute to work. I often watch TV programmes showing the nightmare daily commute to work. Traffic jams, road rage and screaming children on the school run! I used to leave my villa, get on my peddle bike and 20 revolutions of the wheel later, I'm am at my office with a view of the Indian Ocean. Don't hate me, but I understand polite jealousy.
We have our own Island time zones. One hour ahead of Malé, more convivial time for sunset cocktails! Being a Welshman, I have the God-given right to make fun of the English, but on a serious note; although we have to share a border with them, I firmly believe that if an island only twenty-minutes from Malé can have its own time zone, then so should Wales! We should also be one hour ahead so that we know what is coming before they do 🙂
We live and work often on an Island no bigger than a couple of football pitches. There are not many people who live and work in such a some would say, confined space.  We are surrounded by the beautiful Indian Ocean, but many resorts are quite a distance from the nearest developed habitat and that can be in some ways claustrophobic. "Island Fever" is a term often used when the confines of such living can take its toll and very odd behaviour can ensue… Thank goodness for teammates and in my case my P.A!  You really don't know you have it until someone tells you do.
Promote the local homegrown. It is a more serious note I make here in that often international hotel groups don't identify local team members for promotion to senior management positions. Just because someone does not have a degree, doesn't mean they couldn't do the job. I don't have one! My last resort had four Maldivian Dept. Heads, but we can always do more and the lack of Local Executives is a crying shame. Identify, develop, coach and promote!
How do the Local Authorities promote their own country as the jewel that it is? This is something close to me and many others' hearts, both local and international. They need to build a picture, liaise and seek advice from the experts (us), create a true brand, attract the right types and numbers of guests and do so without "politics". If Wales can do it and it rains most days there, surely the stunning, sunny and surreal Republic of Maldives can do so also!
Last but by no means least I would say that the Maldives has everything a truly international and well-travelled guest could ever want. The warmest of hospitality, the friendliest time and warmest of people, the most beautiful and truly unique feeling of natural luxury, and the atmosphere created so that when a guest is with us they really do not want to leave. Very few other destinations can offer this, although many do try. The Maldives may have its little quirks and challenges, but its people, its environment and its natural beauty, make it an experience not to be missed and certainly never to be forgotten!
The Maldives, where guests truly get to experience the Unique, Beautiful and Natural side of Life!
Steven Phillips worked in the Maldives as a General Manager before taking a break to Mauritius. He is though coming back as the GM for the opening of Joali, Maldives, set to open in 2018.