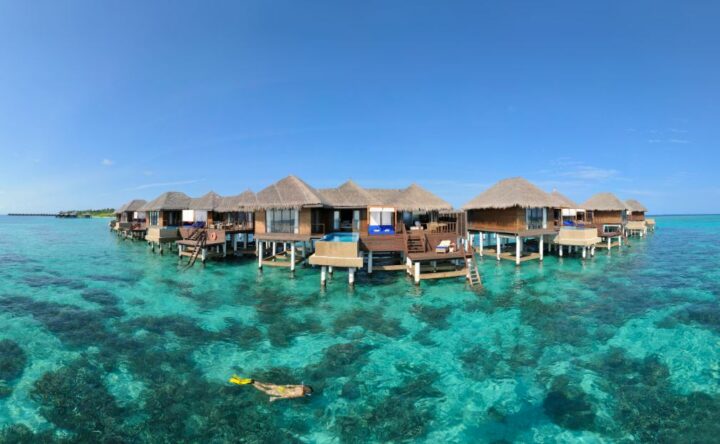 Memorable moments redefine luxury at Coco Bodu Hithi
Even in the Maldives, there are certain locations that are more desired than others. North Malé Atoll is one of these with its proximity to the airport and rich marine life. On this breezy sunny afternoon, my husband and I are headed to Coco Bodu Hithi, just 40-minutes from the airport by speedboat. Coco Bodu Hithi is the luxurious five-star escape of Coco Collection, a home-grown hospitality brand that has created a reputation for merging boutique luxury holidays with Maldivian flair.
While we take in some rays, the boat slows down and is quickly docked by the crew – who, by the way, are wearing the most amazing sun yellow shirts out there. We step out onto the large arrival pavilion, to be greeted by the front team and managers, and escorted to the reception. During this short walk on the jetty, I spot a baby reef shark, a giant parrot fish, and a hammock that I wanted to put my name on. But that is for later.
The check-in is fuss-free and we are soon headed to Island Villa 340, our home for the next couple of days. As we enter the villa, the first thing that hits us is a huge round bathtub right in the middle of the villa! To the right are a living area leading out to the deck and the beach.To the left is the bedroom looking out to the private pool and day bed. Sleek, sophisticated and contemporary, it invokes a feeling of being made for two people. First order of business? A dip in the pool of course.The sun is about to set when we head to the beach for a picturesque barbecue dinner. Why picturesque you ask?Let me visualise it for you. Nothing but the sound of the waves grazing the shore less than five feet from our table, the sunset reflecting on the calm lagoon, the palm tree silhouettes swaying ever so gently, a cold minty drink in hand, and that tempting whiff of grilled lobster. We are in for a treat!
Watermelon and feta salads, fresh ceviche, sushi and sashimi were just some of the starter highlights before we move onto grill every bit of seafood we can find. We are talking lobster, scampi, prawns, calamari, tuna and white fish, with sides of vegetable, juicy grilled pineapple and corn on the cob. As we sit there, prawn skewer in hand and toes curled into the sand with our shoes long forgotten, the ambience oozed comfort. With no obligation to fuss over formalities, it was about good food, loved ones and savouring the moment.
The next morning, we move on to what most people look for when in the Maldives; that perfect spot to hang out with a sea turtle and maybe get up close to some bigger-than-average-sized sharks. Let me just say, I can pretty much write a song about the marine life around this island!We meet up with Sonia Valladares, the resident marine biologist, and Dr Claire Petros, the Veterinary Surgeon at the Olive Ridley Project turtle rescue centre at Coco Palm, the sister island of Coco Bodu Hithi. My husband had a simple request. "Can you please take us somewhere with a couple of turtles and some sharks?" Sonia was ready for this.As we head out on a Dhoni, she tells us that this is the first spot of today's adventure.  After just 15 minutes, we jump to turtle point. We keep our eyes peeled while snorkelling alongside the edge of the reef, and I see Sonia and Claire free-dive in front of us. The first encounter of the day! A large, friendly hawksbill sea turtle is feeding away, oblivious to our excitement.
It only went up from here! After swimming with Monty (Sonia later tells us which turtle we spotted, thanks to the sea turtle identification programme that they contribute data to), we saw a couple of colourful parrot fish and jump back onto the Dhoni. Up next was shark point and I will be honest here. We did not jump in; it was more of dip-and-glide into the water if you catch my drift.
The Dhoni revved its engine and I see large slow-moving shapes below us. Massive nurse sharks and stingrays are circling, and within a couple of minutes, I counted about 20 of them. Fast little remoras are also darting around us, and I am just in awe of how used to human presence these creatures are. I looked to my right to see if my husband was still within reach, and I did not need to ask to see his joy at spotting the big two he was out to see that day.
You would think this was the end of our adventure with Sonia and Claire. Wrong. We arrive back at the island and they take us out to the house reef, which is claimed to be one of the best in North Malé Atoll. And now I know why.Swimming just off the Water Villas and Escape Water Villas on one end of the island, we see healthy corals, more species of colourful reef fish than I could identify, and even an octopus! But the biggest surprise came when we were by a coral nursery frame that the marine biology team had planted to observe coral growth.We see a shape move very swiftly, and it was a black tip reef shark! Definitely not a baby one, and yet, strangely peaceful. Sonia tells us of how misunderstood sharks really are, and the undeserving reputation they have collected over the years. We go snorkelling a little bit further, and guess what? More sea turtles; one who was feeding like the previous one (later identified as Allegra) and the other that was swimming around and actually came up to the surface to breathe.
As we come up and make our way to the villa, Claire tells us many stories about the patients at the turtle centre on the sister island. Among them are some having buoyancy issues due to being entangled in nets for so long, and others that need surgery to amputate severely damaged flippers. I am to learn more about the Olive Ridley Project that night at the bar where Dr Petros gave a talk to all the guests on the island.
After our rich adventure out at sea, it was time for a quick lunch at Air, the open-air restaurant located on the deck, overlooking the infinity pool and lagoon. Tucking into a Greek salad and Penne Pomodoro, with my husband ordering his beef burger (always!), we sit at Air for a good few hours.
With our stay falling into the peak season on the island, I expected a chattier atmosphere around me. But the restaurant is quiet (perhaps the fact that there are three lunch spots to choose from had something to do with it), with the occasional excitement when a heron pops by to see what's up, and the fresh sea breeze encouraging everyone to retreat to the villa after a while. For us, it was spa time.We stroll through the pathways lined with lush jungle-like foliage, almost canopied if not for the sun speckling through the trees, and make our way to Coco Spa. As with all the spots at Coco Bodu Hithi, Coco Spa follows the theme of ocean breezes and lagoon views, located over water at the tip of the island.With 8 treatment rooms catering to the 100 villas on the island, it really is a wellness sanctuary drawing inspiration from the ocean and its healing effects. The Spa Manager introduces our therapists as we pick out a treatment.
With the spa carrying products from Thémaé – an organic French label inspired by the healing properties of tea, we are inclined to give these products a go. But a coconut oil massage was just as tempting, and we opt for an hour-long Oriental couples massage. Safe to say, I can understand why this is the busiest time at the spa. It is that sweet time of the day when everyone is looking to unwind right before dinner. And that we did.We stroll back to the villa, just in time to take a dip in the pool and get ready to watch a classic sunset at Latitude Bar. We were just about to take a seat near the pool when a heron flew by and landed right on the edge of the pool.Abandoning the drinks menu for a while for this photo-worthy moment, we stood there, watching the sky turn from a soft pink to a classic orange and then a fiery red.
I thought back on the short amount of time we had spent here and the many stories I already had. Coco Bodu Hithi translates luxury into their own language. And it is all about original moments that matter the most to you.