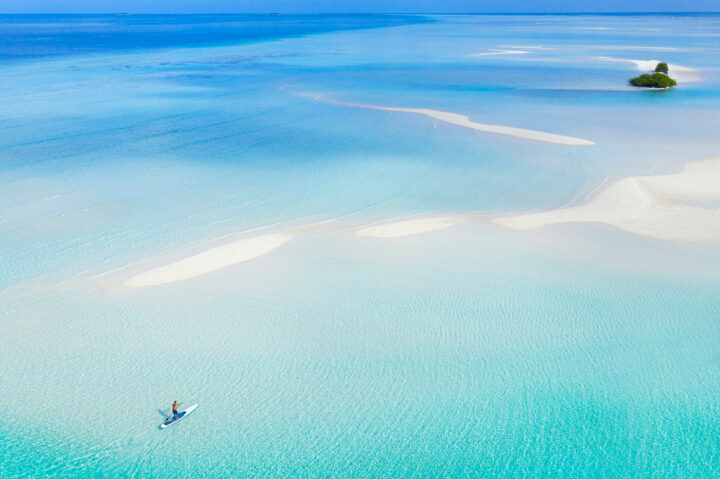 Emerging Destinations: Huvadhoo Atoll
Why should the beauty of Maldives be confined to just the North? It has many spots that deserve a visit. Thanks to better transport and development of resorts the area is becoming popular among tourists. Tourism began flourishing in the Maldives since 1970s when resorts near the capital city emerged. They had the advantage of the nearby international airport, bringing crowds of tourists to the country. However, popularization of domestic airports in the 90s has been a game-changer for jewels tucked in the Southern most end of the Maldives, namely Huvadhoo atoll. 
Listed among the 10 largest atolls in the world, Huvadhoo atoll is a unique chunk of Maldives that one will not experience elsewhere. Gaafu Alif and Gaafu Dhaalu, the two districts making up the atoll are said to have been the main hubs for Buddhism in ancient days; archaeological proofs of which are still waiting to be explored.
Disconnected from the rest of the Maldives, the dialect, here, while differing from island to island within the atoll, is entirely divergent from the mainstream language. They are famous for their intrinsically designed women mats and traditional Dhivehi libaas sewed with finesse like no other. Huvadhoo atoll is a world within a world.
The atoll has also gained traction for its marine life. Much sought-after marine animals such as blacktip and whitetip reef sharks, hammerheads, tiger and leopard sharks, and turtles dwell in the seas of the atoll. If you are lucky, whale sharks can also be spotted during May and June when currents change direction and plankton levels rise. This is a location surely to be on bucket lists of enthusiastic divers.
With airports in the North Kooddoo and South Kaadedhoo roughly an hour away by domestic flight from Velana International Airport, the atoll is now home to many international hotel chains. Acclaimed international brands such as Park Hyatt, Accor, Robinson, Pullman, Outrigger, Raffles, Amari, and Cenizaro resorts now spread across the atoll offering pearly white beaches with a touch of luxury.
Mercure Maldives Kooddoo Resort
Mercure Maldives Kooddoo Resort, unveiled in September 2017, is the first-ever resort with water villas in the Maldives built on an airport island. An ideal destination for business and leisure, the resort takes pride in their vibrant furniture and colourful aesthetic. With 43 overwater villas and 25 beach villas, the Accor resort offers lavish options such as private pools and an overwater bar.
When it comes to entertainment, Mercure Maldives doesn't fall short on creative classes to provide meaningful experiences for their guests. The resort teaches the traditional Maldivian art of coconut tree climbing for its guests every Friday. Travellers can also participate in their educational cooking classes for both Maldivian and International cuisine, and join a Spa Home Class if you want to surprise your loved ones with a special spa treat.
Offering a spectacular view of the tropical sunset, the VISTAS – GASTROBAR perched on stilts overwater is the ultimate Maldives experience for lovers of the sea and good food. The lounge offers speciality coffees, teas, and handcrafted cocktails with freshly baked pastries.
Mercure Maldives Kooddoo Resort is a 65-minute domestic seaplane journey from Velana International Airport to Kooddoo airport where the resort is situated.
Outrigger Konotta Maldives Resort
Outrigger Konotta Maldives Resort, opened in August 2015, is the place to be for maximum relaxation with your family and loved ones. Sitting amidst the blue waters of Gaafu Dhaalu atoll, the resort offers complete privacy and seclusion to rejuvenate body and mind for your vacation. Boasting 29 villas on land and 24 luxurious villas overwater, the resort strives to extend world-class service and uncompromising hospitality to their guests.
The small hideaway island in the South ensures their guests are well-catered for in the Navasana Spa. Immerse yourselves in the resident hydrotherapy pool or take a steam bath after a relaxing yoga retreat to make the most of your spa experience. The resort also encourages not to shy away from watersports. The lagoon of Konotta offers a range of tropical marine life, most prominently leopard sharks and varieties of rays grazing the beach and reef of the island.
The resort recently introduced a classic floating breakfast fit for a tropical vacation with freshly cracked coconuts and breakfast treats while you dip into your private pool. Furthermore, a unique collection of premium spirits from East Asia such as varieties of Sake, Umeshu, Shochu, and Baijiu are available in-house for exotic adventure seekers.
Outrigger Konotta Maldives Resort is a 55-minute domestic seaplane journey from Velana International Airport to Kooddoo airport, and then a 30-minute speedboat ride to the resort.
Park Hyatt Maldives Hadahaa
Park Hyatt Maldives Hadahaa opened in 2011 is the first and only resort in the Maldives certified by EarthCheck for planning, building, and construction. Boasting 50 luxurious villas, 36 villas on the beach and 14 villas spread out over water, their commitment to conservation and sustainability is unparalleled in the industry. The brand vows to get rid of single-use water bottles by June 2021 in all its properties, and Hadahaa manages an in-house water bottling plant to reuse glass bottles.
The resort pays homage to traditional Maldivian architecture by incorporating coconut timber and coral stones in their construction and conducts programmes to teach English and Cross-Cultural education for youth in nearby inhibited local islands.
Park Hyatt is a brand that is environment-conscious and determined to invest in the future, which is apparent through its numerous projects to positively contribute to the local community and the planet. This mind-set is translated to many of their services offered to guests as well.
Cookery classes are open to guests interested in learning popular Italian dishes and traditional Maldivian dishes. If you are itching to prepare Maldivian cuisine, such as garudhiya (Maldivian fish broth,) curries, and whole reef fish, these classes would be worthwhile to feed your curiosity.
Park Hyatt Maldives Hadahaa is a 55-minute seaplane journey from Velana International Airport to Kooddoo airport, and then a 30-minute speedboat ride to the resort.
Pullman Maldives Maamutaa
Pullman Maldives Maamutaa, the youngest edition to Huvadhoo atoll, opened in September 2019 with the promise of luxury travel at its finest. The resort features beachfront and overwater villas with minimalistic design and maximum affluence. The spotlight goes to the in-house two Aqua villas with bedrooms submerged in the Indian Ocean which is your ticket to have a front-row seat to a picturesque view of extensive underwater fauna.
The island is blessed with a natural lake; a rare find in the Maldives, and one of the largest and deepest lagoons the region has to offer. A range of activities awaits you at Pullman Maldives Maamutaa. Treasure hunts, 26 diving sites, nature walks, and an invigorating Raaveriya boot-camp fitness experience are sure to stir up your appetite for adventure.
The Accor resort offers a generous All-Inclusive package for its guests with options to dine from multiple outlets. To tantalize your taste buds, the restaurant offers a stretch of organically-sourced dishes ranging from Mediterranean, French, Chinese, Maldivian, Arabic, to Indian cuisine to pair with a wine list featuring over 80 wines from different corners of the world.
Pullman Maldives Maamutaa is a 55-minute domestic seaplane journey from Velana International Airport to Kooddoo airport, and then a 15-minute speedboat ride to the resort.
Robinson Club Maldives
Robinson Club Maldives opened in 2009 is a haven for couples and singles looking for a child-free gateway. The Adults Only resort is enveloped by lush coral reefs and a pristine lagoon housing diverse species of marine life. The resort carries an inventory of 121 beachfronts, garden and overwater villas which makes up for an intimate retreat for those looking for the perfect remote location.
Most bungalows and suites are equipped with exotic open-air bathrooms with shower and bathtubs, large king-size beds fit for a honeymoon, walk-in closets, and outdoor terraces for total privacy. Wellness programs such as guided meditation, yoga, Pilates, aqua aerobics, and sauna treatments are available and
For enthusiasts of fine cuisine, the resort ensures the buffet spreads, live cooking, and A La Carte options are nutrition-conscious foods influenced by the latest diet trends and personalized for all your dietary needs.
Robinson Club Maldives is a 70-minute domestic flight from from Velana International Airport to Kaadedhdhoo Airport, and then a 30 minute speedboat ride to the resort.
The Residence Maldives Falhumaafushi & Dhigurah
The Residence Maldives Dhigurah welcomed its first guests in June 2019 unveiling 173 villas including beach villas and water villas with stellar service. Connected by a bridge of 1 kilometre to its sister island Falhumaafushi featuring 94 luxurious villas, the two resorts of the international chain offers a private experience for your honeymoon gateways and family vacations.
For guests of the resorts, visiting the Clarins Spa is a must. Exclusive to the Cenizaro brand, The Spa by Clarins offers a bespoke range of holistic treatments to those seeking the ultimate wellness treatments. Inspired by time-honoured wellness traditions of the East paired with European innovations, the signature treatment Essence of Dhigurah is an escape into rejuvenation with its unique treatment of utilizing locally grown herbs and plants.
Dhigurah is especially proud of their private dining experiences available to guests celebrating special occasions. The service covers all bases, including romantic dinner for two under the stars, family picnic on the beach, or a birthday feast with friends; all menus crafted by a personal chef according to your specific dietary needs, accompanied by the luxurious touch of a personal butler to serve for the occasion.
The Residence Maldives Falhumaafushi & Dhigurah is a 55-minute domestic seaplane journey from Velana International Airport to Kooddoo airport and then a five to seven-minute speedboat ride to the resorts.
All resorts above offer a unique experience and ambience exclusive to its own, served with uncompromising hospitality of the Maldives to its guests. More resorts are said to emerge in the Huvadhu atoll. As of now, 5 more uninhabited islands in the atoll are up for lease by the Maldivian government for development of resorts, giving a hopeful prospect of progress and diversity for guests.