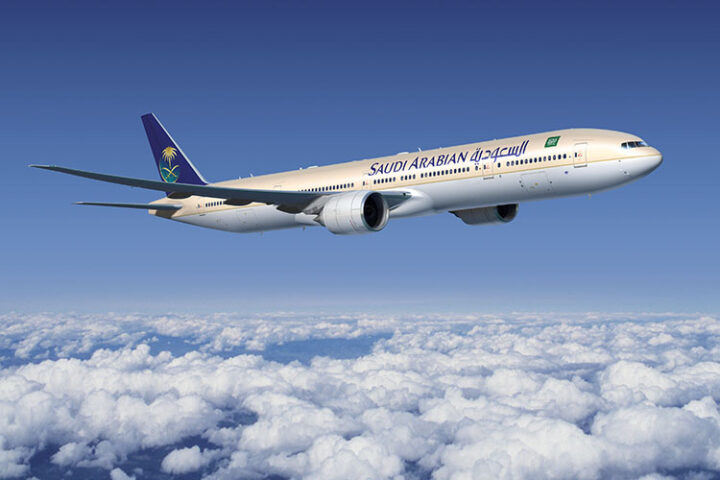 Saudi Arabian Airlines commences weekly flights to Maldives
Saudi Arabian Airlines, the kingdom's national carrier, has commenced weekly flights to the Maldives with the inaugural flight landing at the Ibrahim Nasir International Airport yesterday morning.
"The two weekly flights will open up a new horizon between Saudi Arabia and the Maldives," said Adil Moosa, Managing Director of Maldives Airports Company Limited.
The weekly flights will increase the number of travellers between Saudi Arabia and Maldives and improve bilateral relations between the countries, he added.
Saudi Arabian tourists visiting the Maldives grew by 27 percent in 2015 compared to the previous year. Some 15,749 Saudi Arabians spent their holidays in the Maldives last year, representing a market share of 1.3 per cent.
Saudi Arabian Airlines are meanwhile offering a 50 per cent discount on airfare for bookings made before April 2. Groups of ten or more people travelling to Saudi Arabian capital Riyadh will also be eligible for a 50 per cent discount.
An Air Services Agreement between the governments of Maldives and the Kingdom of Saudi Arabia was signed on March 29, at the Hulhule Island Hotel.
Tourism Minister Moosa Zameer signed on behalf of the Maldives while Sulaiman Abdullah Al-Hamdan, President of the General Authority of Civil Aviation of Saudi Arabia, signed on behalf of the Government of Saudi Arabia.
"With the addition of direct flights to the Maldives, the airline now flies to 54 international airports in 35 countries, with flights to other destinations scheduled for this year," the airline said in a statement.
According to the airline, the direct flights between the two countries will contribute to the strengthening of relations between the two nations, provide investment opportunities and boost multiple segments of guest service including pilgrims, business and leisure travellers.
Mega Maldives Airlines, the fourth largest international airline in the Maldives, welcomes the Air Services Agreement that was signed between the two countries.
Prior to Saudi Arabian Airline's maiden flight to the Maldives yesterday, Mega Maldives was the only airline that had direct flights between the two countries. It flies three times a week connecting Male' and Jeddah.
"MEGA Maldives Airlines continues to support the Maldives' Government initiative in facilitating greater access to foreign markets, through bilateral air services agreements and other mechanisms. Saudi Arabia remains an important bilateral trade and development partner to the Maldives, and increased air traffic between the two countries could only strengthen the existing friendly relations," the airline said in a press statement.