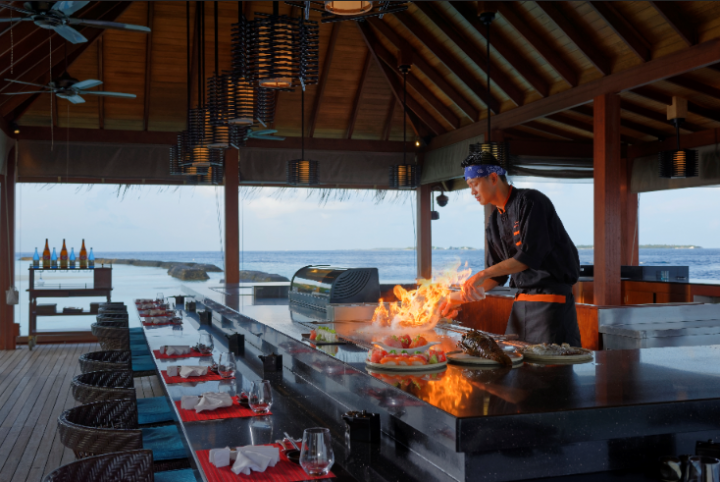 Sensational Sushi by the Sea in the Maldives
Each year on June 18, is a special day for lovers of Japanese cuisine. It is a day to celebrate the international day of sushi and the Maldives surrounded by the Indian Ocean has some excellent Japanese restaurants that specialise in sushi. Clarity, lightness, simplicity and order are the words used to describe the hallmarks of Japanese cooking and many of the Maldives finest resorts ensure that they have a Japanese chef in residence. Some of their restaurants are highly rated throughout the world. Hotelier Maldives takes readers on a tour of some of the country's leading sushi restaurants in the resorts.
Umi at Maafushivaru Maldives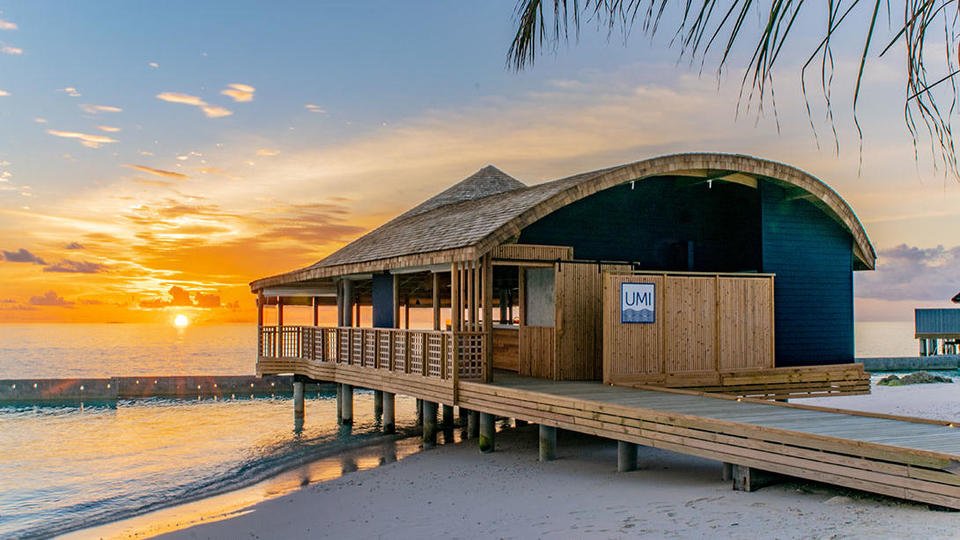 Dine in the intimate overwater Japanese cuisine restaurant, Umi at Maafushivaru for a night your taste buds will never forget. Fans of Japanese food will be spoilt choice at Maafushivaru island resort which opened in 2012 offering a range of sushi and teppanyaki. Perched over the tranquil but vibrant Indian ocean, there is no better place in the Maldives to enjoy the tastes of the Far East.
Tsuki at Coco Bodu Hithi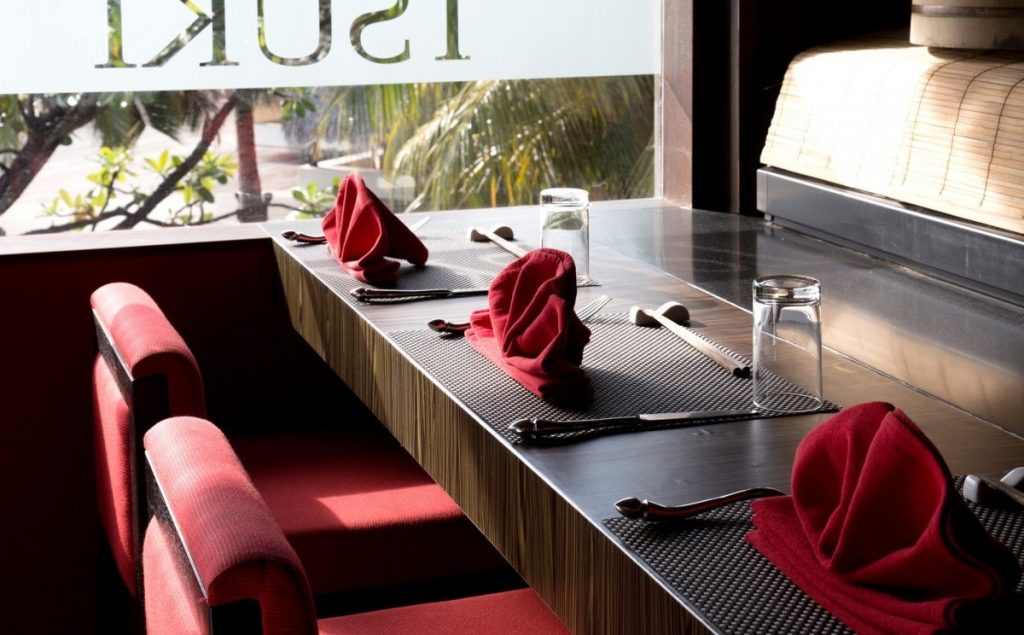 Tsuki combines the sharp precision of Japanese cuisine with the relaxed vibe of island life. At Tsuki, our Japanese Restaurant in the Maldives, every plate takes up this mantle and celebrates the seafood, rice, soya and vegetable bounty of nature. Refined yet unpretentious, graceful yet satisfying and inherently healthy, our chefs prepare Japanese soups, salads, tempura, sashimi, sushi, hot dishes and desserts. Dine À la carte or feast on the chef's curated five-course menus. Located in an elevated position above Latitude, guests can choose to dine outside on the terrace in the soft evening breeze or sit at the sushi bar and watch the theatre of the chefs preparing their masterful dishes.
Origami at Anantara Veli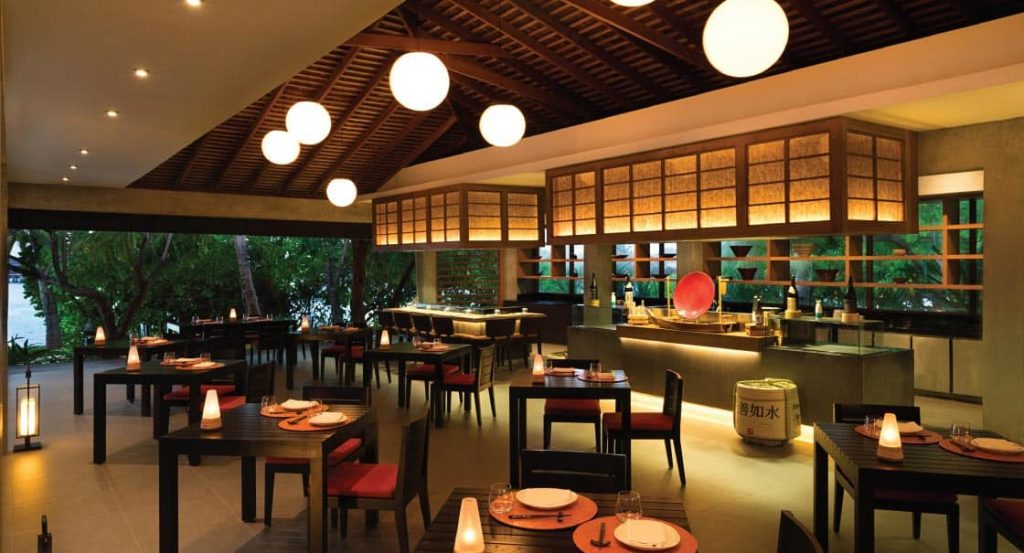 Enjoy the dazzle of live teppanyaki chefs as they prepare your meal and savour the flavour of fresh sashimi and sushi creations made up of local catches of yellowfin tuna. Enjoy Hokkaido scallops straight from the robata grill, or signature dishes such as thinly sliced seabass garnished with yuzu, truffle oil and salmon roe. For an entertaining evening, choose a teppanyaki menu of Wagyu beef and Alaskan king crab which is sliced, diced, sizzled and served before you. For an intimate culinary experience reserve the wine cellar – The Vault, where a private chef crafts a tailored tasting menu for a table of two to eight guests. Pair each course with a glass of wine recommended by their wine guru.
Kaika Sushi Bar at Constance Halaveli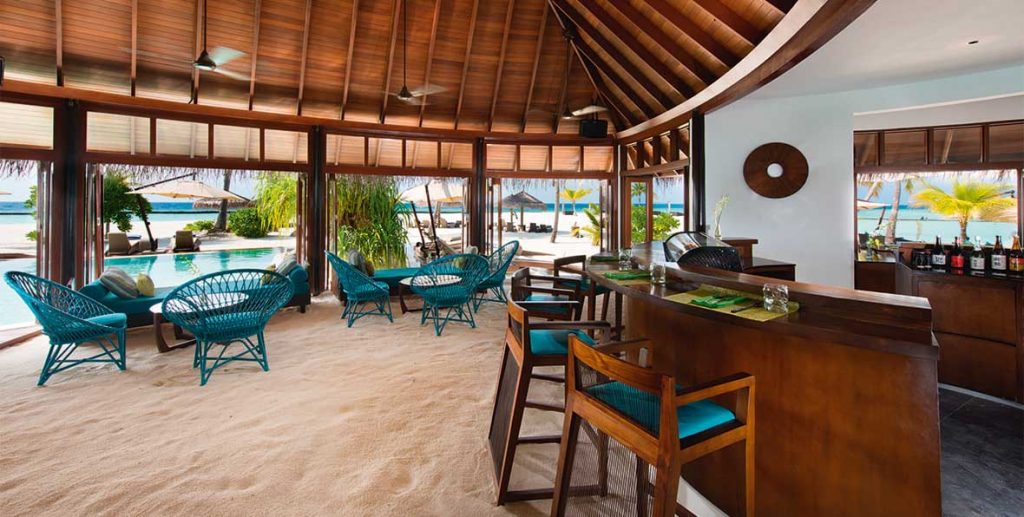 Kaika Sushi Bar at Constance Halaveli Maldives is all about Japanese food. Feast on a variety of sushi rolls, sashimi and mochi. Guests can choose from octopus, salmon, yellowtail, scallops, tuna and reef fish sashimi. There is a sumptuous selection of sushi from Sushi selection: seafood roll, california roll, tuna with chives, salmon roe, fried prawn roll, dragon roll sweet shrimp and spicy salmon and to end your feast, try a Mochi ice-cream or Tofu in sesame sauce.
Kata at Sirru Fen Fushi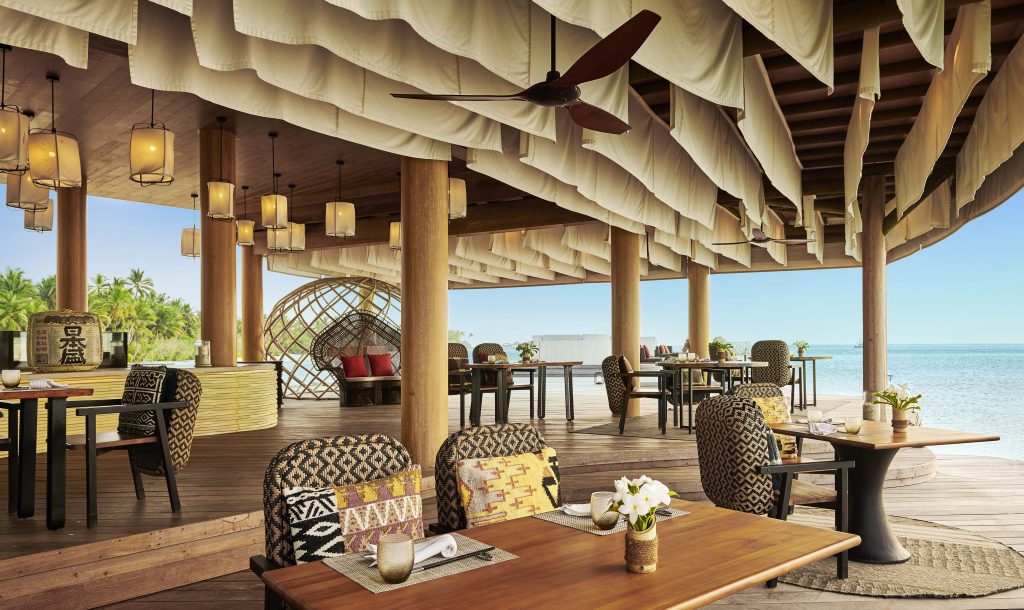 Faimont Maldives Sirru Fen Fushi's signature Japanese restaurant Kata, celebrates Asian flavours with a modern menu offering an array of sushi and sashimi appetizers freshly made from the chef's counter, robata yaki and a variety of seafood options cooked in agemono style. Chef Artyiasa (Art for short) has been perfecting the art of sushi making for over ten years. He will be spearheading sushi masterclasses on International Sushi Day as the resort has organised a special sushi and sake dinner at Kata in the evening.
RAW at Ozen Life Maadhoo
Serving raw fish cuisine and sushi platters, RAW focuses on light, nutritious cuisine and refreshing beverages for lunch. Located within the serene spa & wellness complex, this relaxed restaurant offers a sumptuous lunch of sushi plates and the latest raw food world trends. Experience the elemental joy of a pure, natural, and nutritious meal, with options such as sushi, sashimi, and nigiri, made with fresh salmon. Relish scrumptious Japanese raw specialties served with sticky rice, wasabi, gari (Japanese young ginger) and a variety of wellness beverages. Open for lunch, RAW is an ideal spot for a sunny afternoon meal overlooking the eastern lagoon.
Teppanyaki at Velassaru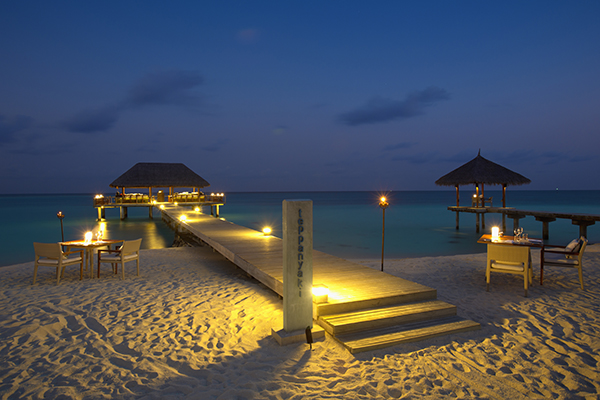 Seated by the water's edge, over the lagoon, savour seared salmon from flame-hot woks. Chefs showcase their creativity with ocean vistas in the background. Celebrate the freshest cuisine at an amazing Japanese restaurant as you take exciting bites of sushi and sashimi sampling the innovative dishes on offer. Teppanyaki has a sensational sake list which it pairs with incredible sushi including a house selection of sashimi. On the menu there are zensai (starters) with specials like seaweed salad, grilled food (umi) – with reef fish as a Maldivian speciality, tochi (land dishes) with beef Wagyu as one of the dishes accompanied by banso (sides) and okashi (dessert) of which the strawberry carpaccio is to die for.
Tapasake at The One & Only Reethi Rah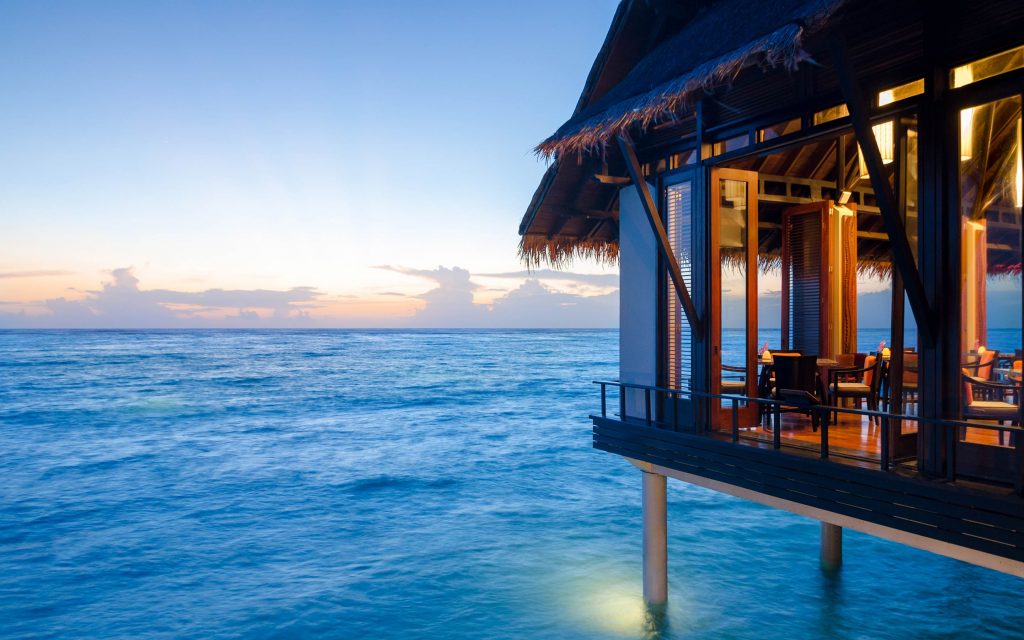 Spectacularly stylish, Tapasake has set the bar high for Japanese fusion in the Indian Ocean. Wander past a striking centrepiece, an oversized granite and stainless-steel sushi counter where you can choose just-caught fish for your sushi and sashimi feast. Then watch as the chef fires up the grill for classic Japanese teppanyaki dishes and a creative take on superior cuts of beef. For the ultimate Tapasake experience, reserve one of four private, secluded yet open-air teppanyaki pavilions. Each pavilion seats up to eight guests around a central live-cooking station, making the interactive chef-led experience perfect for small and larger parties. Offering some of the best sunsets on the island, visit for sake sundowners before dinner. Pair the sushi with some sake, since Tapasake even has its own exclusively blended limited-edition sake, Naraman Daiginj.
Hamakaze at Kurumba Maldives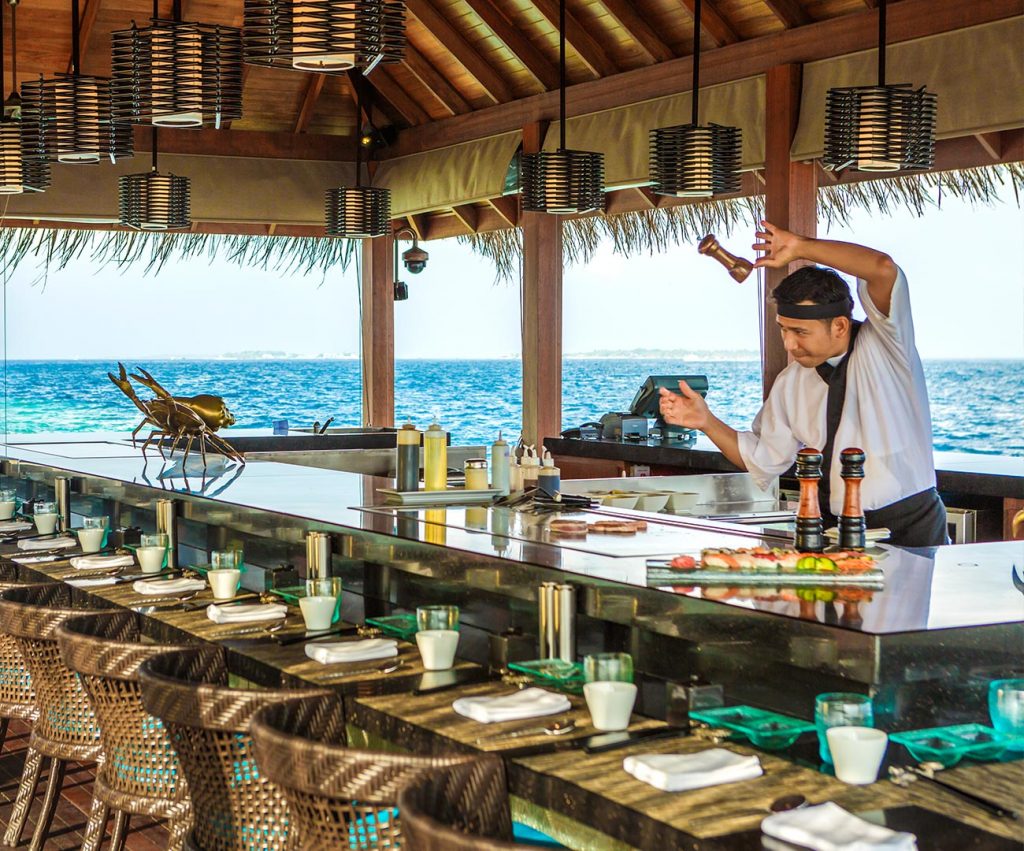 Playful teppanyaki. Colourful sushi and sashimi platters and a wide range of finger food are served at Kurumba's lively and fun overwater dining area. On the menu there's dragon rolls for starters followed by catch of the day for nigiri, miso soup, yakisoba noodles and a wide range of teppanyaki to choose from and when you have had your fill of delicious fish there are frozen delights such as teppanyaki ice cream and Japanese cheesecake to sweeten the palate.
Kai at Ayada Maldives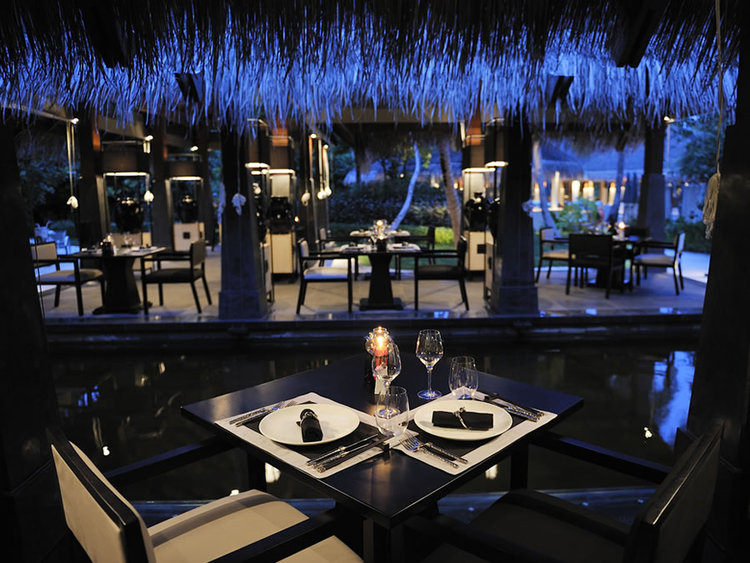 An exquisite range of oriental delicacies awaits in this gem of a restaurant hidden away amid tropical greenery. Open for dinner each evening, diners can choose from extensive sushi and sashimi list made from the freshest local seafood as well as classic interpretations of regional Asian specialties from China, Japan, Indonesia, Thailand, and Vietnam. The décor, with its calm reflecting pools and typical Japanese-inspired architecture, sets the scene for a memorable evening of fine dining. Sushi and sashimi offerings include a choice of three dishes or six vegetable options. There are delicacies such as soft-shell crab, dim sum and teppanyaki.
Out of the Blue and So Hands On at Soneva Fushi
Serving Japanese along with Indonesian cuisine, salads, grilled meats and seafood, visit the So Hands On Sushi Counter at Soneva Fushi which is a sushi enthusiast's dream. Soneva's sushi counter sees some of the world's best sushi masters behind its sake-polished Japanese pine, known as 'hinoki', countertop. The intimate five-seater sushi counter lets you experience the chef's dextrous skills up close. This is open for lunch and dinner on Monday, Wednesday and Friday.
The Pearl at The Westin Maldives Miriandhoo Resort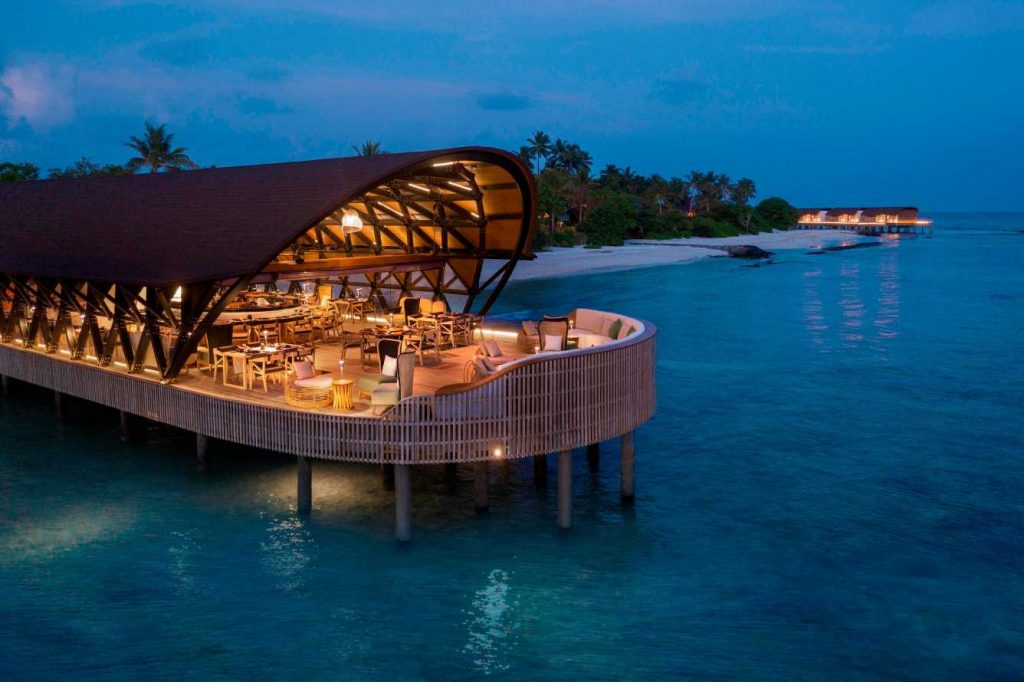 The Pearl offers a unique and elegant Japanese dining experience. However, it's not just the breath-taking setting that makes this restaurant so special, with one of the most stunning views for the sunset, the combination of talented chefs, freshly caught seafood and well-chosen local ingredients with great sushi options, friendly staff, beautiful restaurant decor all complete the package. The five course set menu features some of the best sashimi in the Maldives and there are supreme al a carte options too for something extra special.
Fukuya Teppanyaki at Paradise Island Resort & Spa
The Japanese restaurant offers a complete à la carte menu with a variety of dishes. Experience the excitement of live teppanyaki-style cooking as the chefs prepare your favourite seafood, chicken and steak, or fresh sushi and sashimi. There are also edamame beans and soba noodles. A wide selection of sake and Japanese beers are also available.
Teppanyaki at Sun Siyam Iru Fushi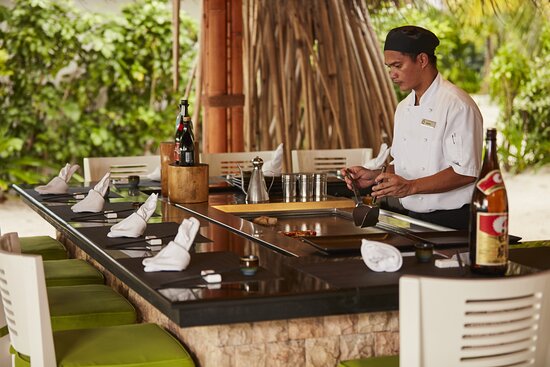 Hidden beneath palm trees and tropical bamboo, the Teppanyaki restaurant serves authentic Japanese dishes in a beautiful oceanside setting. Expert chefs produce sizzling plates right in front of your eyes, always complemented with a glass of sake, of course.
Featured Image: Kurumba Maldives