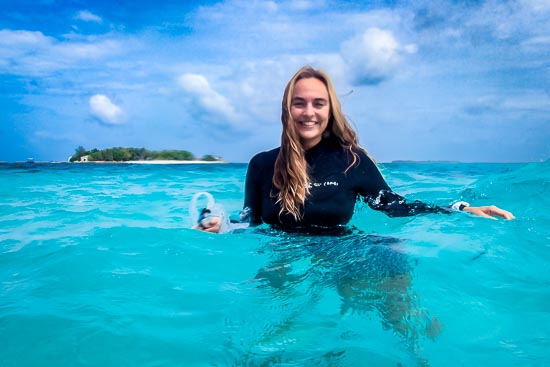 Sheraton Maldives Full Moon Resort & Spa Appoints Kate Sheridan as Resort Marine Biologist
Sheraton Maldives Full Moon Resort & Spa has appointed marine biologist Kate Sheridan, representative of Reefscapers, a coral propagation organization partner, as the development lead of "Adopt a Coral" marine conservation Programme.
Kate Sheridan studied Geography BSc in the UK, and moved to South Africa to study for her MSc in Conservation Biology at the University of Cape Town. For her thesis she investigated water user's perceptions of shark management and shark risk, and methods of shark safety management which benefit people and sharks. She later published her study in the journal, Marine Policy.
Originally from the UK, Kate has spent a lot of time in South Africa, working with a wide variety of wildlife from sharks to hyenas to rhinos. She is passionate about science communication, co-hosting a wildlife and conservation podcast called The Biome Podcast and running her ownconservation blog and works as a freelance content creator.
Having spent 6 months working in the Maldives with Reefscapers focusing on marine communications, she is thrilled to become the resident marine biologist at Sheraton Maldives Full Moon Resort & Spa. She now manages the coral propagation programme at the resort, restoring the reef, monitoring coral growth and running other marine conservation activities at the resort.
Adopt a Coral at Sheraton Maldives Full Moon Resort & Spa invites guests to participate in a coral-fragment plantation activity to restore reef habitats and produce new coral colonies. The resort has teamed up with Reefscapers, a coral propagation organization appointed by the Maldivian government as custodians of the coral colonies in the GulhiFalhu lagoon, which was to be destroyed as part of a reclamation project.
The coral translocation was led by experts and now offers a hands-on experience to participants, while also providing an alternative business to the 250 inhabitants whose sole previous source of employment was fishing.
Featured Cover Image: Sheraton Maldives Full Moon Resort & Spa