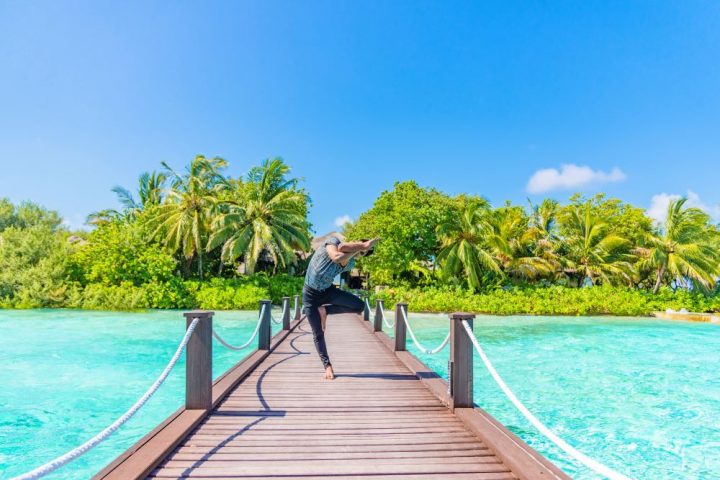 Sheraton Maldives welcomes new wellness expert Dr Abhi
The renowned five-star Sheraton Maldives Full Moon Resort & Spa on the picturesque private island of Furanafushi has welcomed an experienced healer to its ranks. Abhilash SC (Dr Abhi) will now lead wellness activities at the resort, creating soothing getaways for guests, from yoga classes and guided meditations to mindfulness exercises and more.
With the native of India as its new wellness expert, the resort is expanding its diverse offerings, he has broad knowledge in the fields of naturopathy, massage, physiotherapy and acupuncture, and always takes a holistic approach. Visitors can thus now not only enjoy the gorgeous surroundings, the Shine Spa, the family programme, and the many culinary outlets but also benefit from comprehensive wellness arrangements including professional yoga classes. The resort remains a paradise for those seeking relaxation and offers unforgettable experiences for all who seek relaxation and harmony and want to improve their own well-being.
Dr. Abhi, an experienced yoga teacher and passionate Naturopath, will also serve as Recreation Team Leader. His role is to develop special activities for guests that support Sheraton Hotels & Resorts' community approach.
With a passionate dedication to health, wellness, and a nature-based lifestyle, Dr. Abhi graduated from his hometown of Trivandrum in Kerala, India. After graduating with a degree in Naturopathy and Yoga Science from the Medical University in Chennai, he worked in various hospitals, yoga schools, and wellness retreats while freelancing in health counselling and yoga therapy on the side.
His impressive career also includes publishing two medical research papers in the area of skin and joint disease, as well as publishing his own yoga e-magazine titled "Remedial Health." His long-term goal is to establish a sustainable wellness centre using only natural treatments and to publish a monthly health magazine. Until then, Dr. Abhi looks forward to spending time at the Sheraton Maldives Full Moon Resort & Spa.