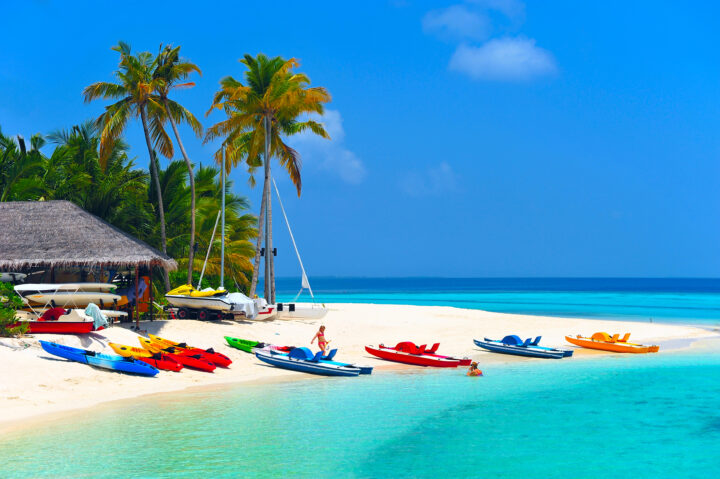 Silver Sands
Silver Sands Pvt Ltd.has been conducting tourism related businesses in the Maldives since its inception in 2000. And when it comes to managing and operating dive and water sports activities at various tourist resorts in the country, the company functions with a very imaginative and contemporary approach.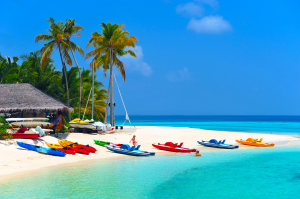 Silver Sands operates with the concept of providing its customers with a "total solution" that incorporates all water-based activities including diving, water sports, excursions, private boat rental, marine-bio activities and all types of fishing."If you consider the 100 or so resorts in the Maldives, or if you consider how things were done at these resorts before the year 2006, resorts traditionally have a separate dive operator and a water sports operator while the resort's front office manages tourist excursions. So what we did was, we merged all these components together", says the company's Managing Director, HussainThoufeeq Ali.
According to Thoufeeq, the traditional setup for operating dive and water sports is not one that is convenient for the foreign parties who usually managed these resorts since they had little or no experience of the country. The merging of these components and making these combined solutions available under one roof makes things easier for the managements of these resorts and allows them to provide a unified and consistent experience to their tourists.
The company's concept of providing a total solution kick started when it was awarded the management and operation of diving and water sports at W Retreat & Spa in the Maldives in 2005. Since 2006, the company has been successfully operating the resort's dive facility Down Under and water sports facility Wave. "I would say that we are the first Maldivian company to penetrate this industry", says Thoufeeq. According to him, dive and water sports operations were previously always managed and operated by foreign parties.
When diving and water sports are managed and operated by Silver Sands, these components also get seamlessly integrated into the resort. "We are not a third party. We are fully integrated into the resort just like any other outlet on the resort such as one of their restaurants", says Thoufeeq. The operations are customized for every resort and designed exclusively with and for the resort. According to Thoufeeq, "Silver Sands is a company. We are not a brand and we do not have a brand. The brand is customized for every resort. From boats to staff uniforms, everything is within the concept of the resort. Our staff will also greet tourists in the same mannerism as that used by the resort. In other words we are a seamless operation".The company also includes a marine biologist in all its operations. The marine biologist makes sure that the operations adhere to fishing policies, resort policies and Maldivian regulations.
Silver Sands is a 100% Maldivian owned company, and 70% of its staff are Maldivian. According to Thoufeeq, most of the foreign staff is hired for language purposes and are mostly employed as dive instructors or work in the area of guest relations. The Silver Sands team of around 300 staff is guest-focused, guest-friendly, service-minded, and focused on providing a high quality full-service operation. And the company's management team with years of experience in this field strives for continuous improvement and innovation. According to Thoufeeq, Silver Sands now has the most number of parasailing boats, water skiing boats and motorized and non-motorized catamarans in the country along with around 16 diving dhonis.
Silver Sands is also keen on developing professionals to work in the field of dive and water sports. According to Thoufeeq, while diving instructors are reasonably available, there are not many instructors available for other water sports and hence the company sponsors and trains individuals who are interested in this area. "Our only criteria is a good attitude and the ability to speak in English", says Thoufeeq. With the first batch of this training already completed, Silver Sands is currently engaged in training its second batch at Kuramathi Island Resort. Once the training is complete, the participants can work at Silver Sands if there is a job opening, or they can choose to work at any other place of their preference. Furthermore, the company is also planning to start a surf school in May 2014.
Along with the huge success of the company's total solution concept, Silver Sands now manages 8 dive and water sports operations on 10 resorts in the Maldives including Anantara and Naladhu Maldives, Huvafen Fushi, Velassaru Maldives, Shangri-La's Villingili Resort and Spa, Robinson Club Maldives, Anantara Kihavah Villas and Niyama Maldives. With the company's deep understanding of guest expectations and its seamlessly integrated operations, the company has successfully become an essential component within the individual concepts of all these resorts.