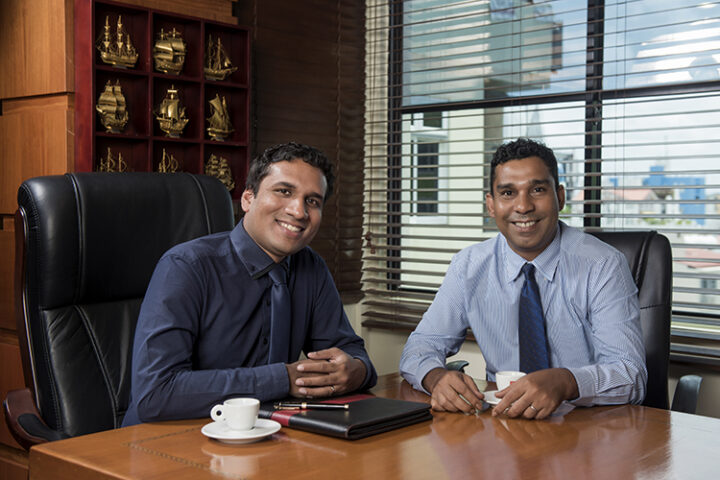 Supplier Stories: SIMDI – bridging gaps, always
Mariyam Athiza Athif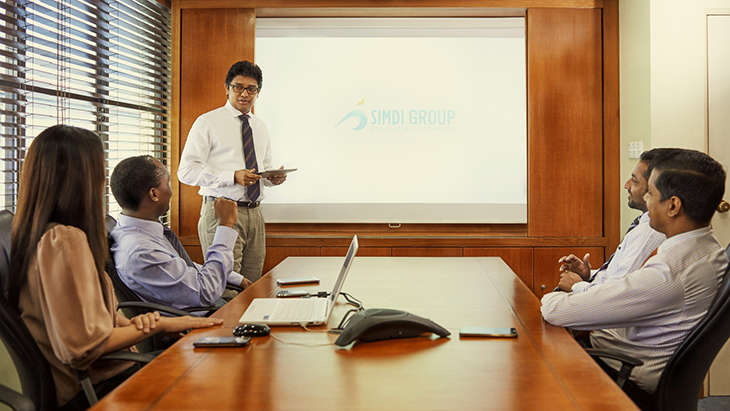 In Issue 10 of Hotelier Maldives, our cover story was dedicated to profiling a selection of the country's most well established F&B suppliers. These companies, many of which have been operating since the beginning of the tourism boom in the Maldives, are the cornerstones upon which the Maldivian hospitality industry is built. Here we share the first profile of the series; that of SIMDI.
SIMDI is a company which has been in operation for decades, dealing with world-renowned products in such categories as alcoholic beverages, fast moving consumer goods, office automation, Image solutions and resort-ware. SIMDI has successfully secured and maintained exclusive distributorship agreements with some of the world's top companies. Founded and led by the company's Chairman Mr. Ibrahim Mohamed Didi and his wife Dr. Mariyam Shakeela, for the past 17 years, the company has been continuously opening up new windows for the Maldivian hospitality industry.
Throughout SIMDI's existence, the company's focus has largely remained on one thing; bridging gaps. There was an enormous disconnect between sourcing and supplying of high quality international brands to the Maldivian tourism industry that resulted in the formation of SIMDI. "Our Chairman Mr. Didi was involved in resort management and development from the late 90s, and he saw this huge gap within the industry. Resort operators were facing this difficulty in sourcing international products at an affordable price; they had to bring those products from abroad, from countries like Singapore, Malaysia and even Europe. Mr. Didi opened a new window for the resorts to do this", explains SIMDI Group's General Manager Yooshau Saeed.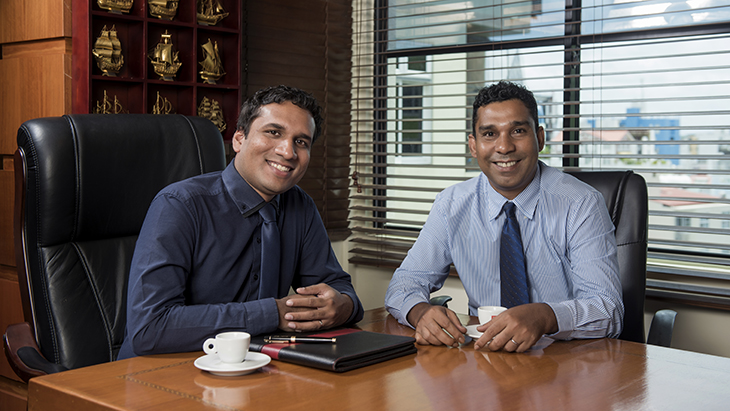 SIMDI supplies a diverse range of products that include brands such as Diageo, illy, P&G, Dilmah tea, Holsten, Canon, Brown-Forman, Campari International and Bacardi Martini. "We are proud to say that we are the market leader in most of the key market segments in the hospitality sector", says Yooshau while describing the wide and diversified scope of products supplied by SIMDI.
"What makes SIMDI unique is the attention that we put into the brands itself. We put a lot of emphasis into brand development and the after sales service which is something a lot of other companies don't necessarily look into. This results in a win-win situation for the suppliers, the customers and even us", says SIMDI Group's Managing Director Mishal Ibrahim.
SIMDI takes great pride in their consistent growth. Having started off with just 10 exclusive brands and only 50 staff, the company has rapidly grown over the years and now supplies over 60 international brands and employs more than 250 staff. "Every year we have grown with the addition of international brands, and each international brand getting into our portfolio is a milestone for us", adds Yooshau.
SIMDI's approach to doing business is also a factor that sets the company apart from the rest. "We spend quite a lot of time finding out what the market requires and what the market needs, and we start approaching it from that direction", explains Mishal. This approach has led SIMDI to discover its new exciting venture and is a prime example of SIMDI bridging gaps.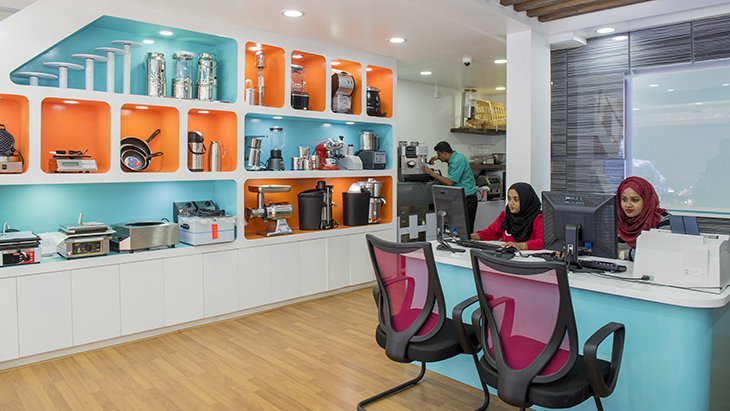 The company has started developing the infrastructure of their agricultural island in Shaviyani atoll, and this venture shifts the focus to what can be produced and supplied from the Maldives itself. "We are working with an international party who are experts in this field and in addition to agriculture we are also looking at aqua culture and so forth, and the focus is on providing locally made produce to the market", explains Mishal. According to Yooshau, this again, is based on the visionary thinking of the company's Chairman. "Almost 100% of the agricultural products that are going to the resorts are imported. The hospitality industry is in dire need for quality agricultural products. That's going to be our starting point, and the plan is to expand it to the retail market and the HORECA market", explains Yooshau.
SIMDI has been bridging these gaps over the years for multiple other areas in the country as well. While SIMDI Beverages and SIMDI Resort Supplies are divisions that largely cater to the hospitality industry, SIMDI's business divisions also include SIMDI Technology and SIMDI Consumer Products. Additionally, SIMDI's subsidiary companies include Maldives Stock Brokers, the first established stock brokers in the country, International Medical and Diagnostic Centre in Addu City, the first private hospital to be established outside the capital, Institute for Counselling and Psychotherapy Pvt. Ltd, a centre providing quality psychological services and related trainings and Smart Design Pvt. Ltd which provides architectural, interior design and construction solutions.
SIMDI believes in upholding integrity and honestly. The company strives for service excellence, and confirms that passion is an absolute necessity for success. The company credits its diversified business to its highly satisfied employees and takes great care in carrying out its corporate social responsibilities. Most importantly, in harmony with the company's slogan "Recreating commerce", the company develops their entire business through continuously recreating their relationship with both their customers and partners.