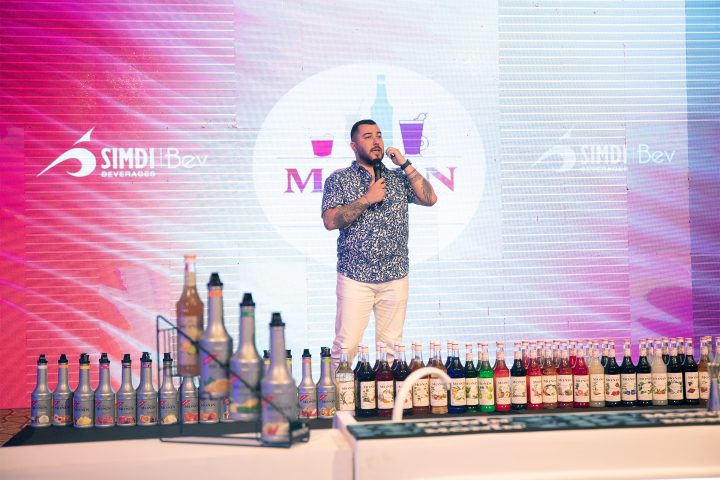 SIMDI Concludes "MONIN DAY" conducted by MONIN Beverage Expert
SIMDI Group has concluded a special masterclass for cocktails, mocktails and a session on latest beverage trends. 'MONIN Day 2022' was conducted by Bahutan Binkanat, MONIN Beverage Expert. The event was held at Kurumba Maldives with over 100 invitees representing 80 resorts and representatives from premium local cafés.  Further in attendance were Mishal Ibrahim Didi,  Managing Director, Ibthisam Ibrahim Mohamed Didi, Director, Yooshau Saeed, General Manager, and Sanath Wasantha, Head of SIMDI Beverages, of SIMDI Group.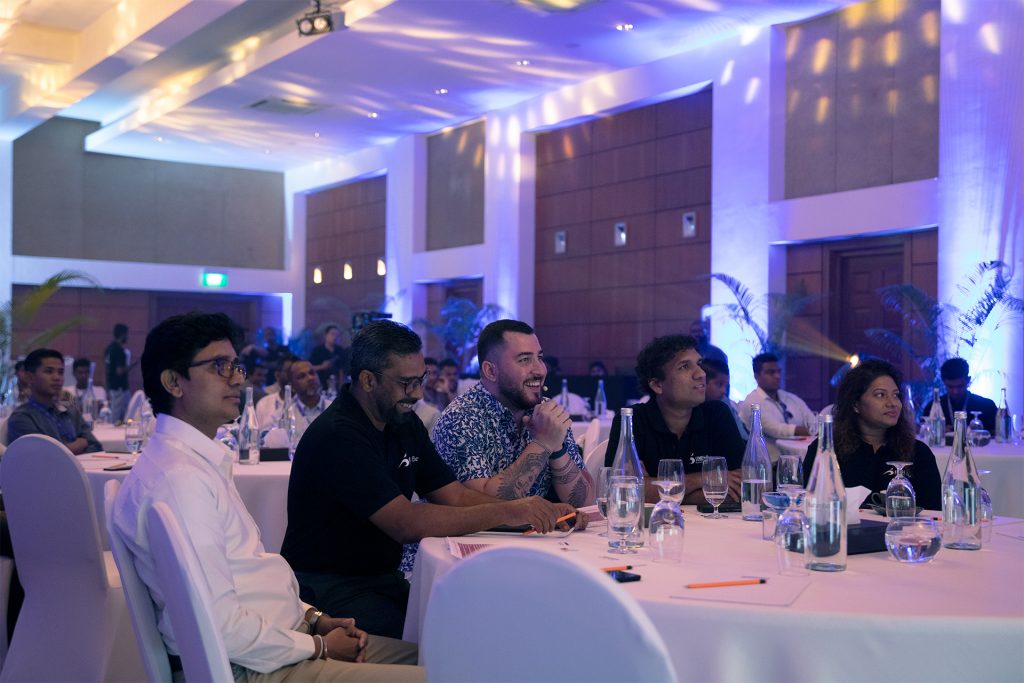 Featured Image: MONIN Day 2022, Kurumba Maldives
During the event, Batuhan introduced and demonstrated how to combine MONIN flavours with coffee and local flavours to curate tailored beverage menus. He further discussed the post Covid developments and trends in the global beverage sector. Originally from Turkey, Bahutan graduated with a degree in Tourism and Hospitality Management. Since then, he has held multiple positions in well established companies including Four Seasons Hotels & Resorts, W Hotels, and Jumeirah.
Exclusively speaking to Hotelier Maldives, Bahutan said "Everyone working in the beverage sector but notably bar managers should keep up with the global trends and events. Given that Maldives is a very diverse tourist destination, the industry has to be aware of this in order to adapt and provide cutting edge services and goods"
Commenting on the event Nisham Shareef, Head Bartender at Waldorf Astoria Ithaafushi Maldives said "I would like to thank SIMDI and MONIN for arranging this event and I would like to convey my appreciation to Mr. Bahutan for sharing his expertise and the demonstrations with MONIN products. MONIN products are among the best products that I personally use in my bar. The products are not only meant for resorts, it can be used at, guest houses, café's and even at your home. Today I learned a number of creative ways to incorporate MONIN in our menus" These events provide a platform that would help beverage professionals to gain knowledge about the latest trends in the industry and in the international market.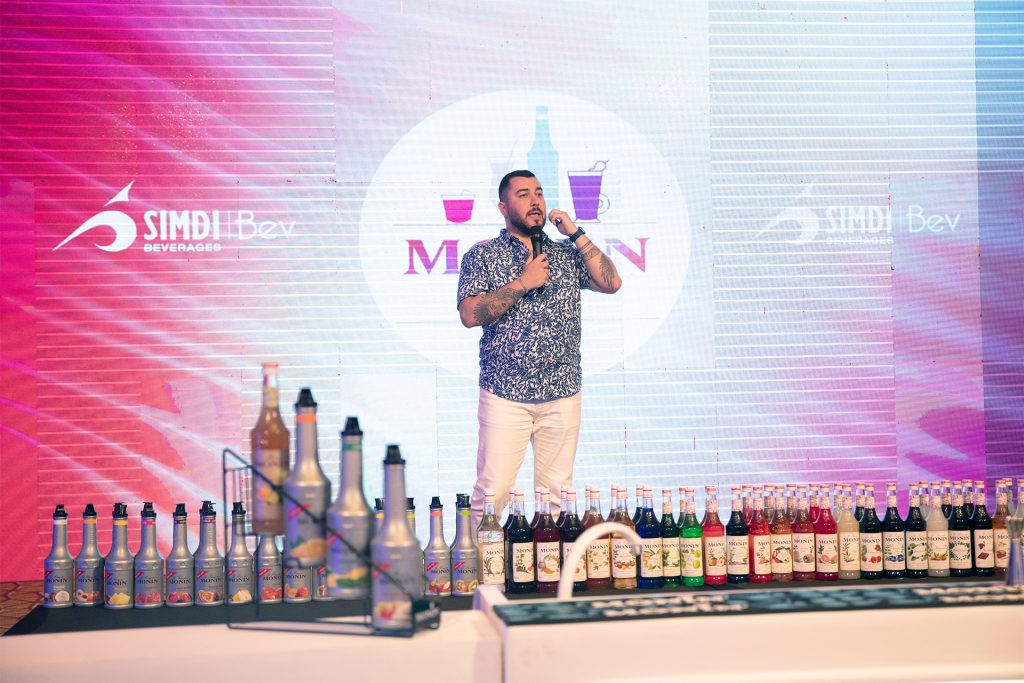 Featured Image: Bahutan Binkanat, Beverage Expert, MONIN
MONIN specializes in premium syrups, gourmet sauces, fruit purees, recipe development, fruit smoothies, creative cocktails, gourmet coffee, sugar free syrups, and flavored beverages offering the best quality.
The French origin Maison founded in 1912 by George Monin in Bourges, France is still to date family owned. Today, with 100 years of experience, Monin has become the brand of choice of the gourmet flavor business with over 150 flavours available in 150 countries.  SIMDI Bev introduced MONIN to the market in 2009, and starting from just 10 flavours and 02 Purees the range available in the Maldives today has grown to 60+ flavours and 20+ purees.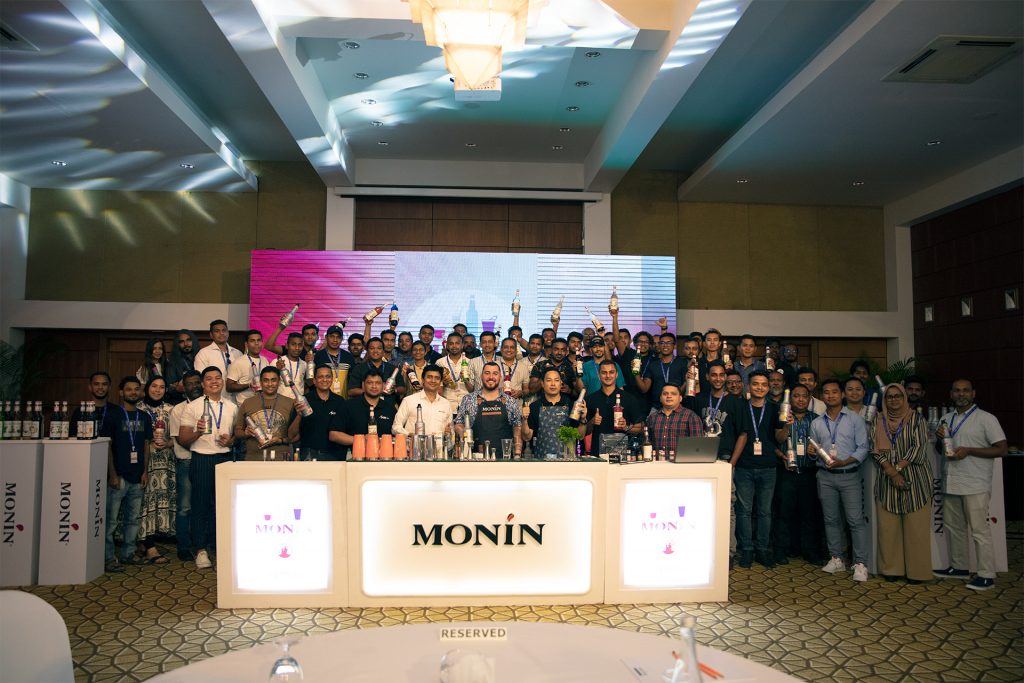 Featured Image: Bahutan Binkanat with event participants
Simdi Bev was developed in the 1980s with the aim of providing the hospitality industry with the best possible support service in the supply and distribution of alcoholic beverages. Today SIMDI is engaged in marketing and distributing the full range of alcoholic beverages to the resort market. With over 40 years of service, SIMDI Group is one of the leading hotel and resort suppliers in the Maldives; representing over 98 brands, and providing over 11,000 products and services. As one of the premium distributors in the Maldives, SIMDI holds exclusivity of a broad range of brands of FMCG products, wine and liquor, resort-ware, and IT products.Its core divisions in the Maldives include SIMDI Bev, SIMDI Resu, SIMDI Tech and SIMDI Cpd. Today, SIMDI is recognized as one of the most reputable trading companies in Maldives. With decades of experience in trading, marketing and distribution, SIMDI has positioned itself as one of the premium suppliers and distributors of world-renown products to Maldives, Sri Lanka and Dubai.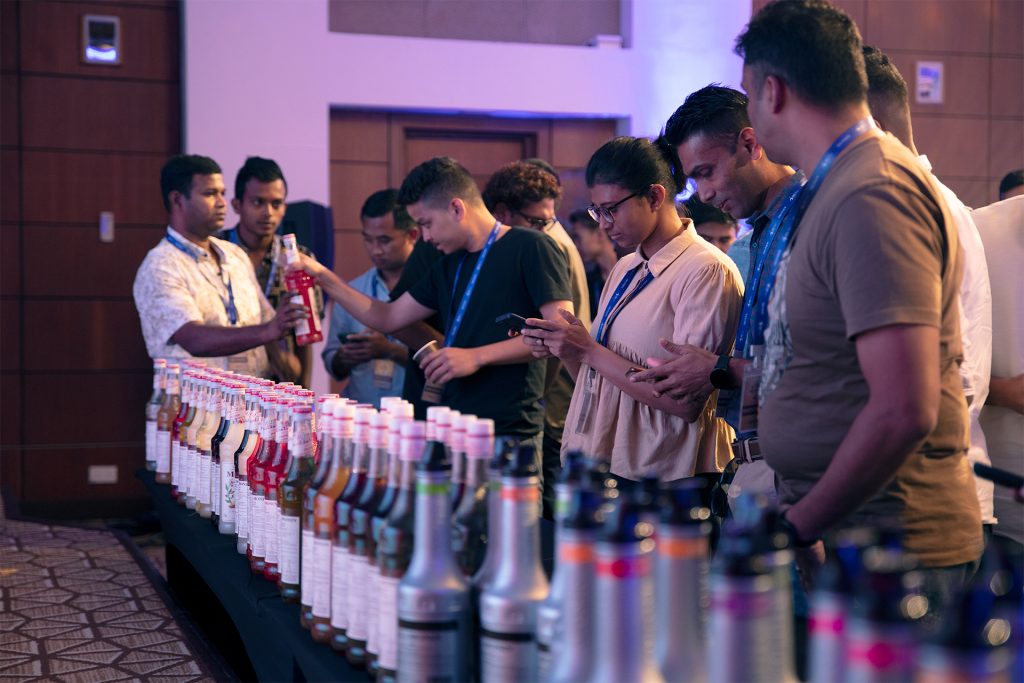 Featured Image: Tasting and Demonstration Session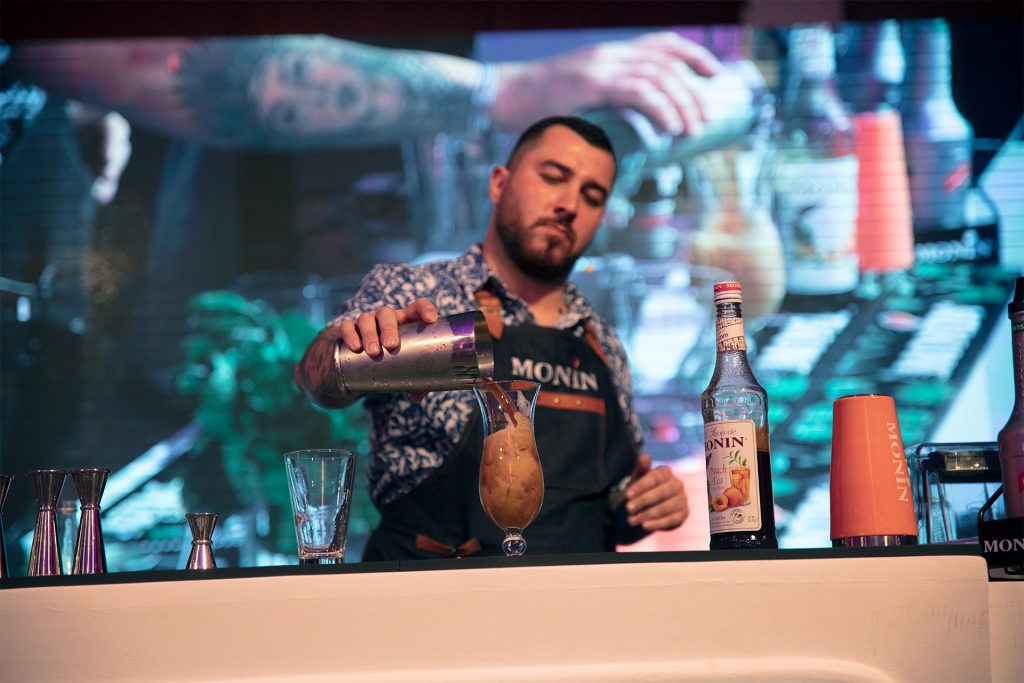 Featured Image: Tasting and Demonstration Session, Bahutan Binkanat, Beverage Expert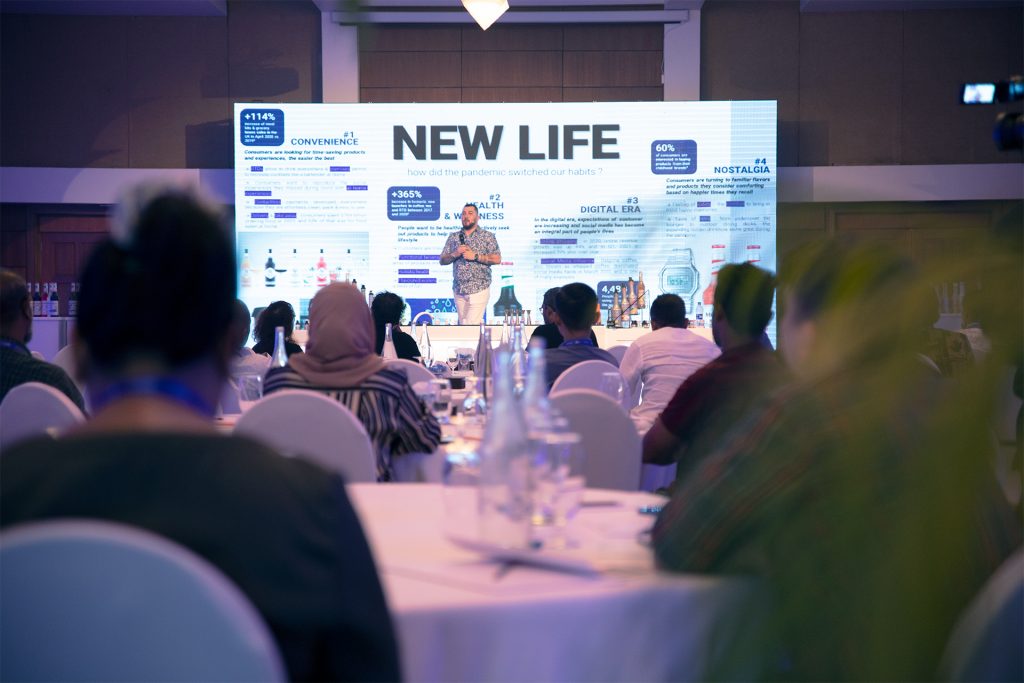 Featured Image: Bahutan Binkanat presenting on  trends in the global beverage sector