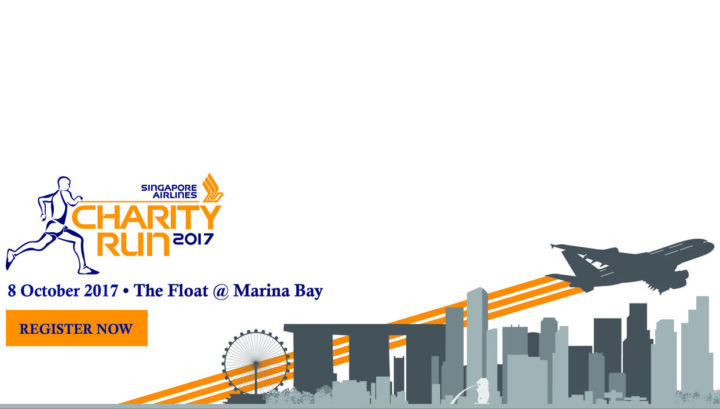 Singapore Airlines to hold Charity Run to mark 70th anniversary
Singapore Airlines is organising a Charity Run to raise funds for Community Chest as part of the airline's 70th Anniversary Year celebrations.  The SIA Charity Run 2017 will be held on October 8 at The Float @ Marina Bay.
The Charity Run will encompass a 10km Competitive Run, 5km Fun Run and Corporate Challenge, with teams of seven runners completing 10km each. It will also highlight a Wheelathon segment, in which 70 beneficiaries will be nominated by Community Chest to participate in a 3km route tailored for wheelchair users, it said in a statement.
"The Singapore Airlines Group is pleased to be able to do our part to give back to the community through the Charity Run, with funds raised going to our long-time partner Community Chest," said Boris Mak, Chairman of the Singapore Airlines Charity Run 2017.
"Seventy years is a significant milestone for the SIA Group and we wanted to commemorate it in a special way through a public event that can help support those in the community who need it most," he added.
Attractive prizes can be won for both race winners and participants alike during the Charity Run. Winners of the 10km Competitive Run and the Corporate Challenge will receive Business Class, Economy Class or ScootBiz tickets to a destination of their choice within the SIA, SilkAir, and Scoot network, depending on their finish position. Meanwhile, all participants will be entitled to take part in a lucky draw for a chance to win Business Class tickets on SIA or SilkAir, or ScootBiz tickets on Scoot, it added.
Participants, as well as other members of the public, can also look forward to fringe activities during the Charity Run, such as musical performances by SIA employees.
Registration for the SIA Charity Run is now open via siacharityrun.com.sg. Through the website, registrants can also find out more details about the event.
Community Chest supports about 80 social service organisations in Singapore that help those in need including adults with disabilities, children with special needs and youth-at-risk, families in difficulty, persons with mental health issues and seniors in need.