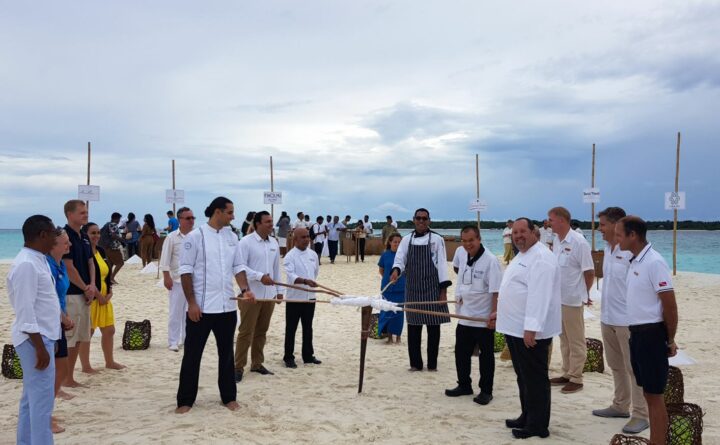 Six resorts to launch two-week-long festival in Baa Atoll
A two-week-long festive celebration is coming to Baa Atoll this summer hosted by Soneva Fushi, Four Seasons Landaa Giraavaru, Dusit Thani, Amilla Fushi, Vakkaru Maldives and Finolhu.  The event to officially announce the festival was held on May 9, at Soneva Fushi's sandbank.
Starting on July 20 and running till August 3, "Baa Atoll Festival 2018" is set to offer two weeks of fine dining, with a range of special menus and exclusive dining experiences across six Baa Atoll resorts. With menus ranging from USD$120 ++, guests from the six resorts can experience the varied cuisines Baa Atoll offers as a destination.
During this summer festival, each resort will offer a calendar of activities to keep the entire family entertained, from water sports, underwater experiences, to kids' activities and more. The festival will conclude with a Catamaran Regatta competition by the participating resort teams at Baa Atoll.
Endorsed by Maldives Association of Travel Agent and Tour Operators (MATATO), the festival aims to increase the number of tourist arrivals to Maldives, said the six resorts in a joint press statement.
"The Baa Atoll Festival is a brilliant concept and opportunity, and hopefully becomes an annual event that resorts and guests look forward to. And I hope this festival will be marketed to tourists around the world through all these resorts PR channels," said Abdulla Ghiyas, President of MATATO.
"The aim to attract more visitors to the Maldives requires a focus on positioning and promoting Maldives as a destination. A country like the Maldives could be open to marketing ideas from other top tourist destinations," suggested Mark Hehir, General Manager, Amilla Fushi and Finolhu, speaking with the media prior to the event held to officially announce the festival.
Noting that the festival is a 'first ever' and 'one-of-its-kind' in the Maldives Mark said: "One of the unique things about Baa Atoll is manta expeditions, which will give guests the opportunity to immerse themselves in the elusive world of manta ray. The second is a good offering of world class brands and resorts, located in close proximity, which will give guests the opportunity to explore other islands."
The festival will act as a platform to enable Baa Atoll hospitality players to come together, exchange knowledge and learnings, and create valuable opportunities for growth. "It's time for us to start to drive awareness and attract premium customers to the low season," he added. "Traditionally, the Maldives is going through a low season from now till September. We want to try to pull premium customers from Spain and the South of France, with attractive offers and pricing. So, it's a great alternative."
The "Baa Atoll Festival 2018" is set to boost the atoll's reputation as a destination of distinction, with unique experiences and events offered. The Baa Atoll Festival will officially launch on July 20, with a cocktail event in each of the resorts where the teams will celebrate the opening night with their guests.
For further information about the festival, please visit baaatollfestival.com and follow @Baa_Atoll_Festival on Instagram.