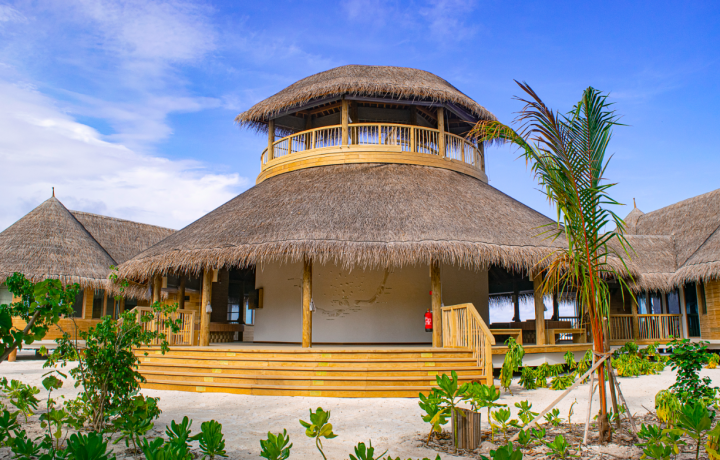 Six Senses Laamu Inaugurates SHELL, a Hub for Environmental Learning
Six Senses Laamu announces the opening of the Sea Hub for Environmental Learning in Laamu (SHELL) on March 1, 2023. The multi-use space will house the Maldives Underwater Initiative (MUI), a marine conservation collaborative consisting of Six Senses Laamu marine biologists and partner NGOs, The Manta Trust, Blue Marine Foundation, and the Olive Ridley Project. The 5,952 square feet (553 square meters) hub will also be used as a gallery exhibition space, offices, marine laboratory, cinema room, and kids' zone.
SHELL will offer guests immersive, curated marine experiences parallel to the MUI's research and conservation efforts. The hub has facilities to host world-class researchers to further expand MUI's ambitious goal of realizing sustainable resource management in Laamu.
Marteyne van Well, Regional General Manager, says, "Healing the ocean requires understanding first. The environmentalist Baba Dioum once said, 'In the end, we will conserve only what we love; we will love only what we understand, and we will understand only what we are taught.' So, let us teach; let us educate the new generation on the importance of nature conservation. This is the vision behind the Sea Hub for Environmental Learning in Laamu; to engage the hearts and minds of our guests, our local communities, and our hosts. Our wish is for us and our owners, HPL Hotels & Resorts, to leave a legacy in the Laamu Atoll, where science and leisure come together with one goal: to discover more and be inspired to protect our oceans."
The central gallery aims to bring an immersive educational experience to guests with a high-resolution LED display floor and five educational viewing booths. The gallery will highlight selected marine micro-topics by displaying underwater scenes of Laamu Atoll captured by the resort's dive team. Guests will be kept up to date with the exciting marine life in Laamu Atoll.
The Kid's Zone is designed for aspiring marine biologists to discover the majestic underwater world. Highlights include an augmented reality sandbox where users can change and redesign habitats and topography using projection mapping technology, and 'Draw Alive', an activity where children can color in their favorite marine creatures and watch them swim and move throughout a virtual world with advanced animation technology.
Philippa Roe, Head Marine Biologist, comments, "Over the years, the MUI team has been working to establish Laamu as a hub for marine research and become an example for sustainable marine resource management in the Maldives. Having presented 12 research papers at the 2022 Maldives Marine Science Symposium focused on research on Laamu, the center's facilities will allow us to make even greater strides toward understanding and helping the marine environment and reaching our goal. It is this information that has contributed to the establishment of six Marine Protected Areas in the atoll, and Laamu being designated a Mission Blue Hope Spot in 2021."
SHELL is a valuable multi-purpose space for guests and marine biologists alike. The facilities will advance the capacity of scientists to conduct valuable research and conservation initiatives. Simultaneously, guests have the rare opportunity to be exposed to the region's latest scientific findings.