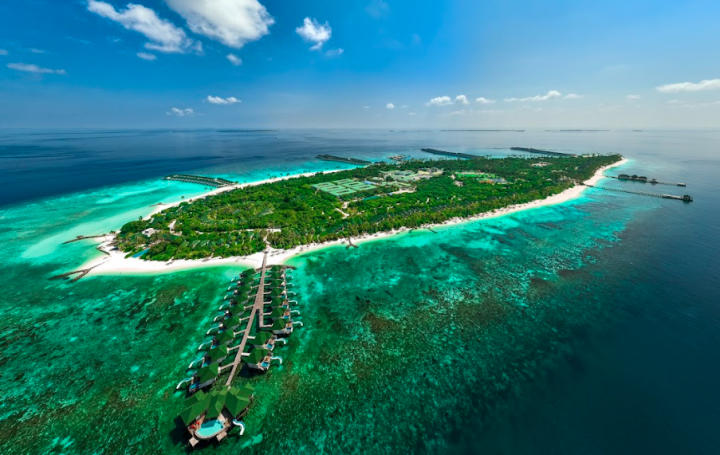 Siyam World: Endless Experiences on the Island Playground
Set on Dhigurah within the unspoiled waters of Noonu Atoll, Siyam World is one of the largest island resorts in the Maldives. The fifty-four-hectare island boasts lush greenery, with four kilometers of pristine beaches and six kilometers of a mesmerising house reef. Siyam World offers a carefree playground for those seeking endless adventures. At Siyam World, guests are spoiled for choice when it comes to accommodations, dining venues, and experiences. The premium all-inclusive resort allows guests to indulge in a variety of experiences without spending more.
Endless Accommodation and Dining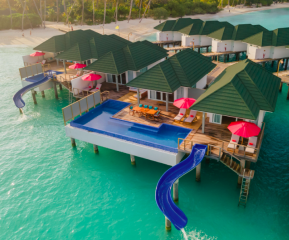 Featured Image: Three Bedroom Lagoon Villa
The resort offers a wide range of spacious accommodations in eighteen categories; five types of beach villas, seven types of water villas, and six residences in the Beach House Collection. There are options for one, two or three bedrooms in the beach and pool villas. All stays at Siyam World are personalised to offer the best for each guest, but the Beach House Collection is even more special. All villas in the Beach House Collection come with private pools, butlers, separate living rooms, and plenty of additional perks.
Feeling famished is not an option at Siyam World. The resort's Tempo restaurant is open for breakfast, lunch, and dinner, offering buffet-style international cuisine. Baraabaru restaurant also offers buffet-style international cuisine for breakfast. Takrai and Kurry Leaf restaurants offer Thai delicacies and Indian specialties. The Wahoo Grill offers Maldivian flavours while the Andalucia restaurant has Spanish and Mediterranean cuisine available. Siyam World also features an underground fine dining wine cellar, Barrique. Exclusive for guests staying at The Beach House Collection, Japanese cuisines are offered at the resort's Arigato restaurant. Premium all-inclusive guests can also dine at Arigato for a discounted half-price. Guests can indulge in a variety of snacks and drinks at the resort's six bars; Together, Mint, Shipwrecked, The Orchid, Jungali, and KulhiVaru. Five out of the six bars have pools.
A Wellness Escape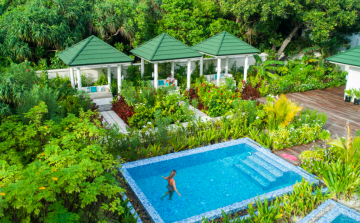 Featured Image: Veyo Spa
Cocooned by the island's dense foliage, Veyo Spa is a sanctuary where guests embark on a journey to relax, rejuvenate, and reconnect with the mind, body, and soul. The spa features eighteen treatment villas, a beauty salon, a self-service health bar, saunas and hydro rooms, and plenty of space for relaxing. The ultra-spacious treatment rooms are equipped with indoor showers, outdoor showers, and treatment beds. An array of carefully curated signature treatments helps guests connect with nature and attain ultimate relaxation. Destination packages of three days, five days, and seven days are available to help detox the body and mind. Traditional healing methods, like acupuncture and cupping therapy, are also available. The Veyo Spa offers a holistic escape within the island getaway.
Thrilling Experiences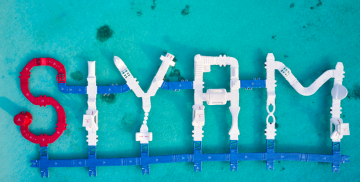 Featured Image: Siyam Water World
With a plethora of thrilling experiences, Siyam World leaves no room for boredom. Adventure seeking souls will love the endless experiences in the premium all-inclusive package. Look forward to excursions, expeditions, and water sports. The complimentary selection of non-motorized watersports activities includes windsurfing, laser boat, canoe, stand-up paddle, snorkeling, trial diving in the main pool or lagoon, and more. The Siyam Water World, a floating water park, boasts slippery slides, water trampolines, climbing walls, rafts, and much more. With additional charges, Seabreacher, the first semi-submersible vessel in the Maldives and hydrofoil E-Bikes are available on the island too.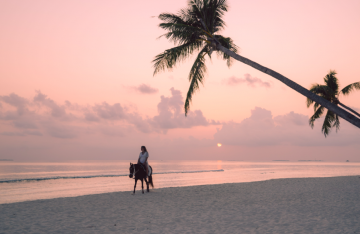 Featured Image: Horseback Riding on Beach
Guests looking to play sports will enjoy the tennis, badminton, futsal and basketball court. The resort also has an international size football field. Siyam World is the first resort in the Maldives to have a horse ranch, offering guests the unique experience of horseback riding along the white sandy beaches during sunrise or sunset. Guests can maintain their fitness routines in the fully equipped gym. Kidz World will keep younger guests entertained while the adults enjoy a cocktail by the beach or pool. Complimentary group classes include yoga, pilate, aqua aerobics, sunset meditation and zumbini classes for kids and teens.
Unique Celebrations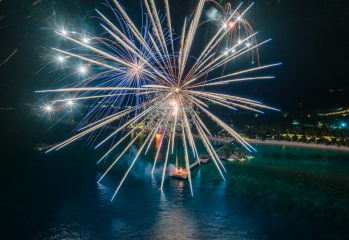 Featured Image: New Years 2022
Siyam World goes above and beyond for celebrations. From its one-year anniversary bash to bidding 2022 farewell, the island resort went all out with a four-day fiesta featuring popular musicians and chefs from the UK. A line-up of events was carefully created to celebrate the festive season and welcome the New Year 2023. After Santa Claus para sailed to Siyam World on Christmas day, carnival-themed events unfolded every day until the end of the year. Popular artists Victory Ann, Ayo Beatz, and Jack Fowler performed at the New Year's party. With storytellers' captivating performances, fire dancing, juggling, game nights and themed dinners, every celebration at Siyam World is one to remember.
Siyam World is a 40-minute seaplane journey from Velana International Airport or a 30-minute domestic flight to Maafaru Airport followed by a 15-minute speedboat ride. With unlimited dining, exhilarating experiences, and endless celebrations, Siyam World is a haven for those seeking an adventurous island getaway.