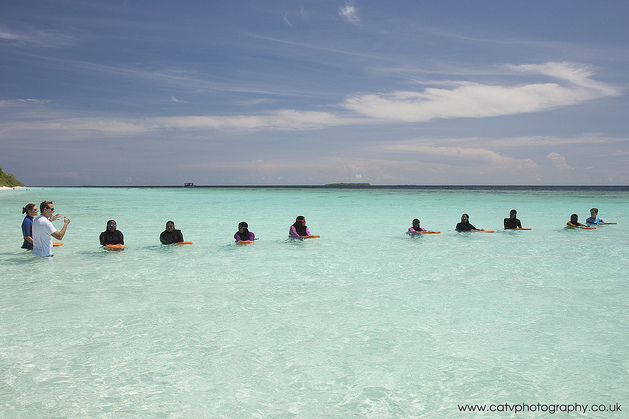 Soneva commemorates World Oceans Day with 'Learn To Swim' Programme for Maldivian children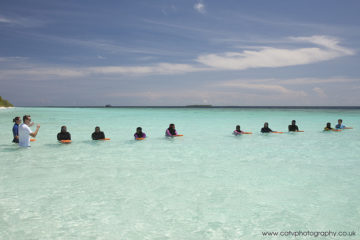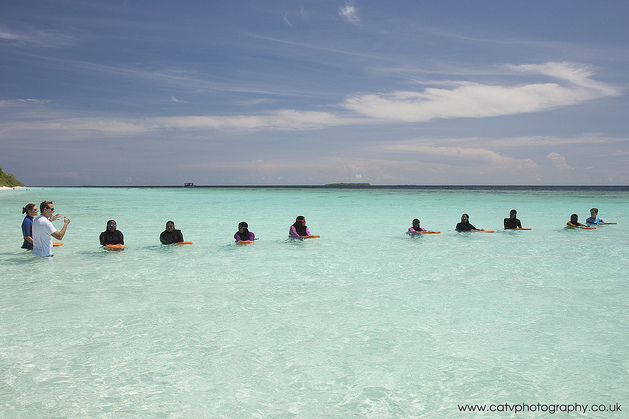 Soneva, a pioneering luxury resort operator, is concluding its second annual Learn to Swim Programme today, on the occasion of World Oceans Day. The programme is designed to teach local, Maldivian children how to swim and feel comfortable in the water. A ceremony will be held for the participants at Soneva Fushi, where they will be presented with certificates, and participate in a snorkelling activity.
"Despite living in an island nation less than one meter above sea level, many Maldivians grow up without learning to swim.  While this poses a clear risk to life, it also means that children gather little environmental awareness of the marine ecosystems that surround them," explains the resort's press release. "Soneva's Learn To Swim Programme is designed to help the children become more confident in the water and inspire a new generation of Maldivians to protect their endangered coral reefs," it continues.
A total of 60 grade 3 children took part in the programme, which took place over the last two months in two local islands in Baa atoll, Eydhafushi and Maalhos. During the sessions, the children learnt the basics of swimming and snorkelling, with one child going into the water for the first time. The training was provided by Soneva hosts and other volunteers.
Local children were not the only ones to benefit from the programme. Eight Maldivian adults became certified swimming instructors as part of the programme, with the training being conducted by the Maldives Lifeguard Association.  The Maldives Police Service also played a key role, as three of the local policemen stationed in Eydhafushi were amongst those certified as swimming instructors.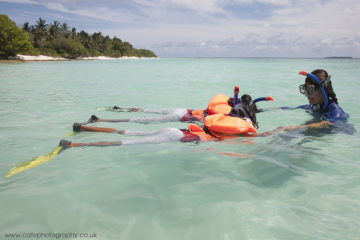 The Learn To Swim Programme is an initiative of that arose from the 2013 SLOWLIFE Symposium, an annual event organised by the SLOWLIFE Foundation, a not-for-profit organisation that aims to deliver meaningful projects that have a positive environmental, social and economic impact. Sponsored by Soneva, the symposium convenes leading figures to collaborate on environmental and social initiatives. The total number of students that have participated in the programme exceeds 130 in only two years.
In 2013, the writer, filmmaker and adventurer Jon Bowermaster, who attended the SLOWLIFE Symposium, committed to creating a documentary film that would seek to raise the profile of the link between swimming and ocean preservation in the Maldives. The trailer for the soon-to-be-released film, titled 'Sink or Swim' is available to be viewed here.  It is hoped that the film will be a compelling argument for resorts around the world to join Soneva and Jon Bowermaster in their cause.
Soneva Fushi is located in Baa Atoll and boasts fifty-seven vast, multi-bedroom villas and private residences.