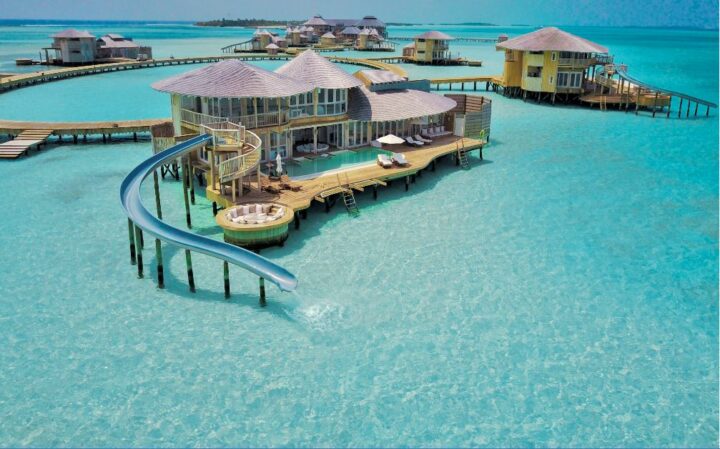 Soneva Jani has the "World's sexiest bedroom", according to Mr & Mrs Smith
Soneva Jani has been awarded the World's Sexiest Bedroom by The Mr & Mrs Smith Hotel Awards 2018. The Mr & Mrs Smith Hotel Awards unveiled the "very best of the very best" lodgings around the world for 2018, naming two resorts in the Maldives.
"As a travel club, we like to do things a little differently – our awards are a chance to champion those one-of-a-kind places that have made a real impact on us," says Mr & Mrs Smith co-founder James Lohan. "If you've ever asked us for travel tips, consider this our ultimate must-visit list for 2018."
The judging panel of the awards consists of fashion designers Jenny Packham and Olivia von Halle, Singapore chef Willin Low and Bar Guru Zdenek Kastanek. Soneva Jani was named in the World's Sexiest Bedroom category.
"One button on this retractable roof stands between you and post-coital stargazing. Did I mention you're lying on a bed in the middle of the ocean? If that's not sexy I don't know what is," says Olivia von Halle, commenting about the Soneva Jani experience.
The World's Sexiest Bedroom award criteria is based on size; "has to be super-comfortable and dressed for the occasion", attention to detail; ensuring great experiences, privacy; being a "romantic retreat in the truest sense", the x-factor, an element of intrigue; alfresco showers, shutters that hide gob-smacking views, or cabinets containing top-notch tech, etc., sumptuous décor; giving a sense of decadence.
Another resort under the Soneva brand, Soneva Fushi, was also named runners-up in the Best Family Hotel category. "A clownfish-shaped pool, pirate ship, ping-pong hut, trampolines, mocktail bar, lego room, dress-up area, zip line and a water slide from the main building – there's every chance this is the greatest kids' club in the world," says Mr & Mrs Smith, commenting on Soneva Fushi on its website.
"But we should also mention the on-island chocolatier, telescope-equipped observatory, enlightening eco-centre and on-site reef for all ages, too. With all those distractions, us grown-ups will be in the life-affirming spa…"
Another luxury property in the Maldives, One&Only Reethi Rah Maldives, was also named in the awards in the Best Pool with a View category. "If Mondrian did swimming pools, he might've conceived this geometric masterpiece. The thick, clean, black lines, demarcating the 30-metre lap pool, internal Jacuzzi and carved stone bed are artfully laid out," says Mr & Mrs Smith, describing the experience at One&Only Reethi Rah Maldives.
"But in place of his trademark primaries, you'll find a gradient of calm-inducing blues mirroring the lagoon's turquoise fade. The hotel's other pool is a freeform number with hammock-toting mini-islands; perfect to find yourself accidentally washed up on."
Founded in 2003, Mr & Mrs Smith is a boutique-hotel booking service with a collection of more than 1,000 hand-picked, anonymously reviewed boutique and luxury hotels. As boutique hotels get more luxurious every year, Mr & Mrs Smith recognises the best luxury properties, from spectacular decor to unparalleled amenities. To see the full list of the winners of The Mr & Mrs Smith Hotel Awards 2018, please visit: mrandmrssmith.com/awards-2018.