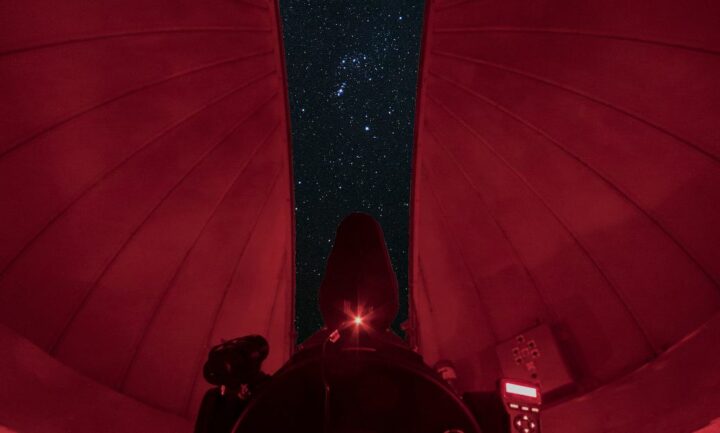 Soneva Fushi becomes world's first resort to launch 3D Astronomy
Soneva has become the first to bring 3D astronomy to resort tourism. Using the latest 3D technology with a brand new Meade telescope, Soneva Fushi's resident astronomers are now able to show guests the vast differences in distance between stars and other celestial objects – enabling guests to gain a new appreciation of the nature of space with their own eyes.
"Astronomy is a fascinating field of study, and I believe that at Soneva we must constantly strive to improve how our guests experience it," says Sonu Shivdasani, Soneva CEO and founder. "This 3D technology is a leap in advancement for astronomy, allowing our guests a unique way to view, and better understand the galaxy."
Mike Dalley, CEO of Inspiring Skies, the company responsible for installing the new telescope and 3D technology at Soneva Fushi, explains: "This new technology will help revolutionise how we offer astronomy experiences to guests, as it gives depth of field to what people see while looking through the telescope. It means that, for example, while looking at an open cluster, some stars will appear closer while others further away."
The inventor of the Lederman Optical Array (LOA) 3D technology, Russ Lederman also adds: "The LOA 3D technology allows live 3D astronomy views for the first time in history and at this time, Soneva is the only resort to have the 3D astronomy."Over the New Year, Soneva Fushi hosted the award-winning astronomer, Professor Massimo Tarenghi – who shared his vast knowledge of the universe with guests. The Italian astronomer is known for building and directing the world's most powerful optical telescope (the Very Large Telescope (VLT)).Throughout 2018, Soneva will welcome a number of influential and well-known astronomers to its Observatories to share their expertise and experiences of the night skies, according to Soneva.
In 2015, Soneva welcomed Buzz Aldrin who gave a lecture to guests about his moon landing. Today, astronomy is a fast-growing part of the tourism and hospitality sector. Many resorts, hotels and restaurants across the world offer astro-related experiences to guests.
Soneva leads the way for astronomy tourism in the Maldives, already operating two observatories, one at Soneva Fushi and the other at Soneva Jani, housing the biggest telescopes in the Maldives, according to the luxury resort operator. Soneva's Thailand Resort, Soneva Kiri, also has a large observatory.
According to Soneva, a number of astronomy-related experiences are already offered to guests, such as an Astronomical Dinner Cruise, sunrise astronomical breakfast, and stargazing with the resorts' on-site astronomer. After seeking advice from Mike Dalley and the installation of the new 3D technology, Soneva is set to be the world leader in astronomy tourism, according to a statement by Soneva.
Inspiring Skies is an astronomy consulting company based out of Australia that helps companies around the world set up and operate astronomy tourism. With their innovative and forward-thinking, ground-breaking technology, knowledge and experience, Inspiring Skies remains the world leader for astronomy consulting for tourist destinations. For more information about Soneva and its offers, please visit soneva.com.