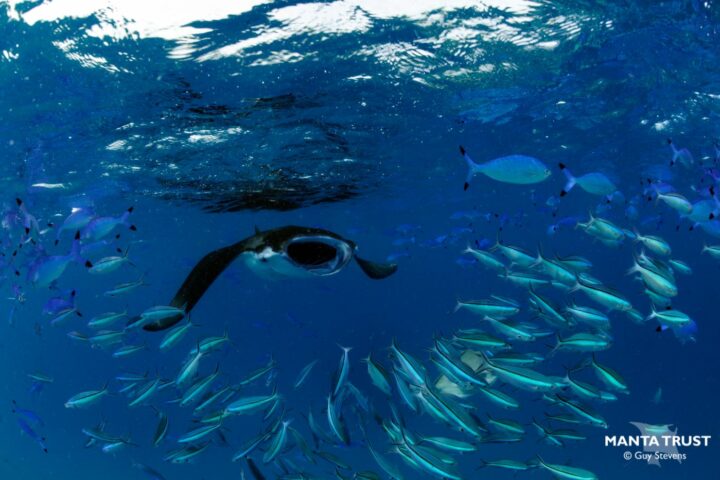 Manta Trust: Safeguarding a species on the edge
When the Maldivian Manta Ray Project (MMRP) was founded in 2005 by Dr Guy Stevens, very little was known about the different and fascinating species of mobulid rays. Now after more than a decade of research across the island nation, MMRP has evolved into one of the largest and longest-standing manta conservation groups in the world, and it's is now part of a larger family – The Manta Trust.
Dr Stevens' studies of these beautiful but vulnerable species in the Maldives made him aware of the threats that manta rays and devil rays are facing globally, which led him to the creation of the Manta Trust in 2011, following a discussion with National Geographic Photographer Thomas Peschak.
The Manta Trust charity co-ordinates global mobulid research and conservation efforts in more than 25 countries, with teams that are comprised of a diverse group of researchers, scientists, conservationists, educators and media experts, working together to share and promote knowledge and expertise. Over the years, Manta Trust has grown impressively in repute and size, developing robust relationships at local, regional, and national levels.
The goal of the organisation is to work for a sustainable future for the oceans where manta rays and their relatives thrive in healthy, diverse marine ecosystems, effectively safeguarding a species on the brink of endangerment. Collaboration is vital for this work, and the MMRP encourages open source communication for the greater benefit of conserving these animals and the marine environment. Assisting the MMRP in these efforts by providing the organisation with any ID images/videos obtained of the mantas sighted is encouraged.
Key project partners in the Maldives include The Four Seasons Resorts, Six Senses Laamu, Hurawalhi Island Resort and Spa & Prodivers, as well as EuroDivers Maldives based at Vilamdendhoo Island Resort & Spa and Meeru Island Resort & Spa. The organisation also works closely with tourists, local communities, businesses and governments to ensure the preservation of these amazing animals through science, education, community-based initiatives and government legislation.
A species on the edge
MMRP focuses on research of mobulid rays (manta and devil rays) and sees these animals as the flagship species. The aim is to inspire the next generation to care for these animals and their environment and creating some level of empathy towards the species that you're trying to protect or its habitat. Manta rays are extremely captivating and beautiful to see and they're a species that people really seem to connect with and care about.
Due to their large size and their movement around the coral reef environment, they need a lot of space. Conservationists stress that if you want to protect the species effectively, you have to also protect the reef ecosystem. By proxy, protecting mantas equals protection of the coral reef ecosystem in which they live.
Since its inception, the Manta Trust's global network has positioned itself as a leading authority on mobulid rays. The organisation's achievements include:
Founding of the Maldivian Manta Ray Project which played a key role in gaining protection for manta rays in the Maldives.
The contribution of critical data and expertise for the re-assessment to "Vulnerable" status of both species of manta on the IUCN Red List of Threatened Species in 2011.
Producing formal guides to identifying mobulid rays and their gill plates, to aid governments in enforcing international legislation.
Publishing the world's first book on manta rays.
Helping create and implement a management plan for Hanifaru Bay Marine Protected Area in the Maldives.
Developing and publishing a Global Conservation Strategy for Manta & Devil Rays.
First-ever Baa Atoll Manta Festival
The first ever Baa Atoll Manta Festival took place on November 24, 2018, on Dharavandhoo Island, located in the Baa Atoll Biosphere Reserve. The Manta Festival was spearheaded by the Manta Trust in partnership with Four Seasons Resorts, Baa Atoll UNESCO Biosphere Reserve and Baa Atoll and Dharavandhoo Councils.
The festival was sponsored by 12 luxury tourist resorts in Baa Atoll – Four Seasons Landaa Giraavaru, Vakkaru Maldives, Coco Palm Dhuni Kolhu, Kihaa Maldives, Anantara Kihavah Maldives Villas, Royal Island Resort, Milaidhoo Island, Reethi Beach Resort, Finolhu, Amilla Fushi, Dusit Thani Maldives and Soneva Fushi, as well as Manta Reisen, Baa Atoll Biosphere Reserve and Baa Atoll Conservation Fund, with additional support given by local guesthouses and dive centres.
The festival comprised a one-day event including marine-themed stalls, performances, snorkelling sessions and presentations. Resorts and NGOs including Olive Ridley Project, Four Seasons Marine Savers, Parley, Atoll Marine Centre and the EPA and BR Office also hosted exciting educational stalls for the public and students.
Adopt a Manta Programme
The Maldivian Manta Ray Project has been studying manta rays in the Maldives for over ten years now and has identified over 4500 individual manta rays. Last year the organisation launched the 'Adopt-A-Manta' programme, which in exchange for a £20 donation to the Manta Trust, the donator gets to choose one of the most regularly sighted Maldivian manta rays to adopt.
Adopters receive a digital adoption pack that includes a personalised certificate, information about their manta, an activity booklet and a fact file to learn about the biology and ecology of manta rays in the Maldives. All the money donated will be used to support the charity's work. Find out how you can Adopt-A-Manta at www.mantatrust.org/adopt-a-manta.
Threats and conservation status
The greatest threat to mobulids is an excessive, targeted and incidental catch in fisheries, increasingly driven by international trade in gill plates that are used in an Asian health tonic. Fisheries targeting mantas for their highly-prized gills have had a devastating impact on populations, resulting in mantas being listed as 'Vulnerable' on the IUCN's Red List of Threatened Species.
In March 2013, following considerable work and pressure from the Manta Trust and other NGOs, mantas were listed on Appendix II of the Convention on International Trade in Endangered Species (CITES). All mobulid species are now also listed on CMS Appendix I and II. Despite the efforts of protection, mantas are still being killed in their thousands and devil rays in their tens of thousands as by-catch in high seas fisheries. As a result, mobulids remain some of the most threatened species in our seas.
The Manta Trust also outlines that other threats, such as the impacts of tourism and pollution, also need to be considered. Concerted efforts have been made in the Maldives to mitigate these pressures. In 2014, The Manta Trust released the Best Practice Code of Conduct (CoC), as a guide on how best to interact with manta rays, aiming to minimise tourism activities' impact on the natural behaviour of manta rays in the Maldives.
In 2017, The Manta Trust developed the Manta Tourism CoC into a multi-language 10-step guide on 'How to Swim with Manta Rays'. The guides are complemented with a short educational film for both snorkellers and divers. This media kit is freely-available to all resorts and tour operators, aiming to drive the message on sustainable tourism at www.swimwithmantas.org.
Why is the Maldives significant?
The Maldives is significant because the country has the largest known population of reef manta rays which have never been fished, according to MMRP. This gives MMRP, the opportunity to study a population of rays which are as close to their natural state as possible. MMRP has also been conducting a continuous study on this population for 15 years, giving an unprecedented insight into the population dynamics of this species.
At the current rate of overfishing, coupled with the increasing pressures of development and climate breakdown, the Manta Trust has plenty of work to do, to conserve these charismatic species and their home for future generations. Although manta rays are not fished in the Maldives, the increasing pressures of tourism development mean that the MMRP's focus will be on providing the science and recommendations to the Maldivian government to ensure that effective conservation management decisions are made and implemented!
To find out how you can support the work of the Manta Trust here and help ensure this iconic species is protected for future generations, visit www.mantatrust.org.