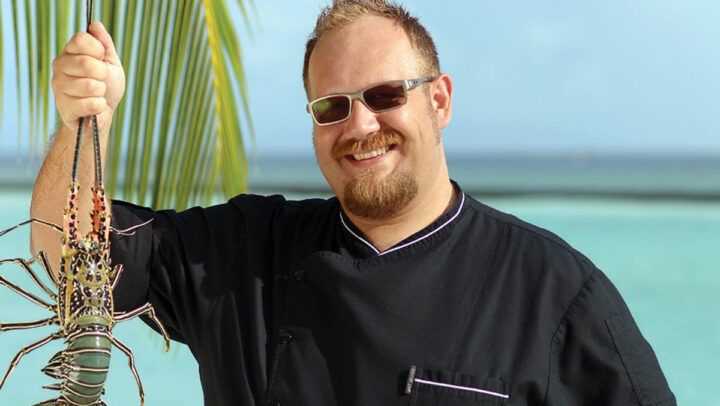 5 Minutes with the Chef: Roman Gernoth
In this edition of 5 Minutes with the Chef, we talk to the executive chef at Sheraton Maldives Full Moon Resort & Spa, Roman Gernoth. Born and raised in Germany, he began his career working in fine dining restaurants, and worked at a number of hotels and restaurants in Spain and Germany before moving to the Maldives. He began working at Sheraton Maldives in 2014.
Do you have any childhood memories of spending time in the kitchen? What was the first dish you learned to make?
I learned all I know about food from my father. I remember going to the forests with my parents to collect mushrooms. Since my family didn't believe in canned goods, we would always use the fresh vegetables straight out of our garden. When I was five years old, my father built me a small wooden chair so I could reach the kitchen stove and help my parents out in the kitchen. So cooking, for me, has never been about just preparing a dish to fill the stomach, it has always been more than that – a passion – a way of connecting and mingling with my loved ones. I learned classic German cuisine like beef roulade, fresh trout and sauerbraten from my grandmother and mother.
How did you know you wanted to become a chef?
Towards the end of my school years, I enrolled in an internship at some hotel and restaurant kitchens just as a test run. But it turned out to be my passion, my calling. I was fascinated by the atmosphere, and I just knew that this was where I was meant to be.
You've worked in a lot of different kitchens around the world, working your way up the career ladder. What would you say has been the biggest challenge you've faced, coming to where you are today?
My first position outside of Germany was at a hotel in Tenerife, Spain. When I left Germany, I didn't speak proper English, and my Spanish wasn't very good either. So I had to struggle to learn these new languages and to get an understanding of the people. As it turned out, this soon became my strength – my ability to connect with people, and understand the flavours of the different countries. It is one of the biggest challenges I face even today, but I take it in my stride and work with it.
What is the biggest reward of being a chef?
As a chef, working with a team of people from different nationalities is definitely not easy. Building them as a team, helping them grow and working with them has always been my biggest reward.
How do the different restaurants you've worked at compare with one another?
That is hard to say, because each restaurant in each country has their own culture and traditions with unique flavours and thoughts on different food. But it is one of the aspects which I find appealing, and challenging; discovering new, exotic dishes in foreign lands.
If you could eat at any restaurant in the world, which one would it be, and why?
That is a good question. One of my favourites is probably Noma in Denmark. They have the concept of using fresh and local ingredients of the Nordic cusisine. And I also love authentic food. I'm fascinated by the concept of fresh and local ingredients of the new Nordic cuisine. But aside from this I love to eat authentic food. Sometimes you have a greater culinary experience when you eat at a small corner restaurant or street food then fine dining.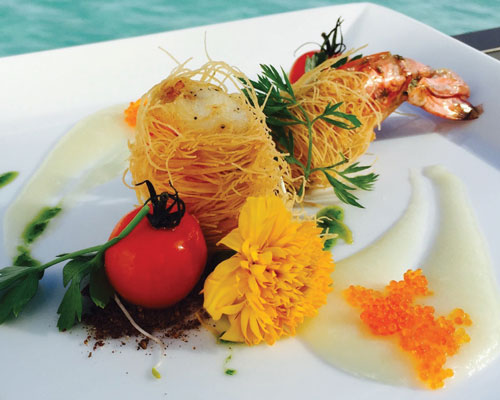 Chef Roman Gernoth's favourite dish:
Kataifi prawn with potato garlic dip
Ingredients:
1.2 kg – 10 Prawns
500 g – Kataifi dough
200 g – Pumpernickle crumble
500 g – Potato
3 pcs – Garlic clove
100 g – Tobiko
360 g – Cherry tomato
50 g – Herbs
100 g – Ginger
10 g – Lemon zest
100 g – Lemon grass
2 pcs – Salt and pepper egg
Preparation
Remove the shell of U5 prawn and marinade with garlic, ginger, lemon zest and cilantro
Season with fleur de sel and crushed pepper
Wrap the prawn tail in kataifi dough and deep fry
Boil potatoes with garlic, water and vinegar
Blend all and season with salt and pepper
Decorate with fresh herbs, cherry tomato confit and tobiki caviar
Save