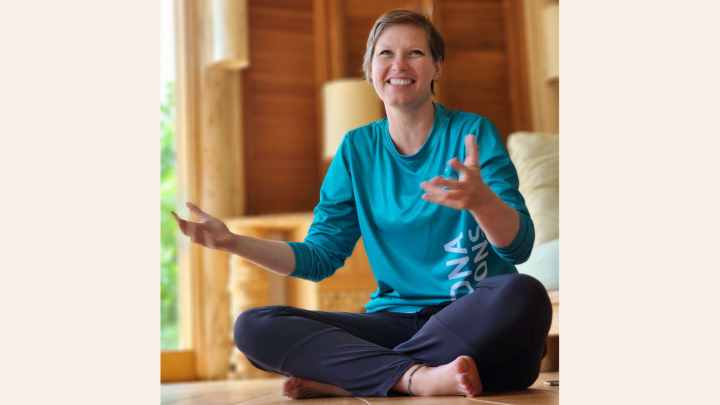 Soneva Namoona's Kash Izydorczyk to speak on meaningful CSR at Hotelier Maldives GM Forum 2023
Hotelier Maldives, the leading tourism and hospitality publication in Maldives, has announced Katarzyna 'Kash' Izydorczyk as one of the keynote speakers at the upcoming Hotelier Maldives General Managers (GM) Forum 2023. Kash Izydorczyk, the Director of Operations and Community Engagement for Soneva Namoona, will take the stage at Bandos Maldives on October 19, 2023, to present her keynote speech on 'Meaningful CSR – From Tokens to Strategies.'
As the Director of Soneva Namoona operations, Kash Izydorczyk plays a pivotal role in ensuring that the organisational strategy guides all implementation and innovation efforts. Her responsibilities include overseeing partnership developments and opportunities, monitoring communication, managing the team and finances, and leading the Fehi Madharusa (Green School) pilot programme in collaboration with the Ministry of Education and National Institute of Education. Kash holds a master's degree in International Education and Development and brings a wealth of experience working with NGOs. Her expertise as a facilitator encompasses extensive knowledge of tools for inspiring and empowering workshops.
Kash's journey in the Maldives began in 2010 when she arrived as a volunteer teacher, based in Afeefuddin School in HDh. Kulhudhuffushi. She then transitioned to Soneva Fushi resort in Baa Atoll, followed by Soneva Jani resort in Noonu Atoll, where she held various operational roles, ranging from Childcare Liaison to Area Den Manager. Her deep-rooted connection to the Maldives and extensive experience in resort operations uniquely position her to bridge the gap between corporate responsibility and sustainable community development.
Soneva Namoona, an independent Maldivian non-governmental organisation (NGO), is Kash's canvas for creating positive change in the Maldives. Established in partnership with the neighbouring island communities of Maalhos, Dharavandhoo, and Kihaadhoo in Baa Atoll, and international NGO Common Seas, Soneva Namoona is funded by Soneva and the Soneva Foundation. The organisation provides a blueprint for how all islands can phase out single-use plastic, introduce recycling, and inspire a new generation of environmental stewards.
Kash Izydorczyk's keynote speech at the Hotelier Maldives GM Forum 2023 promises to be an enlightening and inspirational journey into the world of meaningful Corporate Social Responsibility (CSR). Her presentation will delve into the remarkable story of Soneva Namoona, its inception, development approach, and the crucial role that resort operations play in turning sustainable aspirations into tangible realities.
"Kash Izydorczyk's remarkable journey and the dedication of Soneva to meaningful CSR in the Maldives are truly inspiring. Her keynote speech promises to provide valuable insights for the hospitality industry on how to make a lasting impact on the environment and local communities. We are thrilled to have the representation of Soneva Namoona and Kash Izydorczyk at the Hotelier Maldives GM Forum 2023," Ali Naafiz, Editor of Hotelier Maldives, said.
The Hotelier Maldives GM Forum 2023, which is the most anticipated event for hoteliers in the Maldives, will be held at Bandos Maldives resort on October 19, 2023. The forum is expected to attract over 100 hoteliers from various resorts and hotels in the Maldives. This year's forum is sponsored by several leading companies in the hospitality sector, such as Ooredoo Maldives, Fuel Supplies Maldives, Far Horizon, Bestbuy Maldives, Manta Air, Coca-Cola Maldives, Alia Investments, Villa Hakatha, Swimsol, Souvenir Marine, and more.