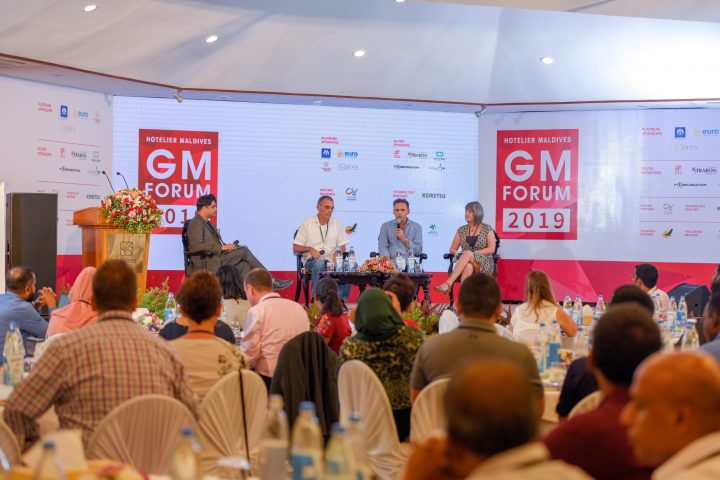 Sponsor Support Strong for GM Forum 2021
Maldives businesses established in hotel and resort supply are showing strong support for the  fifth General Manager's Forum organised by Hotelier Maldives, scheduled for 23rd September 2021 at Paradise Island Resort, Maldives.
Inaugurated in 2016, the GM Forum is an annual event dedicated to managers of hospitality establishments in the Maldives and industry stakeholders including developers, investors and hotel suppliers. The Forum features speakers from industry leaders and panel discussions on pertinent topics affecting hotel operations in the country.
Previous speakers and panelists at successive editions of the GM Forum have included Maldivian and international personalities making a mark in the hospitality and travel industry.
Sponsorship has been strong from hotel suppliers for the GM Forum from the very first year. As such, new categories of sponsorship including bespoke partnerships have now been introduced.
Sponsorships for GM Forum 2021 have already been confirmed in the following categories;
Title Sponsor: The Hawks Private Limited
Platinum Sponsor: Euro Marketing Pvt Ltd
Platinum Sponsor: Villa Group
Wellness Partner: Tropical Fitness Pvt Ltd
Platinum Sponsor: Ooredoo Maldives
Travel Partner: Cyprea Travel Pvt Ltd
Silver Sponsor: Maldives Petroleum Link Pvt Ltd
Destination Partner: MMPRC
Beverage Sponsor: Bestbuy Maldives Pvt Ltd
Sponsorship opportunities remain open until 10th September 2021.
The fifth GM  Forum is scheduled to take place at Paradise Island Resort on 23rd September 2021.
For inquiries; please contact: sales@hoteliermaldives.com or call +960 7910858, or +960 7999008. Download GM Forum 2021 Sponsorship Kit here.
Featured Image: GM Forum 2019, Bandos Maldives