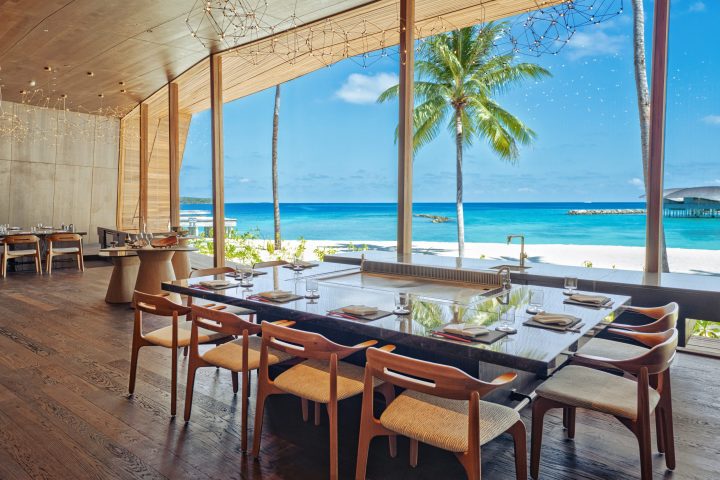 St. Regis Maldives Opens T•Pan Teppanyaki Restaurant
St. Regis Maldives has opened T•Pan, a new restaurant bringing traditional Teppanyaki style of Japanese cuisine. The new restaurant further elevates the resort's food and beverage offerings, marking the debut of its seventh dining venue.
"We're inspired by the culture of Japan and excited to introduce this truly inventive and unique concept to our valued guests. The artistic touch of presentations, theatrical performances and the apogee of the art of simplicity are imbued in the gracious art of Teppanyaki – the Japanese meaning of 'Teppan' for iron plate and 'Yaki' for cooking. This exquisite dining adventure is certain to be a favorite among novice foodies and gastronomes alike," said Vincent Pauchon, general manager of The St. Regis Maldives Vommuli Resort.
At the T•Pan, guests will relish in the wabi sabi Japanese Celestial Zen philosophy of appreciating the beauty of imperfection, revered subtle nuances and a discovery of senses. The restaurant will offer Omakase tasting menus prepared over two Teppan counters that can accommodate a total of sixteen guests at a time. Signature dishes will include shioyaki abalone with nurikuro and kinome, live scallop with uni cream sauce and myoga, Ankimo with Suehiro pnzu and albino caviar, miyazaki pork loin with wild mushroom and ume sauce and Hokkaido snow beef striploin with taranome and fresh wasabi. Guests can indulge in the finest assortment of gins, beer, special tasting flights, whiskies and wines, Japanese teas and bespoke Sakes from the renowned Sake house Dassai.
Featured Image: Miyazaki pork loin with wild mushroom and ume sauce
Feature Image: Tokushima Sudachi with White Chocolate Surprise and Kuromitsu Sauce
"To eat at The St. Regis Maldives Vommuli Resort is not simply a luxury experience or an entertainment for the senses. It is a way of looking at the world through food that is positive, inclusive and sustainable. At T•Pan, we aim to create eco-awareness, cultural insights and local and global food sourcing to create tantalizing experiences. The future of healthy luxury travel needs and wants has arrived," said Sunny Chuang, food and beverage director of The St. Regis Maldives Vommuli Resort.
Inspired by the beach ecosystem, specifically the ghost crab, the restaurant is designed by WOW Architects. While the minimalist charm and simple rough wood finish represents its wabi sabi aesthetic, the dark shadows recall the tiny courtyards of Kyoto Machiyas, Japan's traditional wooden townhouses. Each Teppanyaki table is fitted with custom designed Manta chairs.
From 1st December 2022, the T•Pan will be open six days a week for lunch and dinner. Lunch at the restaurant will be available from 12:30 pm to 3:30 pm. Dinner will be served from 7:00 pm to 11:00 pm, strictly for adults including teenagers above the age of thirteen. The venue offers degustation menus only, with vegetarian and vegan options available.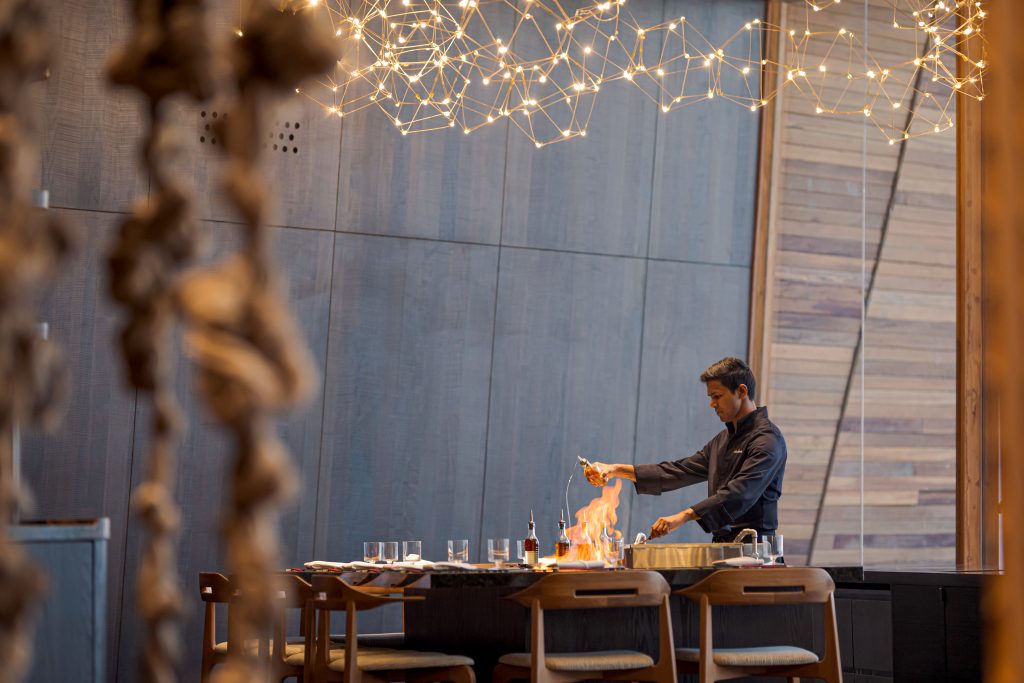 Featured Image: T•Pan Teppanyaki Restaurant