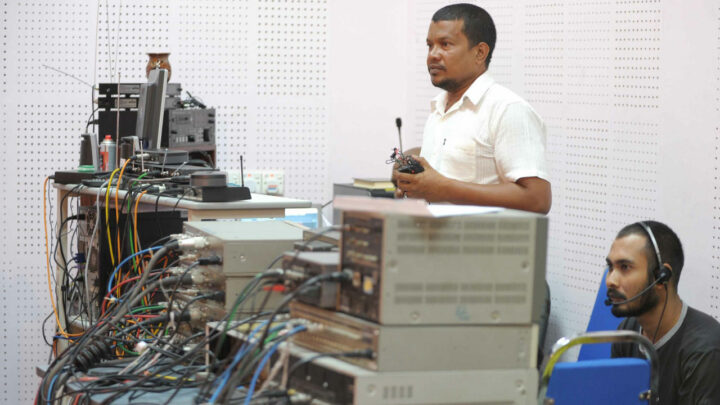 Taking Maldives to the silver screen
"I don't watch movies," says Mohamed Ibrahim while laughing heartily over a cup of coffee at the Seagull Café in Male'. To most people, Mohamed Ibrahim is known as Kudu. And although Kudu professes to "not knowing a thing about movies," ironically, he is the founder of Blue N White, the largest production coordination company from the Maldives.
Kudu's introduction to the industry was almost accidental and it all began back in 2003 with him simply trying to help out a friend. "I have a friend from India who asked me to look after a person that was coming to the Maldives to shoot a mock commercial for Dhiraagu. The guy was to go to Maafushi and I made arrangements for him. I also went along with him and observed what he was doing. That's the beginning of Blue N White. And a few years later when I realized what I was actually doing, I was pretty much involved in this business," Kudu recalls.
So far, Blue N White has worked with multiple internationally recognized production companies that chose to film and shoot in the Maldives. These productions included fashion spreads for magazines such as Glamour and You, advertisement campaigns for brands such as H&M, Diner's Club and Oracle, along with various TV shows, documentaries and feature films. Last year, scenes for the big budget Hollywood blockbuster Rogue One: A Star Wars Story which is set to be released this December, was filmed in Laamu Atoll and although Kudu would not confirm or deny his involvement, Blue N White is rumoured to have provided support services for this mega project as well.
Although Kudu declined to confirm that he made arrangements for the first ever international film shoot that took place in the Maldives, he did explain what it's like to manage a super massive project: "Taking care of around 200+ people on a deserted island is no small task. We take care of everything from the time they arrive at the airport until their departure," he says. "We provide everything from tents to generators. We also have enough equipment to even make a mini hospital," he adds jokingly.
Blue N White's task is ensuring that things happen on time in a secure manner. Services provided by the company include location scouting, making arrangements for visas and filming and import permits, budgeting and scheduling, local equipment rental, and movie set construction. Kudu and crew also act as translators and cultural advisors wherever necessary. Additionally, the company also provides the services of aerial photography, live event coverage, and corporate film making.
Kudu fondly recalls how the members of his team and sometimes even his clients find his lack of knowledge about films amusing. But since security and privacy are often the two most important factors for production crews that arrive in the country, not being a movie fan often works to his benefit. "They like dealing with someone who doesn't know much about these things because there wouldn't be any excitement from my side and I wouldn't go after anyone for an autograph or something like that," he explains. "I am least bothered about what they are doing but I am very keen on what I can do for them," he adds. Rather than satisfying curiosities and basking in glamour and excitement, Kudu and his team simply focuses on "asking as few questions as possible and trying to deliver more than what is expected."
Kudu believes Maldives has the potential to lure many more international film makers to the country. "God probably never made anything else like the Maldives," Kudu remarks quite profoundly. "I've seen the crystal clear waters and white sandy beaches throughout my life and I've never for once gotten tired of it. Every time I see the sea I want to jump into it and every time I see an uninhabited island I can't help wanting to step foot on it. So I can imagine the appeal these islands could have on someone who lives in a metropolitan city," he says.
Although Maldives comes with photogenic sunsets and romantic island scenery, Kudu notes a few complications to making the country more appealing for international film makers. "One challenge is that there are just a few regulations in place that facilitate such productions. Additionally, inability to follow international best practices is somewhat of a hurdle as well," he explains. According to Kudu, these difficulties could mean that production companies would opt for other similar destinations that come with a lot more incentives for film makers.
According to Kudu, hosting such international productions in the Maldives could also bring many direct and indirect benefits to the country and it's important that people are aware of these benefits. "On one hand, the country gets promoted and on the other hand local communities benefit from these productions as well. We always hire people from the production location and therefore it's an earning opportunity for the locals as well," he says.
Although there are a few grounds yet to conquer, Kudu is optimistic about the future of his company. And although his journey had its own challenges, his work is often praised by his clients and was even recognized by the government last year with a National Award of Recognition in the Area of Economics and Enterprises (Pioneering and Promoting New Service Enterprises). With the Blue N White's "no task is too big" dictum and hands-on approach, Kudu and his team is currently looking forward to completing their 100th production this year, a feat of much greatness here in the Maldives.