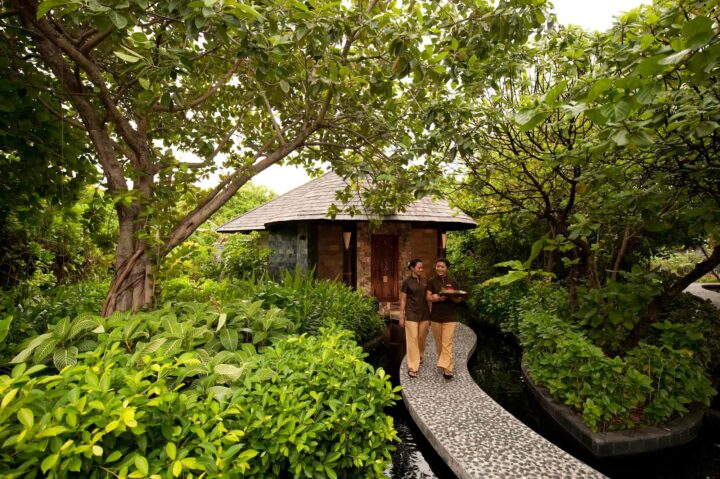 Sun Siyam Iru Fushi wins three awards at World Luxury Restaurant & Spa Awards
The Sun Siyam Iru Fushi has won three prestigious awards at the World Luxury Restaurant & Spa Awards 2016. The hugely successful first spa and restaurant gala event was concluded at the exquisite 5-star Grand Hotel Kronenhof Pontresina in Switzerland.
The Sun Siyam Iru Fushi Maldives was recognised among 38 countries and took home  awards in three categories at the gala event held on 18th June 2016.
The resort's French Restaurant and Wine Cellar, Flavours, received two Global awards as the Best French Cuisine and Best Wine Selection. The resort's Spa – Spa by Thalgo – received the Best Luxury Spa Resort in the Maldives.
"This is a tremendous achievement – one we are both humbled and extremely proud to receive, and while there is often a sharp perception gap in the excellence of hotel food and wine offering, this award is a true reflection of the talent, innovation and cultural sophistication that we are delighted to showcase to the world though our restaurants," said Abdulla Thamheed, General Manager at The Sun Siyam Iru Fushi.
"Our Spa speaks to itself by been an ideal destination for a rewarding spa journey with our professionally certified therapists. As a team, we have always been committed to provide the best spa experience. Our aim is to create a lasting impression among our guests with a feeling of ultimate luxury and comfort."
The World Luxury Spa Awards are one of the most respected and coveted industry accolades and recognises the exceptional services of Spas in Hotels and Resorts worldwide. Setting benchmarks in quality, the World Luxury Spa Awards highlight spas with outstanding service standards, attracting the attention of spa-goers as well as industry experts. Awards are presented to luxury spas in 14 different categories on a country and global basis and are accepted by the industry as the pinnacle of achievement for luxury spas worldwide.
The World Luxury Restaurant Awards inspires excellence and ignites healthy competition in the luxury restaurant industry. Voting is based on the food experience as a whole, combined with aspects of service excellence, presentation, quality and menu choices. Votes are mainly cast by guests, but also by industry professionals that approve and support the nominated establishments.
"We are honored with the latest international accolades that have been awarded to The Sun Siyam Iru Fushi Maldives. These awards are a testament of The Sun Siyam Iru Fushi's world-class standards as we endeavor to deliver excellence in all our services and offerings, from our dining venues to our spa facilities. We are pleased that The Sun Siyam Iru Fushi Maldives continues to be internationally recognized as a benchmark in the hospitality sector and we will continue to build on the success that we have achieved", said Evgenia Boyankova, Group Director of Business Development
Flavours Restaurant
Flavours is a creative workhouse for authentic French cuisine, offering flavors that speak for themselves. Enjoy magnificent sunset views, world-class service and an extensive collection of wines.
Flavours offers the perfect mix of five-star flair and relaxed beach-club vibe. Your eye-line is always on views of the beach and the wide curve of Indian Ocean. Chef Satyendra and his team works indigenously to create seasonally inspired menus based around modern French haute cuisine.  Menus draw on classic French culinary techniques that embrace newer, lighter cooking styles incorporating the freshest ingredients. Going back to the roots of some favorite dishes, Flavours Restaurant features a cuisine that is at once familiar and straightforward, but also introduces some less-familiar recipes and flavors.
The accompanying Wine Cellar, also having won the Award of Excellence for the most outstanding wine list in the world by Wine Spectator, is the home for an extensive collection of wines from around the globe. The wine selection consists of 420 labels of Champagne, Sparkling, White, Red and Rose to Sweet Wines from over 16 countries; which also includes rare champagnes like Grand Cru Bordeaux and Vintage Cognacs. Wine preservation systems are in place and to enhance guest experiences the Wine Cellar is been fitted with Riedel glassware and decanters.
At the resort's wine academy, the island sommelier welcomes guests for an informal tasting based on region, type and food pairing. Six different wines from different regions around the world to be served paired with Fine Cheeses selection.
The Spa by Thalgo
The Spa by Thalgo France has perfected ancient holistic traditions, blending its timeless wisdom with contemporary practices found both East and West. The resident Doctor guides guests on their own personalized journeys to wellness both during their stay and beyond. Meanwhile, expert practitioners – in traditional massage, authentic Maldivian-inspired rituals and world-renowned wellness practices – combine finely honed knowledge with a naturally healing touch.
Located among the unspoiled islands of Noonu Atoll in the Maldives, a scenic 45-minute sea plane journey from Male', The Sun Siyam Iru Fushi is where nature's simplicity and beauty is in abundance – it's a world away from the everyday.
For more information visit www.thesunsiyam.com