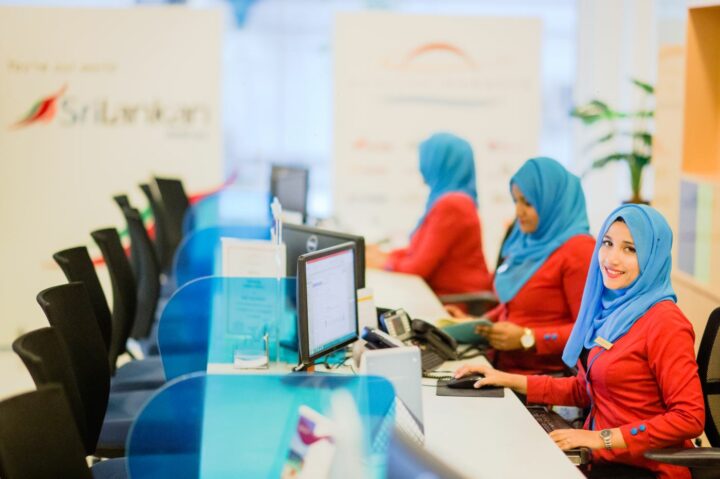 Sunland Journeys: Your "Passage to the World"
It started off as a one-man operation in 1985 as Sunland Travel, handling inbound traffic to the Maldives, but soon became one of the few professional local tour operators in the Maldives. 20 years ago, Sunland Travel embarked on a remarkable journey with Singapore Airlines—one of the most respected travel brands in the world—and today continues as the most dedicated Passenger Sales Agent for SIA in the Maldives.
2013 came with a fresh look, with the creation of Sunland Journeys as the travel-dedicated wing of the Sunland Group, and a fortified mission to maintain its reputation as the most professional travel company in the Maldives. Today, Sunland Journeys curates both one-of-a-kind outbound travel packages through knowledge, partnerships and innovation for the likes of every type of traveller, and is the one-stop solution for outbound travel.
What started in the mid-80s as a company specialised in handling inbound traffic at the Maldives' main international airport, Sunland Journeys today marks its 20th anniversary as a dedicated PSA for Singapore Airlines. And over the years, it has established an extensive network with some of the most reputable airlines around the world, excelling in providing the best of services.As one of the most well-known travel brands in the Maldives today, Sunland Journeys is also the proud General Sales Agent (GSA) for Bangkok Airways, and PSA for Sri Lankan Airlines, Silk Air, Scoot and national carrier Maldivian, in addition to sub-agent for Qatar Airways. With its long history with Singapore Airlines, Sunland Journeys offers its clients a concierge-style service.
Led by a highly-experienced leadership team headed by Hussain Hilmy, the Managing Director, and a highly-practised executive management team, the strength behind Sunland Journeys is the talented, smart and hard-working team of dedicated staff, whose sacrifices and passion helped build one of the most impressive names in the travel scenery in the Maldives. With its customer-centric approach as the defining element in its culture, Sunland Journeys is committed meaningful value-added services to its customers, prioritising in complete travel solutions and assisting travellers seeking an all-in-one outbound travel experience.
Hussain Hilmy: The man behind the finest years
It was a time when the Maldives' tourism market was structured, figuratively speaking, "under the thumb" of the big tour operators. A time when hotels and resorts were heavily dependent on the traffic supplied by tour operators, and marketing their own products was a forte deemed untouchable. But the time for Maldives' reliance on chartered traffic and being at the mercy of the big tour operators was about to change once and for all.
"When we came into the business, we saw a different landscape for the country's tourism industry. The industry had to evolve to cater to the changing market trends, and we foresaw more traffic generated through scheduled flights bringing in individual travellers on a wide array of packages," says Hussain Hilmy, the Managing Director of Sunland Journeys, reminiscing of a time when the future depended on a group of enthusiastic individuals to take matters into their own hands.
1984 was a momentous time for the Maldivian tourism market and for Hilmy, when Singapore Airlines (SIA)—the gold standard in air travel and the world's best airline for 2018, according to the Airline Excellence Awards and Skytrax Awards—commenced scheduled flights to the Maldives, soon-becoming the next hype in the luxury travel sector. Hilmy was one of the first staff to join the team at SIA, where he was trained with the expertise and knowledge to do everything the "Singapore Airlines way".
10 years later, it was time for change. Hilmy joined his brother in focusing on the outbound travel sector, with a vision to privatise ticketing services of incoming carriers. At the time, Air Maldives acted as the General Sales Agent for all airlines operating into the country, which was about to see a complete facelift with the launch of private ticketing agents."Private companies had greater potential for growth and the capabilities to provide enhanced services," says Hilmy. "20 years ago, we started off as the exclusive Passenger Sales Agent (PSA) for SIA in the Maldives, and today, we are proud to continue on as one of the most dedicated PSAs for the airline in the country."
Alike Hilmy, all the staff at Sunland Journeys undergo extensive training under SIA, honing them with the skills and knowledge required to become the best in customer service the country has to offer. "Our strength lies in our close-knit relationship with SIA, with training provided at SIA, ensuring that our staff are as dedicated to the airline and its customers as the airlines itself," says Hilmy, assuring that in a competitive market, the dedication of the staff at Sunland Journeys defines the value of their service.
Some of its staff had been with the company for as long as the company itself, and are driven to continue in their service, as a brand that takes care of every detail when it comes to the travel needs of their customers. "We owe it to the unwavering support and commitment of our staff, most of whom, until very recently, had been an all-women workforce. I am proud of the fact that 90 per cent of our staff is still women, who are extremely talented and experienced, and will continue to stand at the forefront to deliver all your travel needs," adds Hilmy.
The future of the company is undeniably very interesting, as the leadership and management of the company believe that the sky is the limit, full of possibilities. Hilmy and his team are currently exploring new ways to further enhance its services, by introducing more attractive and beneficial services to its loyal customers, ensuring that Sunland Journeys continues its legacy as your "passage to the world".
Azma Abdulla, Senior Manager, Customer Services
Azma Abdulla has been with Sunland Journeys since its inception. Even though she had not given much thought to building a career in the industry, she first followed her mother's dreams and joined Air Maldives. "I know it sounds strange. Then again, that is what got me here. But from day one, I really loved my work. Luckily, I was put in the Singapore Airlines sales team there and I really loved the stimulations of manual calculations and sales. I loved mathematics and I loved challenges," says Azma.
Her jovial nature and passion towards work got her an offer at Sunland Journeys and she wanted to continue working in the reservations field from the beginning. "We were working from 8 a.m. in the morning till 8 p.m. in the evening at the time, working both shifts in a bid to further improve our services. It was tough but I was always determined to push boundaries, give more and learn more. In fact, I had resolved to learn something new every day. Early on, I was sure that I would establish a career in this field, and in this very company," she explains.
Currently, the senior manager of customer services, Azma finds delight in giving good services. For her, the most fulfilling aspect—the biggest achievements in her career, in her words—is when customers take the time to visit the company after a tour, to personally thank for the services rendered. "The fact that they come here to thank us in person is what tells me that I am doing my job right. Our job doesn't end at issuing a ticket but we ensure that our customers have the smoothest and most enjoyable trip abroad."Describing the most memorable day in her career, she says, "It was the day I issued my first ticket. The thought that my handwritten ticket would travel the world really thrilled and motivated me." Joining as a reservations officer, her devotion to the company was reciprocated with promotions and various training opportunities where she got to meet with people from all over the world and learn about diverse backgrounds.
She believes that that exposure helped in shaping her as an empathetic individual and in providing need-based services. Her advice for anyone who wants to build a career is to have a passion, "You need to have the desire to grow, and for that, you should find something that you are passionate about. Success will follow."
Looking back on her illustrious career in the industry and especially Sunland Journeys, Azma is grateful to have got the opportunity to establish herself in a company like Sunland Journeys. She adds, "I have such an amazing management team here. A very supportive managing director, a great mentor as my superior and my team who makes everyday tasks easier for me. I am so thankful.
"My biggest supporter is my mother, and today, she is proud of where I am. She would always tell me that in order to be successful, one has to commit themselves to something. And that is exactly what I did. I can never imagine working elsewhere, and I'll be with the team here for as long as I can."
Aminath Susheela, Senior Manager, HR & Operations
Reminiscing her early days in Sunland Journeys, Aminath Susheela—or Sushee as she is fondly known to her colleagues—explains how they would manually fill in the tickets, do the calculations and carry the stocks at work in an era of no internet. She had been working in Air Maldives for eight years before she was offered the opportunity to work for Sunland Journeys, 20 years ago.
"At the time there were very few experienced staff. I was one of the few who had undergone training with Singapore Airlines (SIA), so my first responsibility was to train our staff. Air Maldives was still acting as the Passenger Sales Agent for SIA and we had to put in a lot to get ahead in the competition."
Ever since its inception Susheela has mainly handled the operations and administration of the company but gained vast knowledge and experience working in several areas. She received numerous training, both overseas and locally, and had the opportunity to learn and understand operational methods in similar businesses overseas as well. From an operations supervisor, she gradually moved up and is currently the senior manager of HR and operations of the company.
But the turning point in her career, as she excitedly describes was when the company partnered as the General Sales Agent (GSA) for Bangkok Airways and she was promoted to the position of the office manager. "It was the most challenging time of my career. It was a huge responsibility to handle the designated Bangkok Airways GSA office. The faith and trust that was placed in me is the biggest achievement."Susheela had always wanted to work in the travel industry. Getting to meet new people every day, learn and experience new things through dealing with people from different nationalities and not being limited to a routine desk job is what she loves about the industry. But the support and encouragement she received from the senior management at Sunland Journeys meant that she established herself firmly in the company becoming an integral part of it. This year marks the 20th anniversary of the company as well as Susheela's career in the company.
"It's a hectic job, but very rewarding and I wouldn't have had it any other way. We have so many staff members who have been with us for 12 or even 17 years. Such commitment is the result of a caring management and dedicated staff members who love the job," she says, describing her experience with the staff.
"Things have definitely changed a lot. Everything is automated and easier than when we started. So, it's very easy to take things for granted. Punctuality and a good attendance record are very important values if you want to be successful in your career, especially in a service-oriented business like ours.
With an illustrious career spanning nearly 30 years in the industry, completing 20 years in Sunland Journeys for Susheela is like a golden feather in her cap. She adds, "the leadership and top management has always guided and believed in us, leading us to where we are today. Also, my amazing colleagues; they make the day easier and the job worthwhile. I can't thank them enough. And how can I forget my family? As a mother, it wouldn't have been possible for me to have a career without their support."