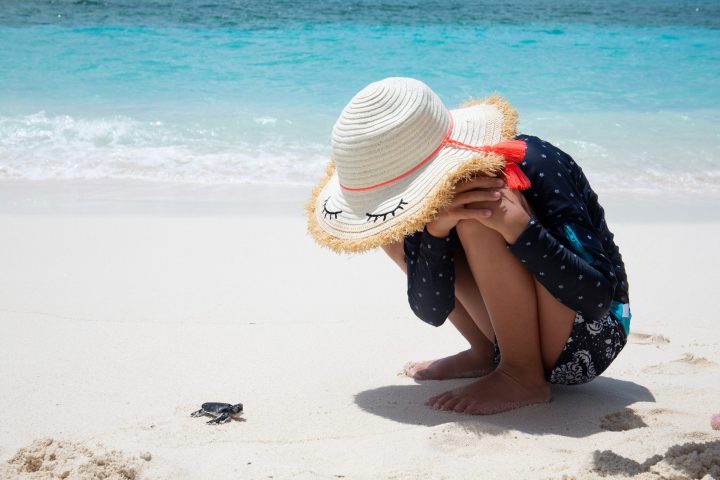 Sustainable Tourism in Maldives
Sustainability and Climate Change are now a key focus in the travel and tourism industry becoming an intrinsic part of the post pandemic tourism rebound. More than 300 tourism stakeholders recently signed up to the Glasgow Declaration on Climate which recognizes the urgent need for a globally consistent plan for climate action in tourism.
Sustainable tourism is a concept that covers the complete tourism experience and is defined by the UN Environment Program and UN World Tourism Organization as "tourism that takes full account of its current and future economic, social and environmental impacts, addressing the needs of visitors, the industry, the environment and host communities."
When responsibly planned and managed, tourism can support job creation, promote inclusive social integration, protect natural and cultural heritage, conserve biodiversity, generate sustainable livelihoods and improve human wellbeing. However, tourism is also vulnerable to climate change while at the same time contributing to it. A suitable balance must be established between the three dimensions of economic, environmental and social aspects to guarantee its long-term sustainability.
The aim of sustainable tourism is to increase the benefits and to reduce the negative impacts caused by tourism for destinations. This can be achieved by:
Protecting natural environments, wildlife and natural resources when developing and managing tourism activities
Providing authentic tourist experiences that celebrate and conserve heritage and culture
Creating socio-economic benefits for communities through employment and income earning opportunities
The demand for sustainable tourism is notable. Research by Booking.com showed that 69 per cent of global travellers anticipate that the travel industry will offer more sustainable travel options. ABTA's 2020 Holiday Habits research shows that half of the customers now consider sustainability when choosing a holiday, with 70 per cent stating plastic and plastic pollution was a defining factor. That's three times as many as ten years ago, showing a definite trend in the eco-conscious mindset of holiday makers. The Maldives, as one of the worlds luxury destinations, has reacted to this market change, and is becoming a leader in sustainable and eco-friendly tourism, introducing innovative ways to mitigate their impact on the environment which sustains them.
Tourism is the largest industry in the Maldives, drawing visitors from all over the world, attracted by the promise of white sand, clear blue waters and abundant marine life. As the world's lowest-lying country, these collections of sand will also be the first to be affected by global warming and the resulting effect on the oceans such as rising sea levels and coral bleaching.
The industry plays a major role in sustainability and climate change, from the carbon emissions of the transport methods transporting people around the atolls, to the luxurious furnishings, fittings, equipment, and provisions required to sustain them, plus the effect of the activities and numerous ancillary services. A vast amount of these services and items are derived from plastic which contribute to an ever-growing waste mountain, as once these luxury goods arrive in the Maldives there are limited resources to effectively dispose of them! Research shows that tourists, as well as the services provided to them, are the single highest generator of waste per capita.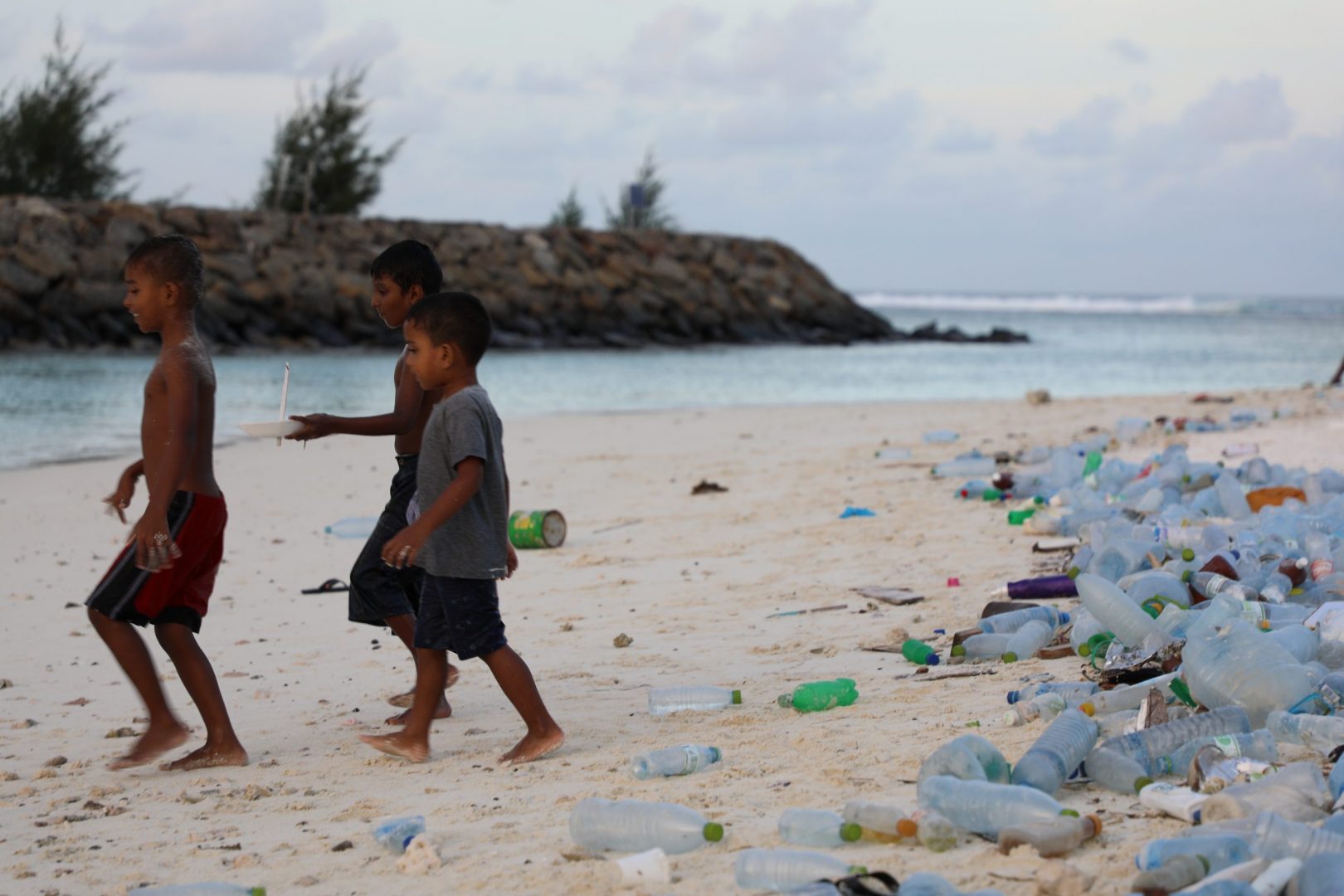 The MOPA (Maldives Ocean Plastics Alliance), NIG report details that plastics make up 12 percent of all waste produced in the Maldives annually, roughly 43,134 tonnes and estimates that solid waste is generated at a rate of 1.8 kg per person per day in Malé, 0.8 kg per person per day on the other inhabited islands, and 3.5 kg per person per day in resort islands. The rise in guesthouses and tourists on local islands has increased volume of rubbish generated and has emphasised the limited infrastructure for the management of wastewater and solid waste that the Maldives has.
The World Bank is working in partnership with the government to help with reducing the amount of waste, particularly plastic waste, as well as composting the high-volume household waste generated throughout the country through a variety of projects.
The "Greater Male' Environmental Improvement and Waste Management Project" by the Environment Ministry is funded by the Asian Development Bank (ADB). The aim is to establish a sustainable solid waste management system for the Greater Male' capital region and its inhabited outer islands. The project will establish a Regional Waste Management Facility (RWMF) with a waste-to energy treatment plant in Thilafushi.
The Maldives government actively encourage all the tourism sectors towards sustainability resulting in tourism providers partnering with notable organizations such as:
Green Fins, a global initiative to reduce the environmental impact of marine tourism.
Manta Trust, a UK based, independent non-profit organisation whose mission is to advance the conservation of manta rays and their habitats,
Olive Ridley Project, which protects sea turtles in the Indian Ocean through research, education, and rehabilitation.
Parley, an international NGO which, works to boost recycling and reduce plastic waste throughout the islands of the Maldives
The Government, local communities, and the tourism industry as a whole, are taking conscious steps to create more sustainable and eco-friendly products implementing a plethora of initiatives and activities to limit the damage to the environment and address the ecological impact of the tourists. These include:
Parley collection points for PET plastic bottles which are then sent for recycling
Bottling of water in reusable glass bottles
Using natural insecticides to mitigate the use of toxic chemicals
Solar panels and solar energy
Trained marine biologists and conservation teams who conduct coral reef research, coral propagation, reef rehabilitation and look after coral nurseries.
Education programs to provide guests with the opportunity to learn about conserving the oceans, sustainable living and the local fauna and flora
Community initiatives to support their local islands by funding projects or supporting NGO's and their programs
Documented green practices and sustainable initiatives that are recognised by Earth Check, Green Globe and Conde Nest.
Sustainability Labs that recycle plastic waste from the resort and surrounding communities into souvenirs and bricks, others turn recycled ocean plastic into models using 3D printers
Gardens, farm areas, hydroponic areas, and orchards where produce is grown and supplied to the kitchens
Community education-programmes have also been created by resorts and non-governmental organisations to educate locals on sustainability. These programmes include a range of activities, including conducting regular beach and reef clean-ups on local islands, developing renewable energy sources, educating locals on practicing responsible fishing, and much more.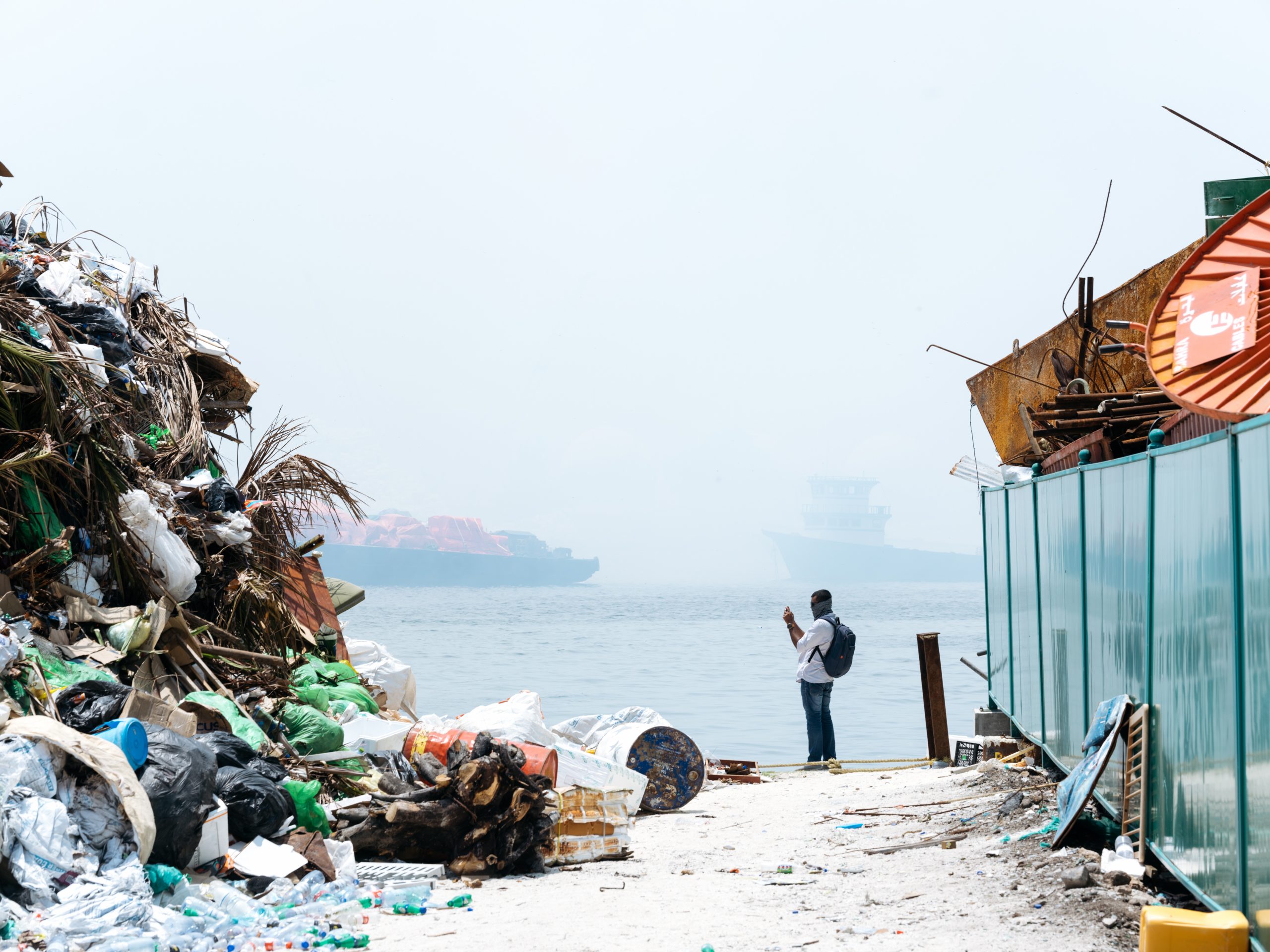 Sustainability initiatives are not confined to resorts, more local tour operators are designing packages with sustainability and the local community as its heart.
The quest for sustainable and more eco friendly measures is not without challenges as the Maldives waste management provision is still in its infancy. Biodegradable or compostable containers often require specialist equipment to facilitate the necessary enzyme activity which are not readily available. Containers and bags which cannot be recycled or composted, are either burnt which adds to smoke emissions or they join the ever-growing waste mountain. This is especially a challenge for local islands or safari boats who have limited means of disposal.
Regulations state that resorts must have a dedicated waste management centre which should have a storage area, treatment facilities such as incinerators, compactors, and bottle crushers. Most organic waste was disposed of at sea. However, that clause in the regulation was repealed in November 2021 due to the inability of people to effectively segregate waste, which resulted in waste that was not biodegradable being thrown into the sea and adding to the unsightly pollution being washed up on beaches, which subsequently attracted flies.
Until the Maldives can implement effective methods to transport, dispose of or recycle its waste it will continue to make its way into the ocean and contribute to the destruction of the environment unless everyone makes a conscious effort to play a positive role in its prevention.
"We still have a really good chance to make things better than they are. They won't get better unless we take the action and inspire others to do the same thing. No one is without power. Everybody has the capacity to do something." - Dr. Sylvia Earle
Read the previous article: The Blue Economy and Climate Change